Hundreds of newly qualified teachers have endured 'a summer from hell' searching for work after being told they would no longer be given permanent positions.
The number of permanent posts have plummeted with just one in five probationary primary teachers finding a job after their first year, with many left languishing on supply lists or leaving the profession altogether.
Elisabeth Smyth worked in six different schools in what she described as a "busy and stressful" year after passing her probation in 2022.
She said she was promised a full-time job by North Lanarkshire Council as a "guarantee" but was told the last day before the summer break, along with 135 others, that her contract would not be renewed.
She told STV News: "Last term, we received a mass email to 136 of us to say you don't have a job for next year. They don't have the space.
"I didn't manage to sleep that night as I was sat on the couch crying and panicking – I have financial responsibilities. It's been horrible and stressful. I have been miserable.
"The holidays should be a time to relax and unwind but there's a huge cloud of uncertainty hanging over us."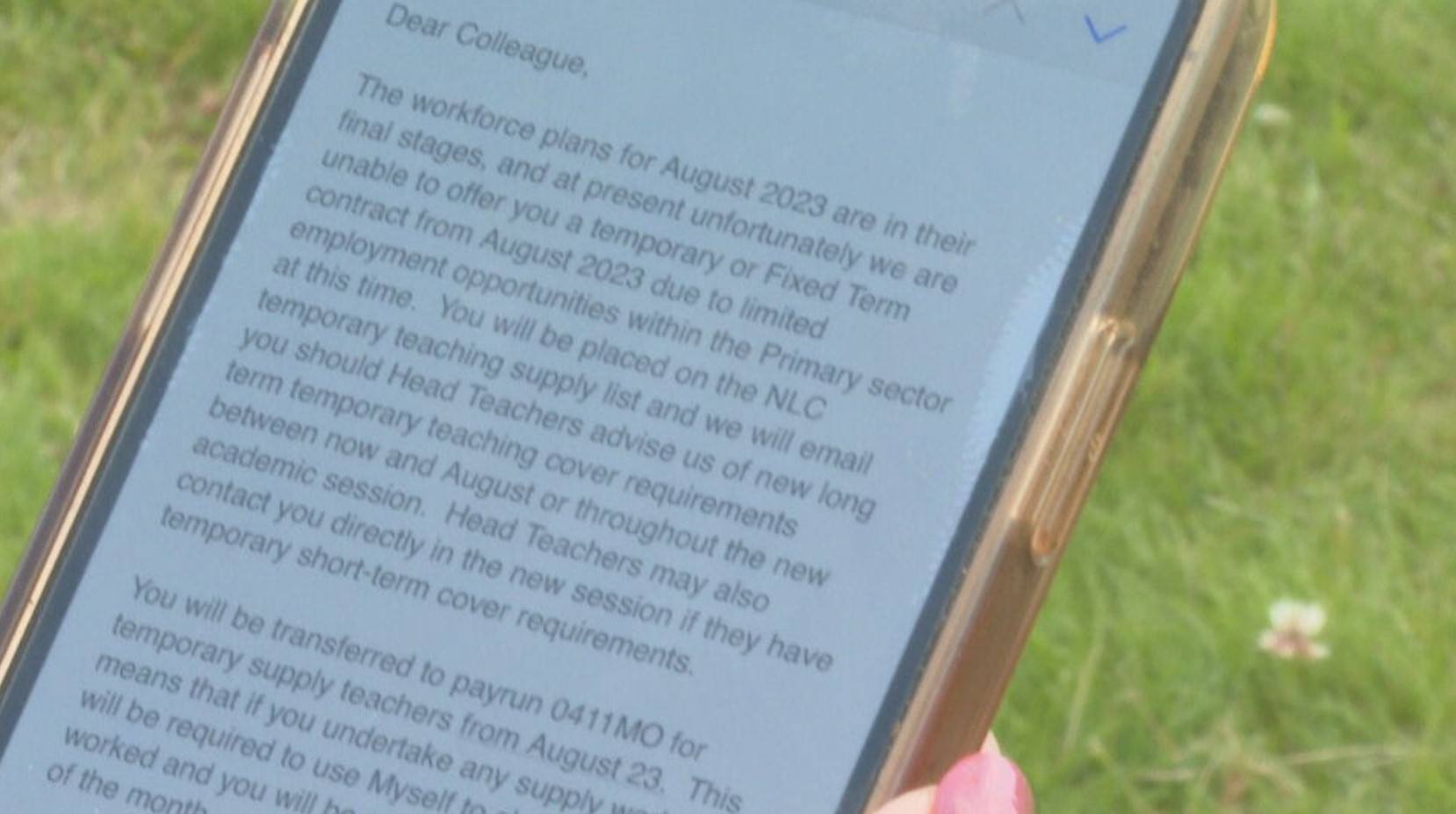 It comes as new figures revealed 4,951 teachers were employed on temporary contracts at the beginning of June.
The percentage of probationers in full time permanent posts has nearly halved since 2016 (dropped from 57% in 2016/17 to 33 percent on 2021/22) with around 13% of the workforce are also on temporary contracts.
Elisabeth is currently looking for work elsewhere but is struggling to find a job.
She added: "People who make these decisions need to spend some time in a school.
"They need to look at the structure of things. Having two teachers in a classroom ensured we both had a job and all the children's needs are being met by tackling smaller groups at a time.
"We're so disappointed. We feel disposable and undervalued. It's such a shame as it's a great career path but it's really disheartening."
The Scottish Government has promised £65.6m in permanent funding for councils form 2022-2023.
Cabinet Secretary for Education Jenny Gilruth said the investment will "help remove barriers to councils employing these additional staff on permanent contracts and meet the local needs of children and young people."
But the teachers' union said the investment is not sufficient to tackle the issue.
EIS General Secretary Andrea Bradley said: "That situation in North Lanarkshire Council is very notable due to the number of teachers but this is something that's happening around the country.
"These people are distressed that they don't have permanent employment, they spent money, time and energy to qualify only to find out at the end there isn't a job on offer. It's really affected their mental health.
"The money is not enough in the first place. We've seen teacher numbers decline for the first time in a number of years.
"Children shouldn't be experiencing revolving doors in terms of staff they are working with, particularly the youngest children.
"With the new school term just around the corner many teachers are preparing to return to classroom, while others remain in limbo – stuck on supply lists or leaving the profession altogether."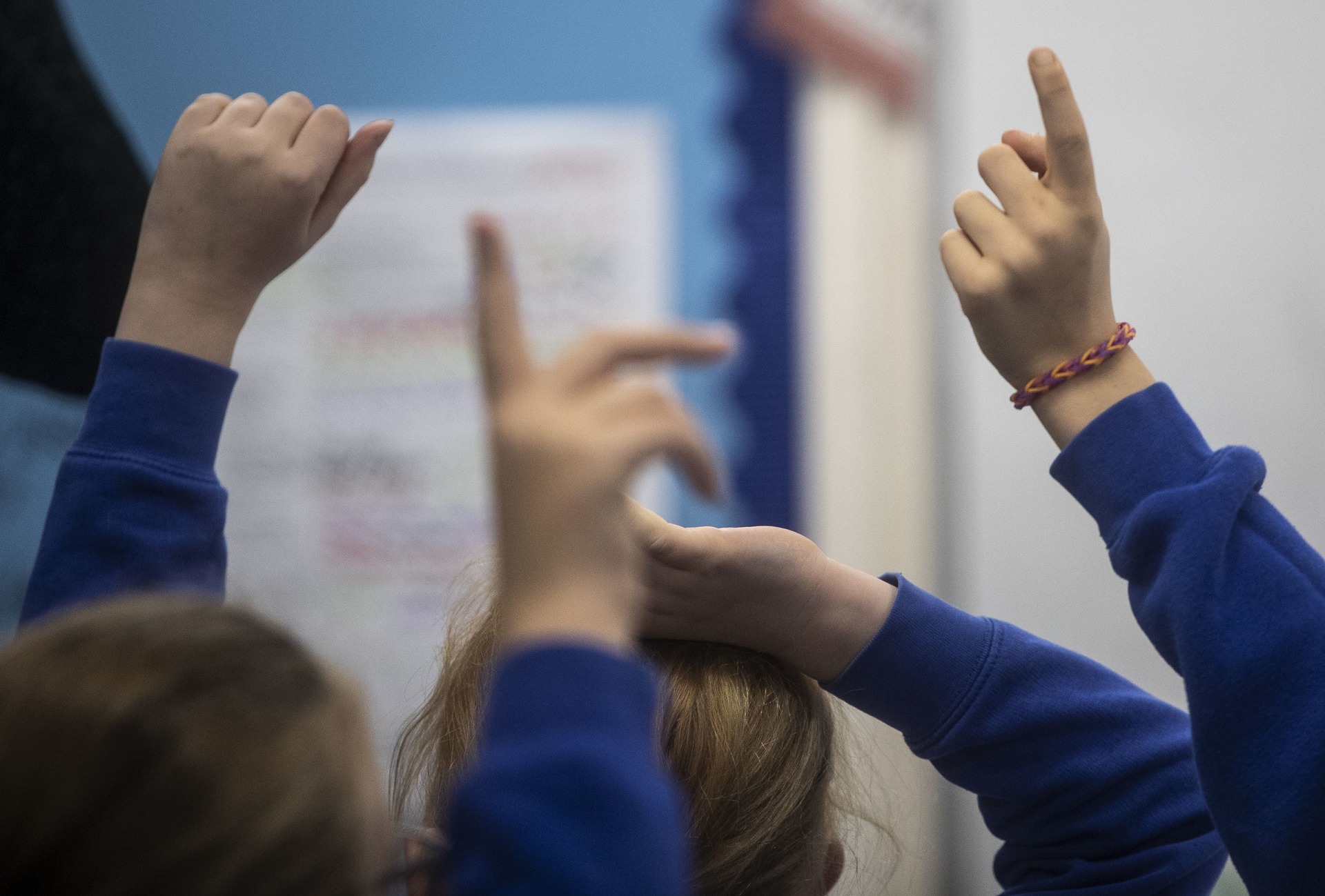 A Scottish Government spokesperson said: "Over the past ten years, the number of teachers in permanent posts has remained fairly stable at over 80%.
"The Scottish Government is supporting councils with an additional £145.5m in this year's budget to protect increased teacher numbers. Where this is not being delivered by a local authority, we will withhold or recoup funding given for this purpose.
"This £145.5m assures funding for councils and removes this as a barrier to employing staff on permanent contracts.
"More broadly, the Education Secretary has discussed the national picture on recruitment with Cosla, and she looks forward to working with our councils on the issue of recruitment and retention – noting that it is they who employ our teachers and not the Scottish Government."
A spokesperson for North Lanarkshire Council said: "To be clear, no probationary teachers were 'let go'. These were temporary training contracts which were in line with the national commitment to ensuring provision of year-long opportunities for probationer teachers. No council is in a position to provide a permanent post to all probationers at the end of every year.
"All probationer teachers received a presentation in February 2023 which reiterated that permanent posts would not available to all and encouraging them to both apply to join the supply pool and apply for jobs with other local authorities if these were available. In addition, the supply pool recruitment campaign was promoted through MyJobScotland.
"It has been made clear throughout, not least when the training opportunity was offered and again in February of this year, that there may not be permanent posts available at the end of the year.
"While the council's staffing exercise is complex, it is still not complete and we fully expect more contracts to become available over the summer and into the start of the new term.
"We have 267 former probationer teachers now in permanent contracts this academic year, underlining the council's commitment to providing quality teaching opportunities. However, funding from the Scottish Government for teacher recruitment has fallen substantially. In the last two years there has been a £1.8m cut in funding due to reduced pupil numbers, and the government's Strategic Equity Funding, the majority of which is used to recruit teachers, has fallen by £2m, and is expected to be over £4m by 2025/26."