By Susan Ripoll & Jenness Mitchell
A mother is set to sue a crisis-hit health board after hospital staff wrongly accused her of trying to murder her daughter.
Kirsteen Cooper was arrested and kept in a cell overnight after workers at the Royal Hospital for Children (RCH) in Glasgow said she had stolen blood from then four-year-old Baillie to make her anaemic.
As a result of the allegation, the mum-of three was removed from the hospital by police and faced more than two years of limited access to her own daughter.
The criminal case against Ms Cooper was eventually dropped after a consultant haematologist from another hospital stated that Baillie's anaemia was caused by her complex illness, which was later backed by another consultant.
'To be accused of doing something to harm your child when all you've done is look after them is absolutely destroying.'

Kirsteen Cooper
Ms Cooper, from Cambuslang in Lanarkshire, told STV News: "It's the worst thing I have ever experienced in my whole life.
"I would never wish it on my worst enemy. To see your child and your whole family be so devastated is a thing you will never, ever get over.
"To know that your child's lying, crying herself to sleep at night because she can't be with you – and obviously we're doing the same at home because we can't be with her and you can't protect her – that hurt will never heal, it will never go away.
"The shock and the trauma that everybody faced was just unbearable.
"To be accused of doing something to harm your child when all you've done is look after them is absolutely destroying.
"Because you live for your children – your children are your life completely."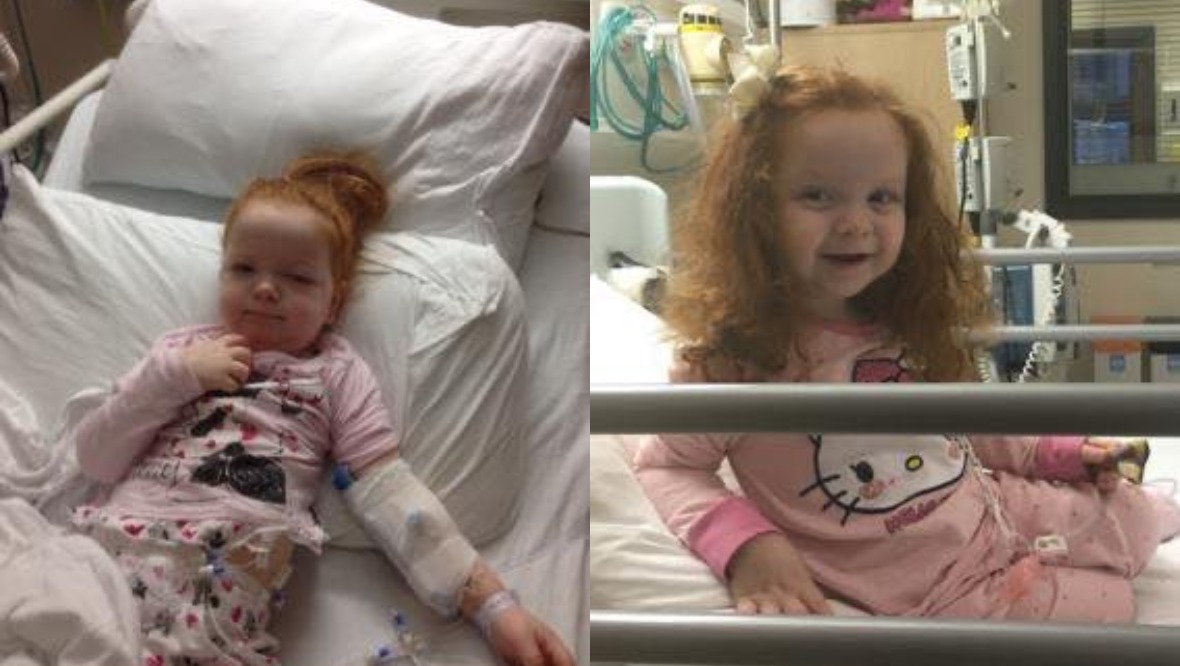 Seven-year-old Baillie was born premature and has received hospital treatment throughout her life. She has cerebral palsy, uses a wheelchair and has to be fed through tubes.
The youngster – who is now medically treated in Edinburgh – was only four when she was admitted to the RCH in December 2016.
In February 2017, her feeding tube leaked but was quickly fixed. However, Ms Cooper was accused of tampering with the equipment and was arrested and charged later that year with attempted murder.
Due to the allegation, Baillie was released from hospital into the care of other family members until Ms Cooper's vindication at Glasgow Sheriff Court at the end of last year.
This week, lawyers acting on behalf of Ms Cooper will serve a writ on NHS Greater Glasgow and Clyde (NHSGGC).
The health board is currently the focus of a public inquiry following safety concerns and deaths from infections at the Queen Elizabeth University Hospital (QEUH), where the RCH is based.
Ms Cooper added: "As a family it's probably made us look at life in a completely different way in how easily your life can be upset.
"I think it's important to speak out – as hard as it is to be public, and bring everything out that's happened in your life in the last three years is very difficult – but it's the only way that people become aware of what's happening and how people can ruin your life for absolutely nothing.
"I think it's very important that families know that there is support out there and there's help for other people that have suffered the same problems and the same injustice."
Ms Cooper has also lodged a complaint with the Nursing and Midwifery Council (NMC), accusing NHSGGC's chief nurse and head of its child protection service of crafting an inaccurate haematology report which led to her arrest.
A spokesperson for the NHSGGC said: "We are unaware of any legal proceedings. The board does not comment on individual legal cases."