The family of a care home resident who died of Covid-19 say her death could have been prevented — if they had been told that another resident had already been killed by the virus.
Ellen Haughey, 85, fell ill at Riverside Care Home in Dalmarnock, Glasgow, and passed away two days later at the city's Royal Infirmary on April 9.
But her family were unaware that another Riverside resident — 83-year-old Jack Caldwell — died of Covid-19 at the same hospital one week earlier on April 2.
Around the same time, a third unidentified Riverside resident also lost their life to coronavirus.
Ms Haughey's daughter Elaine Young praised the home's staff but believes her mum's death was "preventable" and that management have "not been forthcoming with information".
She told STV News: "We did not get told that any other residents had died. The only reason we found out was through friends whose dad Jack died a week before mum.
"I can't fault the staff but had we known of coronavirus cases I would have taken my mum home; I would not have let her go back because she would have been safer with us.
"I do believe they have failed her. It's horrific and to me it could have been prevented. It's four weeks today since mum passed and it's been a terrible time for us as a family.
"We couldn't even say goodbye to mum and we couldn't come together as a family at her funeral."
The majority of Scotland's coronavirus fatalities have been care home residents. Of the 523 recorded in the week to Sunday, May 3, 59% were in care homes with 37% in hospitals.
Mr Caldwell was taken by ambulance to Glasgow Royal Infirmary on March 26 where he died one week later on April 2.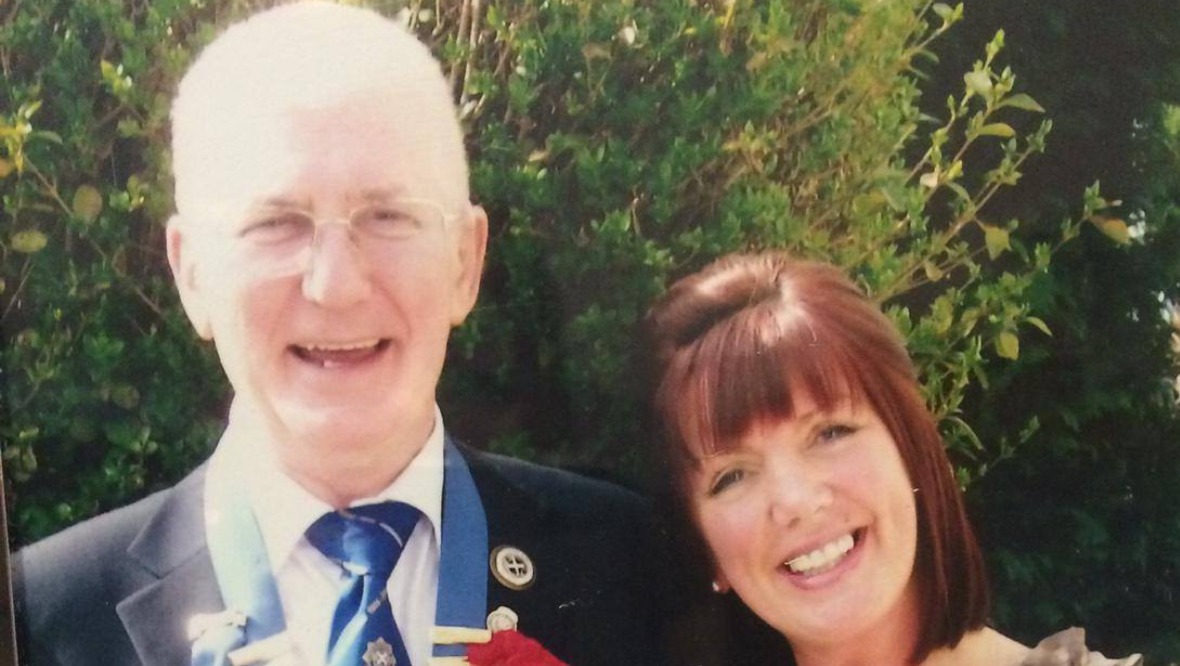 His daughter Debbie, who also paid tribute to Riverside staff, said: "We were lucky that we were able to see him the night before he passed away. Coronavirus was first mentioned two days before he died.
"He had dementia but he was otherwise fit. Given that my dad died more than a month ago, more should be happening to prevent further infections and deaths."
Riverside is home to 120 residents and is owned and run by Glasgow City Council.
The family of another resident has told STV News they are "beyond terrified" over an alleged lack of testing after Nicola Sturgeon pledged more would be done.
Catherine Gribbon, 88, is being treated for a broken hip in hospital but is due to return to Riverside.
Her daughter Margaret Gribbon says there appears to be a "gigantic and unexplained disconnect" between new testing announced by the First Minister last Friday and what is actually happening.
In a letter to Sturgeon on Thursday, lawyer Ms Gribbon said she was "beyond terrified for my mum" and indebted to carers "risking their own and their families' health".
She added: "That is why I was greatly encouraged on hearing your announcement last week about escalation of tests. There does however appear to be a gigantic and unexplained disconnect between stated Scottish government policy and what is happening at the coal face."
Last Friday [May 1], Sturgeon announced measures to tackle Covid-19 in care homes. These include carrying out "advanced outbreak investigations" at homes reporting cases; testing residents and staff regardless of symptoms and testing even if there were no cases.

But Ms Gribbon said that when she spoke with Riverside management, they were unaware of the new rules.
In her letter, she said: "When I raised the matter of escalated testing with a member of management last weekend I was astounded when he informed me that he had no knowledge of it.
"I asked the manager to make enquiries, double check the position and come back to me. The manager phoned me yesterday evening and confirmed that the home had no knowledge of any escalation of testing and this was currently confined to staff and residents displaying symptoms only.
"I find it inexplicable that it would appear that no steps have been taken to properly communicate the new testing regime to one of Scotland's largest public sector care homes."
In response to Ms Young's claims, a council spokeswoman said: "Our hearts go out to families who have lost a loved one in this unprecedented pandemic. It is taking an emotional toll on all involved.
"That is why we are working, tirelessly and adhering to national guidance as it has developed and been adapted throughout the pandemic, to protect frail and elderly people who we know are most at risk, in partnership with colleagues in public health."
They added that all their homes went into lockdown on March 20, before the nationwide lockdown and that "we were fully compliant with the testing guidance in place at that time and currently".
In response to Ms Gribbon's concerns, they said: "Under new guidance issued on May 1, enhanced testing is only required where there is a confirmed Covid case in a home.
"Testing in Riverside fully complies with new guidance and unions were made aware of this today.
"There have been no cases of the virus in the home for the past seven days. However, we totally understand, and indeed share, the concerns of Ms Gribbon's relatives about the risk this virus poses to older people and those with underlying health issues. That is why strenuous measures are in place to safeguard against it.
"Ms Gribbon will be tested before she leaves hospital to return to the home, and will also self-isolate for 14 days on her return. She will have no contact with other residents and staff in the home are equipped with full PPE."
A Scottish Government spokesperson said: "We are undertaking enhanced outbreak investigation in all care homes where there are active cases of Covid-19 – which involves testing, subject to individuals' consent, all residents and staff, whether or not they have symptoms, as well as staff who move between care homes.
"While it will take time to implement this fully, support is on offer to care homes in both the public and private sector to adopt these measures as quickly as possible.
"While we cannot comment on the specific details of this case, we would expect all care homes to ensure the safety of staff and residents by following guidance on infection prevention and control."
STV News is now on WhatsApp
Get all the latest news from around the country
Follow STV News
Follow STV News on WhatsApp
Scan the QR code on your mobile device for all the latest news from around the country