A woman told how she heard two men setting a dog on her pet kitten before it was mauled to death outside her Renfrewshire home.
Eleven-month old Humphrey died before he could be taken to the vet after the attack took place on Gifford Wynd woodland in Paisley.
Despite a police search the dog and its owners could not be traced following the incident that took place at around 9.30pm on Monday.
Heartbroken owner Lucia Wright, 31, was in the garden hoping to call Humphrey in when she heard "horrendous" sounds from a cat – and two men shouting "go, go get him" at their dog, which she thinks was a Doberman.
Lucia shouted at the men before her fiance Jeff Wilson, 41, discovered the fatally injured kitten and an abandoned dog lead.
'I heard horrendous crying sounds from a cat, along with two men shouting 'go, go get him'.'
Humphrey died on the couple's sofa in Paisley, before they could take him to the vet.
Lucia said: "It was about 9.30pm and I went into my back garden to call Humphrey in as it was getting dark.
"I could make out two men in the dark in the woodland area behind our house.
"I then heard horrendous crying sounds from a cat, along with two men shouting 'go, go get him'.
"I thought it better not be my cat and shouted on my fiance Jeff, who came out to the garden.
"I saw the dog drop the kitten from its mouth, and the two men ran away into a nearby golf course.
"Jeff went out to investigate and discovered Humphrey lying on the ground, and brought him back to the house and laid him on the couch.
"He was completely still, and gasping for breath.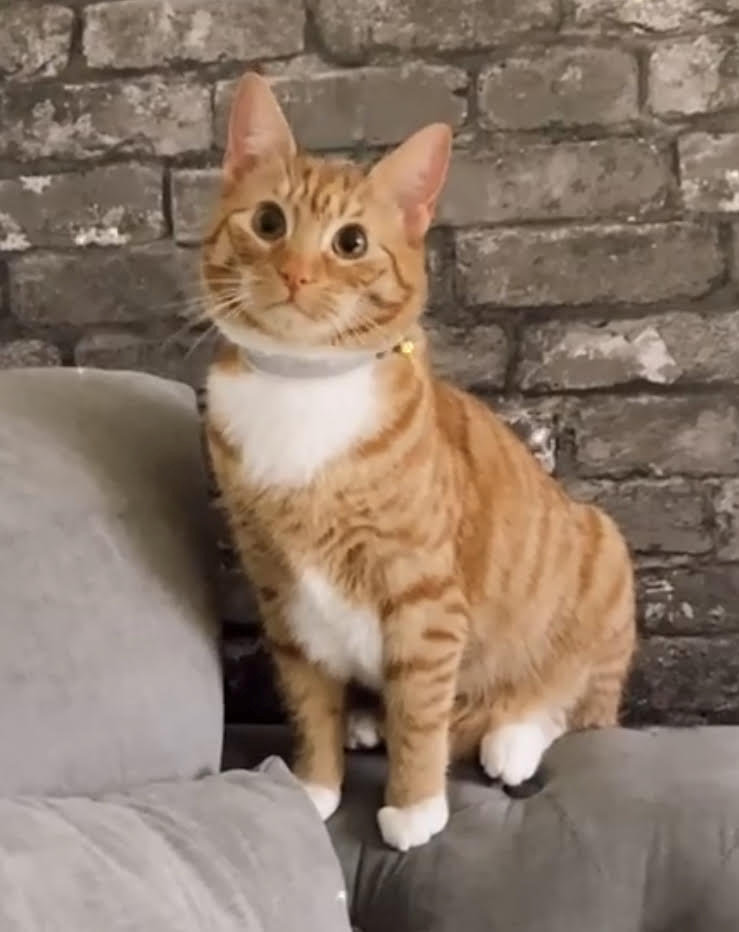 "We phoned the vet, and he passed away next to us while we were on the phone at 10pm.
"We phoned the police at 10.30pm, and they went out to investigate, but there was no sign of the two men or the dog.
"All that was left behind was a man-made dog lead.
"About an hour later at 11.30 pm, we heard 'where's my f****** dog', so they must have come back.
"The police came back out but couldn't find them."
She fears the dog is still on the loose.
Lucia, who owns a theatre school, added: "We're absolutely devasted and heartbroken.
"Humprey was a beautiful cat, a real good comfort to us during the lockdown.
"We don't have any children so he really was our fur baby.
"We will never get another pet because this heartbreak is too much.
"We're concerned about a small child or another animal suffering the same fate, as the dog is still on the loose."
A Police Scotland spokesperson said: "Around 10.25pm on Monday, 19 April, officers were made aware of an incident on Gifford Wynd, Paisley where a dog reportedly attacked a cat.
"While an official complaint was not made, officers searched the nearby area for the dog and its owners, but could not locate them."