A criminologist who identified a "more likely suspect" for the 1973 murder of Margaret McLaughlin is now naming the man publicly.
In his book Signs of Murder, Professor David Wilson describes tracking down and confronting 'John Smith'.
But a new edition of the book will name Smith as Les Jardine, who lived with his family in a house in Unitas Crescent on the route Margaret took from her home towards Carluke train station.
On the evening of July 6, 1973, Margaret left her family home in Glenburn Terrace to catch a train to Glasgow. During the short walk, beside a small wooded area known as Colonel's Glen, Margaret was murdered in a frenzied knife attack. She was stabbed 19 times.
Less than a week later, George Beattie was charged and later convicted. He's maintained his innocence and continues to campaign to clear his name, even after two appeal court justices refused his pleas of innocence.
After sharing his research with Police Scotland, Wilson received a call back saying Jardine, 71, had died in May, two months before the book was published.
Professor Wilson told STV News: "It was when the book was published in July, Police Scotland contacted me asking to me to confirm that my 'John Smith', my more likely suspect, was indeed Les Jardine and they pointed out to me at that point that he had died."
Ex-prison governor Wilson, who grew up in Carluke, has come face to face with many high-profile offenders, including Fraserburgh-born serial killer Dennis Nilsen.
While researching his book, he concluded that Beattie could not have killed Margaret. He then examined who could have been responsible.
This led him to Jardine, who after 20 years of married life in Lanarkshire moved to Stonehaven, Aberdeenshire, where Wilson spoke with him on his doorstep.
The academic described the encounter as "the most nerve-jangling ten minutes of my entire career".
He told STV News: "I'm very happy to name the person who was living at the address that I point out in the book as Les Jardine. I'm not saying Les Jardine is guilty. I'm saying he's a far more likely suspect than George Beattie ever was."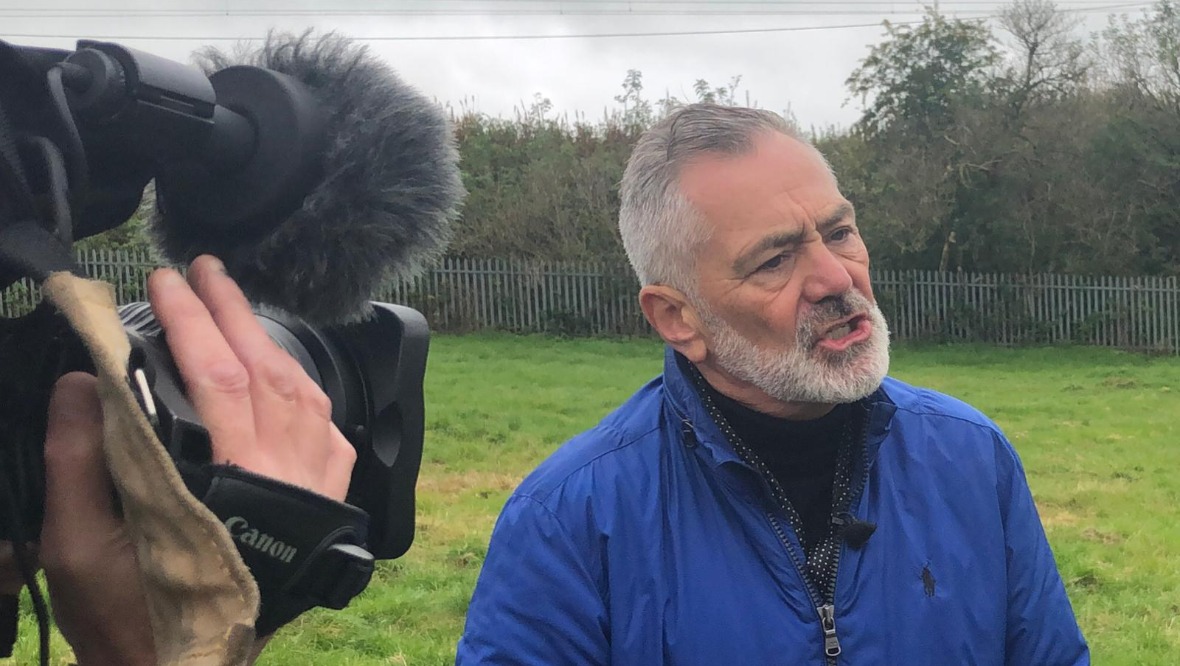 Jardine spent time in a Lanarkshire psychiatric hospital and was rumoured to be dead or living in Canada.
Retired Scottish Crime Squad detective Bob Beveridge told Wilson about a "strange" young man who he encountered while doing door-to-door enquiries after Margaret's murder.
Beveridge was so concerned that he took the man to Carluke police station, only to be told to release him as Lanarkshire CID boss William Muncie was charging Beattie.
Wilson said: "It was tracking down the detective Bob Beveridge who made that statement I was able to combine what he said with my own research … and then suddenly we have a more likely suspect."
The young man said that he was also a victim, showed off superficial knife wounds to his chest and said that he liked stabbing cats.
Beveridge told STV News: "I believe it is quite possible I was sitting in a police station all night with the person responsible for the murder.
"The lad we had should have been put through the mill by more senior, experienced officers who were used to interviewing prisoners. There is no doubt about it, his comments really demanded further investigation instead of just the door opening in the morning.
"They will never admit they made a mistake because that will be a poor reflection on everyone straight through."
During the doorstep encounter with Wilson, Jardine denied murdering Margaret.
Wilson said: "He denied this absolutely but then so much of what he said to me seemed illogical, seemed inconsistent, and quite clearly he wasn't very keen to speak to me and the interview that I had with him lasted no longer than ten minutes.
"But enough was said in that ten minutes to make me again feel here was a much more likely suspect that needed to be ruled out by Police Scotland under caution and, of course, they can't do that now.
"It's never too late. And what we have to remember is there's a man here, called George Beattie, who's still alive who is still unfairly believed to have been the killer of Margaret McLaughlin.
"At the very least we owe it to him. Many lives have been ruined as a consequence of this crime, obviously Margaret McLaughlin's most immediately.
"It seems to me that mature criminal justice systems have to be able to say at the end of the day 'look, we got this wrong'."
Margaret's former fiancé Bob Alexander believes the theory about Jardine is "very plausible" but "this will take a lot more investigation by people who have access to further information which David Wilson did not have".