Parents have had their complaints against a North Lanarkshire nursery upheld after their three-year-old son ingested rat poisoning in the playground.
Katrina Williamson and David Adams told of their shock after their son Aaron was found to have eaten rat poisoning in the playground of Firtrees Nursery in Motherwell.
They rushed him to A&E where Aaron underwent a series of blood tests before eventually being put on a vitamin K IV injection.
Their complaints against the nursery have now been upheld by the Care Inspectorate following the events in May this year.
Inspectors concluded that Aaron found access to the "hazardous substance" in the nursery's play area.
Rats had been spotted in the playground on May 6, however Aaron's parents say they were not informed of this.
The rodents were reported to the 'estates' at Motherwell College and a pest control company visited on May 11.
Traps were set in the outdoor area which was blocked with a make-shift cordon.
Investigations concluded that the cordon was "not effective and did not provide a sufficient barrier to prevent children from accessing the area."
Another child alerted staff to the fact that Aaron was in the area with the report stating: "We found the deployment of staff at the time of the incident was not effective, allowing Aaron to access the area unobserved by staff."
The nursery have been ordered to make a number of safety changes and North Lanarkshire Council have branded the report findings as "serious".
Mr Adams told STV News: "I was really quite taken aback and in a bit of shock at going to pick my son up from nursery to hear that he had eaten rat poison.
"We were not informed as parents that there were rats on the premises or that rat traps had been put into the gardens."
The incident occurred on May 17 between 3.50pm and 4pm.
However, Ms Williamson did not get a call from staff until 4.52pm when a missed call was registered on her phone.
By this time Mr Adams had arrived to collect Aaron and initially believed everything was normal.
Ms Williamson told STV News: "He was told Aaron had had a good day. He was none the wiser about what went on."
He was later called back by members of senior management who informed him, with Ms Williamson on the phone, that Aaron had been found with blue pellets in his hand in the playground.
Ms Williamson said: "We asked do you think Aaron has eaten any of it? The senior staff member seemed surprised and said 'no we don't think he has eaten any of it'.
"As a parent it's instinctual to ask your child if they've put something in their mouth."
When his parents asked him if he had eaten the blue pellets Aaron replied that he "ate lots and they tasted like balloons."
Mr Adams said: "He may be only three but he's got good enough communication that he can answer questions.
"We couldn't believe that they hadn't actually asked him."
Mr Adams insisted on seeing the area where Aaron accessed poison and staff led him outside, however he found that things had been moved.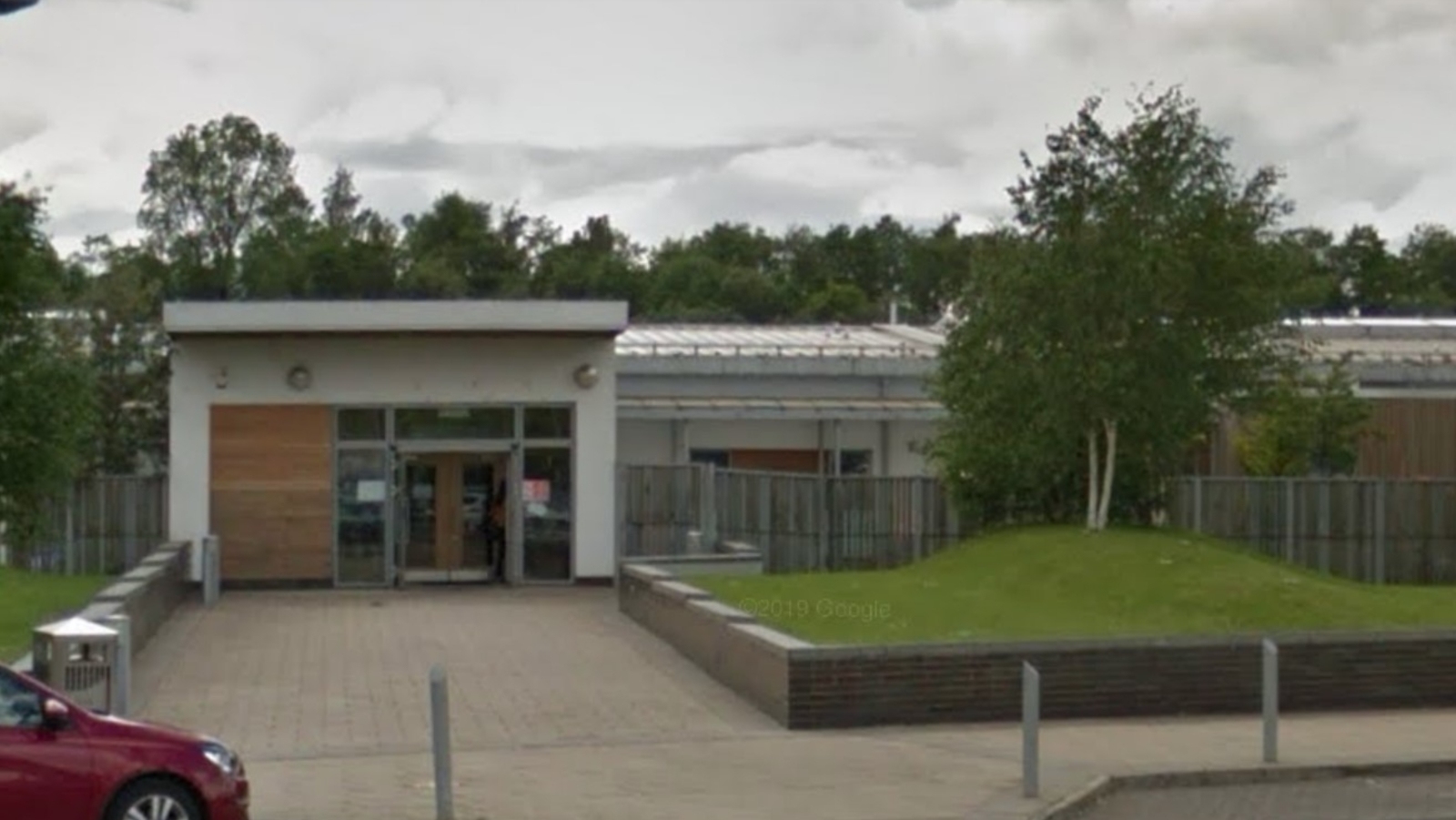 Mr Adams described the cordon as "four upturned bottle crates and some of the garden furniture all arranged in a line down the middle of the garden."
He added: "For me it looked more like a play thing rather than something that would stop children getting past."
Ms Williamson said: "They had already removed what Aaron accessed, they told us they removed it for safety purposes.
"But, it had taken an hour for them to contact us and tell us what had happened."
They rushed to A&E where they waited to be seen by a doctor.
Blood tests were carried out and Aaron's parents were told to be alert that evening for signs of bleeding to ears, eyes and gums.
They were also told to look for signs of unusual bruising or blood in Aaron's urine.
Ms Williamson said: "We were trying to stay calm and were told by the hospital we could go home as Aaron's blood test was normal but of course we were still very worried about him.
"It had been a traumatic day for Aaron, he is only three and hospitals are not nice places for kids."
After returning home, Aaron was able get some sleep however Ms Williamson and Mr Adams continued to worry.
She said: "Around 3am I was researching rat poison and reading that it can take up to seven to 21 days for it to start acting in your system."
Ms Williamson called the hospital again and staff agreed to carry out another blood test on Aaron in 48 hours.
As a result of further tests on May 19, Aaron was taken to a paediatric ward and was assessed as needing an IV injection of vitamin K as a result of changes to his blood levels.
The report into the incident by the Care Inspectorate found that:
A safe environment was not provided, enabling Aaron to access a hazardous substance.
Aaron's parents and not all staff were timeously informed that Aaron had accessed a hazardous substance.
Medical advice/assistance was not sought by staff following Aaron's contact with the hazardous substance.
Aaron's parents were not provided with sufficient information about the substance to inform medical professionals.
Following the investigation, four requirements were made of the nursery:
To ensure risk assessments are carried out for any rodent control activity.
To update the accident/incident policy with improved procedures for contacting parents.
To ensure a policy of seeking immediate medical assistance if a child has come in contact with hazardous substances.
For all staff to be trained and aware of any hazardous substances on the premises and how to manage them.
Aaron remained at home for three months and, after much difficulty, has now enrolled at a new nursery.
He will be attending hospital next week for further check-ups.
Ms Williamson said: "We still do not feel that we have closure.
"No one has come to us and fully explained how this happened and who is to blame."
She added: "We know it is in Aaron's best interests to have social interaction with other children and he is enjoying his new nursery.
"We are just hoping he will be safe in his new nursery and they have been really good and helping us build back trust."
North Lanarkshire Council say they are working with the nursery to ensure changes are implemented "as a matter of priority".
A spokesperson for North Lanarkshire Council said: "This was clearly a serious incident. We expect all our Early Learning and Childcare settings including partner nurseries to provide the highest standards of care and support to our children and families.
"We have worked closely with the nursery to develop an action plan and will continue to work with them to ensure that all areas identified are implemented and monitored robustly as a matter of priority."
Firtrees Nursery told STV News that they could not comment due to an ongoing investigation.