The family of a Glasgow man who was found to have cancer during an X-ray for a broken arm has launched a fundraiser in the hope to cover treatment in Japan.
Shaun Atwal slipped and fell on an icy street while making his way back home in Lenzie on New Year's Day, 2021.
After an X-ray, the 27-year-old discovered he had broken his humerus bone – but in February further tests revealed he had osteosarcoma – a rare form of bone cancer.
"Following the initial diagnosis, we were really shocked for days," his sister, Luvleen, told STV News.
"Coming home from the initial drive was so quiet, no one knew what to say.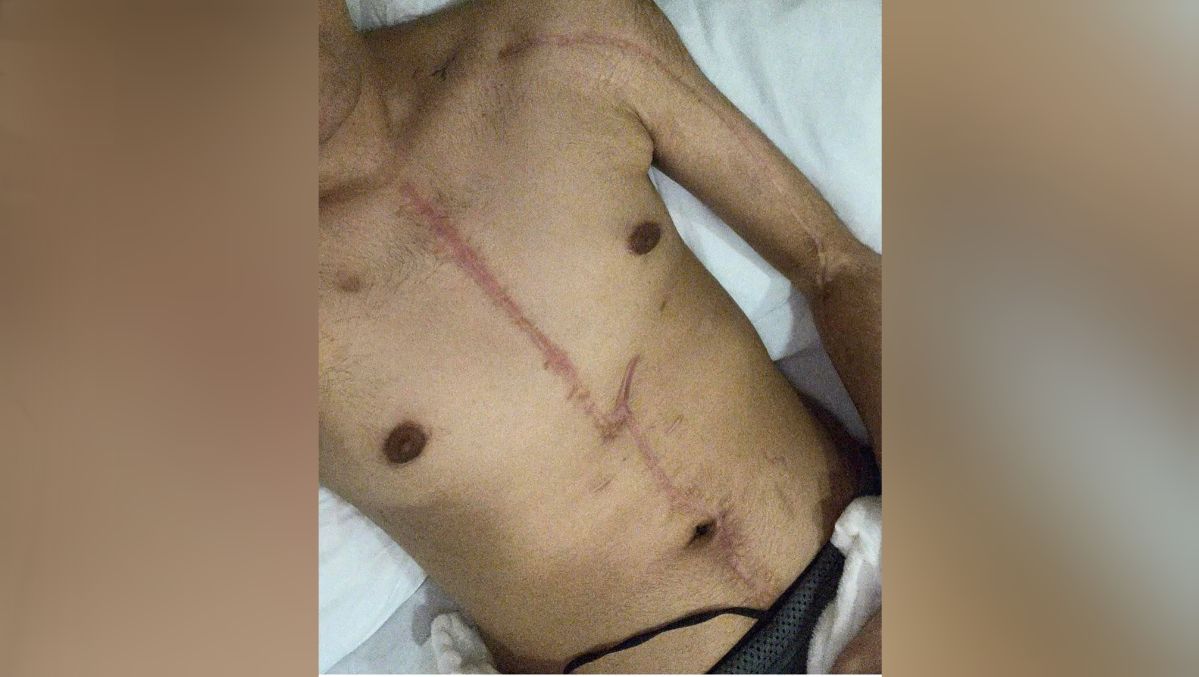 "We were all devastated. It took a few days to get our head around it. Until its in your house its not something you think about it, now it's there every day."
Following successful chemotherapy and a 12-hour long operation to remove the cancerous bone – which was replaced with metal – Shaun went into remission for seven months.
However, in June last year, he began experiencing crippling pains in his back and a scan revealed that his cancer had returned.
He underwent further surgery and chemotherapy after it was found that the cancer had spread to his spine. He was then informed by doctors that the cancer is no longer curable.
"After the first eight months of chemotherapy, he breezed through it all," Luvleen said.
"He was so positive, and was even getting called the star patient from the doctor.
"It's only now that he has relapsed that it is starting to affect him a bit more. It's devastating.
"The biggest impact is that he is either at home or at hospital, so he doesn't feel like he has a life that someone at his age should have."
Shaun's family has found an alternative immunotherapy treatment in Japan which they hope will help give him the best possible chance to be "free of this disease".
The treatment is called "autologous adoptive-cell transfer immunotherapy" and uses three types of white blood cells with the cells grown from the patient's own in order to limit the chance of a bad reaction.
The process includes cell collection, cell preparations of NK-cells, T-cells and Dendritic cells, and a Molecular targeted therapy drug to mark the cancer cells.
It is said to use a combination of Dendritic cells, T-cells and NK-cells. The Dendritic cells identify cancer cells, the T-cells attack the identified cancer cells and the NK-cells kill hidden cancer cells.
The family has already raised more than £67,000 through a GoFundMe.
Luvleen said: "This combination therapy could give Shaun the chance he needs to finally be free of this disease but it is very expensive.
"There is also the costs of travel, accommodation and any other medical costs which may arise whilst out there.
"We just want to share a huge thank you to everyone that shared it online and donated. We are so grateful. We also just want to extend a huge thank you to Shaun's hospital team.
"Without them Shaun wouldn't be alive right now."
STV News is now on WhatsApp
Get all the latest news from around the country
Follow STV News
Follow STV News on WhatsApp
Scan the QR code on your mobile device for all the latest news from around the country