In a small rural village in Argyll, Jamie Buckley is known as the young woman with the big heart.
A fan of wild swimming, she could often be seen splashing in the bay near her house or riding her beloved horse Cameron.
Fiercely passionate about conservation projects and charities, the 21-year-old would also bake brownies and cakes to fill a small wooden honesty box near her home in Tayvallich, with all proceeds donated to good causes.
But when Jamie's life turned upside down, the village came to her aid to help with her recovery.
Despite suffering from anxiety and noise sensitivity due to her autism diagnosis, Jamie found solace in her hobbies and was particularly close to her horse Cameron, who lived on the Buckley family's property.
"He was her security blanket and her safe place – whenever she couldn't cope with the world or was overwhelmed, she would go to Cameron and he would make everything better," explained Jamie's mum Jenny.
"He was such an understanding, gentle, compassionate being, he really was. They really got each other, it was such a special bond."
'Her grief triggered a neurological response'
But his death in February 2020 triggered a neurological response in Jamie, and two weeks after the shock wore off, she never spoke again.
Prior to leaving school she had suffered from non-epileptic seizures, which was put down to the stress of being in an uncomfortable, noisy environment. But when the fits returned after Cameron's death, her mother Jenny knew something wasn't right.
A perfect storm was brewing and the coronavirus pandemic meant accessing help for Jamie was difficult, especially due to the rural nature of their home, which is a two and a half hour drive from Glasgow.
In September 2021, things took a turn for the worse and Jamie lost the use of her legs following a seizure and hasn't been able to walk since.
"In the week following that, she lost mobility in her arms and then all her limbs went into fixed positions," Jenny explained.
"Her joints are flexed at her wrists and elbows constantly, her hands are turned inwards and her fingers are clenched all the time into her wrists, her muscles are permanently contracted.
"Her legs are the same, her hips are out of place and her knees are stuck together, all the joints are going the wrong way and her ankles are turned in the way and flexed underneath and her toes are curled under, causing her a great deal of pain."
Diagnosis
Jamie was finally diagnosed with Functional Neurological Disorder (FND), a complex condition which affects the function of the nervous system.
Messages sent by the brain and body to each other get confused, resulting in full body paralysis, painful spasms and seizures.
But despite a diagnosis, Jamie faced a long wait for neurological treatment on the NHS and with the emergence of the Omicron variant in December 2021, inpatient services at Queen Elizabeth University Hospital in Glasgow were cancelled.
While patients were told to seek treatment in their local communities, Jamie was stranded with no neurological team at Mid Argyll Hospital in the nearby town of Lochgilphead.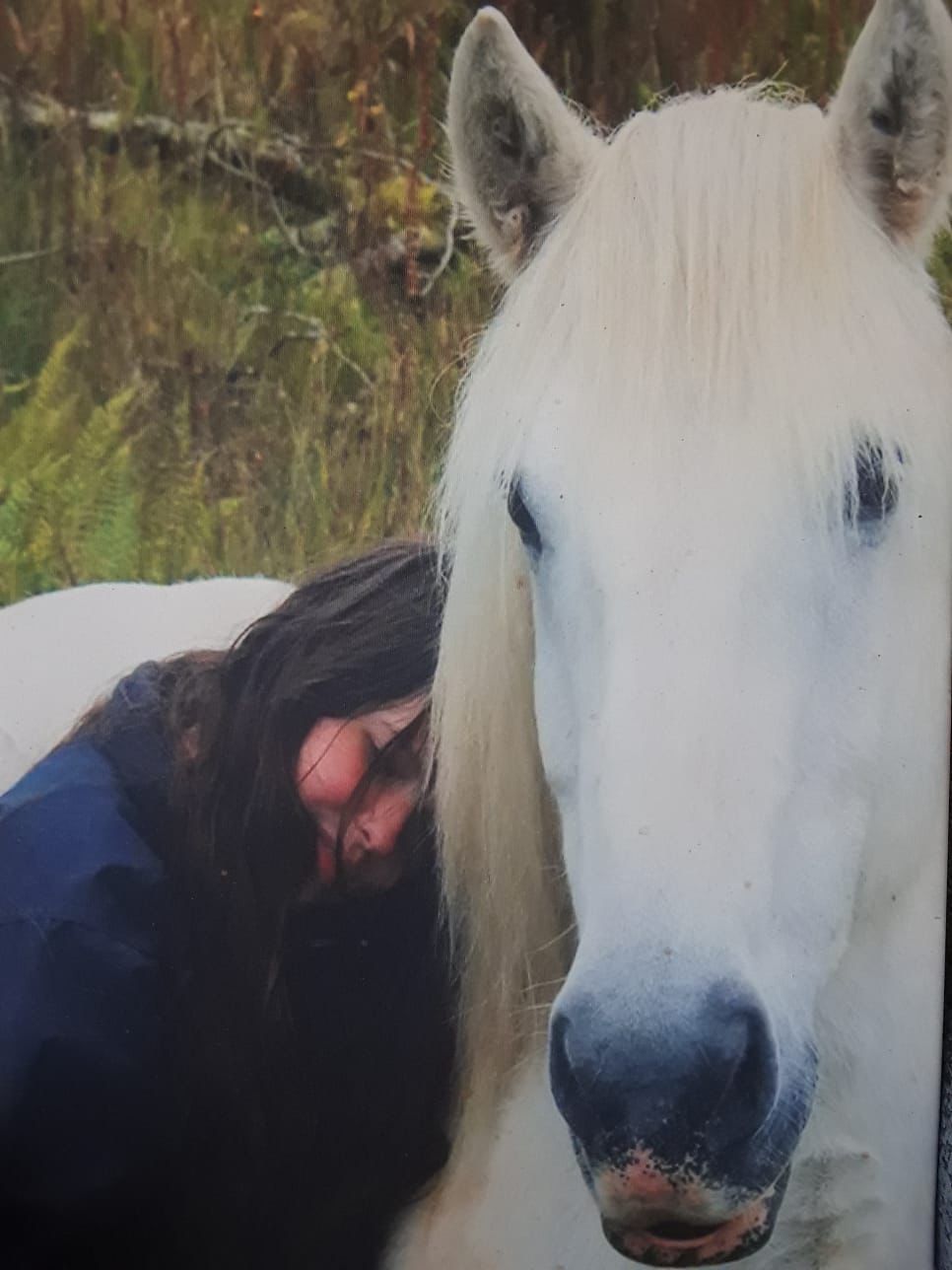 Jamie, who is able to communicate using software connected to eye movements, said she felt like "a burden on her family".
She told STV News: "I thought that I would be trapped in a body that couldn't do anything forever.
"I was left without treatment for eight months. If my friend hadn't let me borrow her wheelchair, I would have been using an office chair for five months. I felt like nobody cared about me and like a burden on my family and the NHS."
'Doctor gave us hope'
It was then Jenny decided that going private was Jamie's best option and a meeting with leading neurologist Dr John Stone, a professor of neurology at Edinburgh University, suddenly gave the family hope.
"Up until that point, we really had no hope at all that Jamie could get better because we couldn't seem to find anyone who knew what they were doing. Every door we opened was soon to close," Jenny recalls.
"For Jamie, meeting Dr Stone was fantastic because he understands FND so well and understood what Jamie was going through.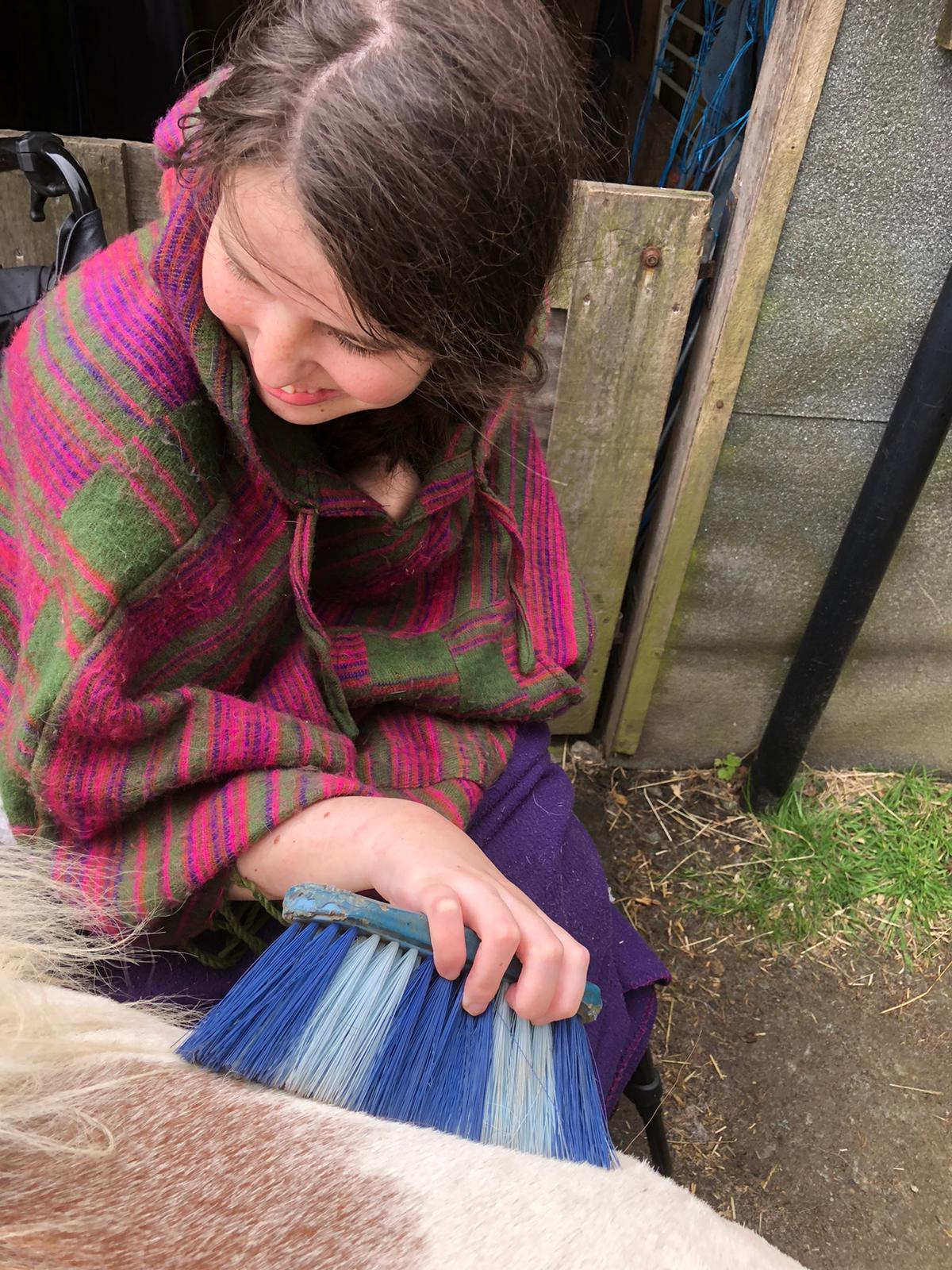 "He gave her hope, he gave us all hope. That has really been the biggest gift to turn around Jamie's mindset and now she really wants to get better. She's got that drive because she knows she can, whereas before she didn't actually believe she could get better."
Jamie has now started a treatment plan focused on physio, neuro-physio and neurofeedback therapy, with Jenny adding she clicked with her physio Katie straight away.
"Katie had her arms stretched out within the first 15 minutes of the treatment. Jamie's arm, never mind her hand, hadn't moved in eight months to that point, so that was huge and to see Jamie's face when she could see her hand at the side that she thought would never move again was just really special," Jenny recalls.
Determination
A keen wild swimmer, hydrotherapy has also been hugely beneficial for Jamie, and her muscle memory saw her begin to do strokes with her arms the first time she entered the pool.
Setting herself small goals, she was soon able to pet a pony and later brush one with a huge smile on her face.
Two weeks ago, she met her third goal to hold the reins while carriage riding, one of her hobbies before her diagnosis, and one day hopes to ride a horse again.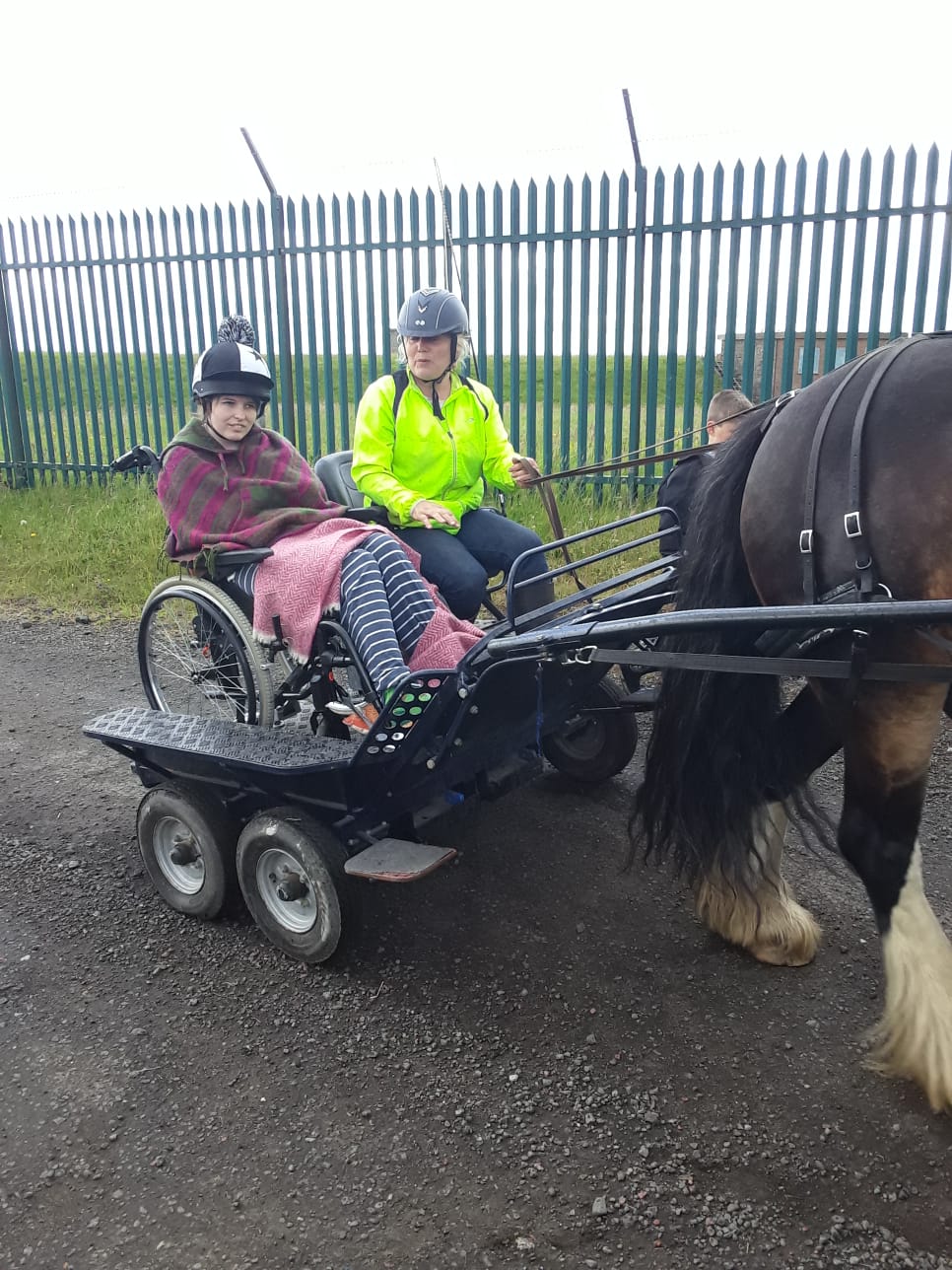 Another goal is to swim in an Olympic sized pool, following in the footsteps of her hero, gold medal paralympian swimmer Tully Kearney.
Kearney has Dystonia, a neurological condition causing muscle spasms similar to Jamie's diagnosis of FND.
STV News contacted Tully Kearney to tell her about Jamie's goal of swimming in an Olympic pool and she responded with a personalised message for the 21-year-old.
She said: "Hi Jamie, it's Tully here…I wanted to send you a quick message of support.
"I wish you all the luck with your treatment and I hope to see you at a pool some day soon."
Jamie was delighted with the message, with mum Jenny saying Jamie was "beaming for hours" after watching the clip and "must have replayed it 30 times".
Community support
While Jamie's progress has been the hope the family have been searching for, it soon became clear the family needed help to fund Jamie's rehabilitation.
However, they were not prepared for the outpouring of support from locals and those further afield touched by Jamie's story.
After Jamie's aunt Cath Shaw launched a JustGiving page, the family were inundated with donations for treatment, which now stands at almost £13,000.
Locals began to organise events to raise cash, with the husband of one of Jamie's former teachers selling kayaking kits with profits going to the appeal and local artist John Morrison, also known as Jolomo, making a sizable donation.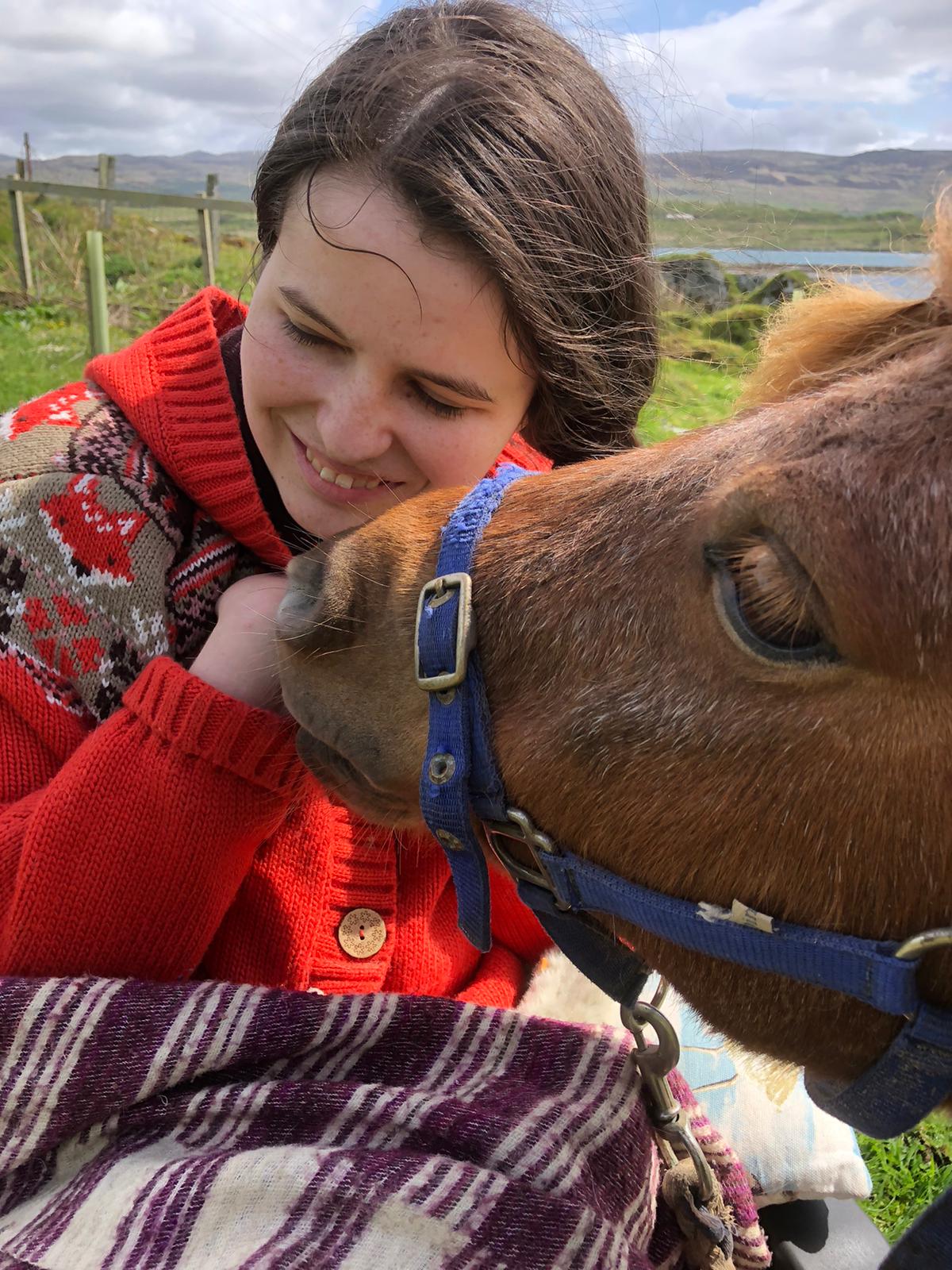 Bakers took Jamie's cake box 'on tour' to Lochgilphead, raising more than £800 through the sale of sweet treats and a ceilidh night has been planned for September.
Jenny said: "I think that's why it's touched so many people because Jamie does give a lot, really all her interests are changing the planet and helping animals in trouble."
Cath added: "Everyones been really touched by Jamie's story."
While Jamie still has a long road ahead, with the generous support of friends, family and the kindness of strangers, she may be able to achieve her goals in the future and return to her beloved horse riding and wild swimming.
"She would love to be a paralympian and there's no reason she can't if she keeps going as she is," Jenny said.
"Our hope is for as full a recovery as she can get and she can get her life back."
To donate to Jamie's rehabilitation fund, visit her JustGiving page.