The word "hope" is boldly displayed at the front entrance of Scotland's only dedicated drug stabilisation service.
Staff inside say they deal with "chaos rather than full-blown crisis" but the daily challenges are escalating – fuelled by a rise in crack cocaine, alcohol abuse and "catastrophic" levels of street valium.
There are only 16 beds inside the Glasgow service run by Turning Point Scotland. They are in demand, as currently around 40 people are on the waiting list.
Several of them will require hospital treatment before they arrive.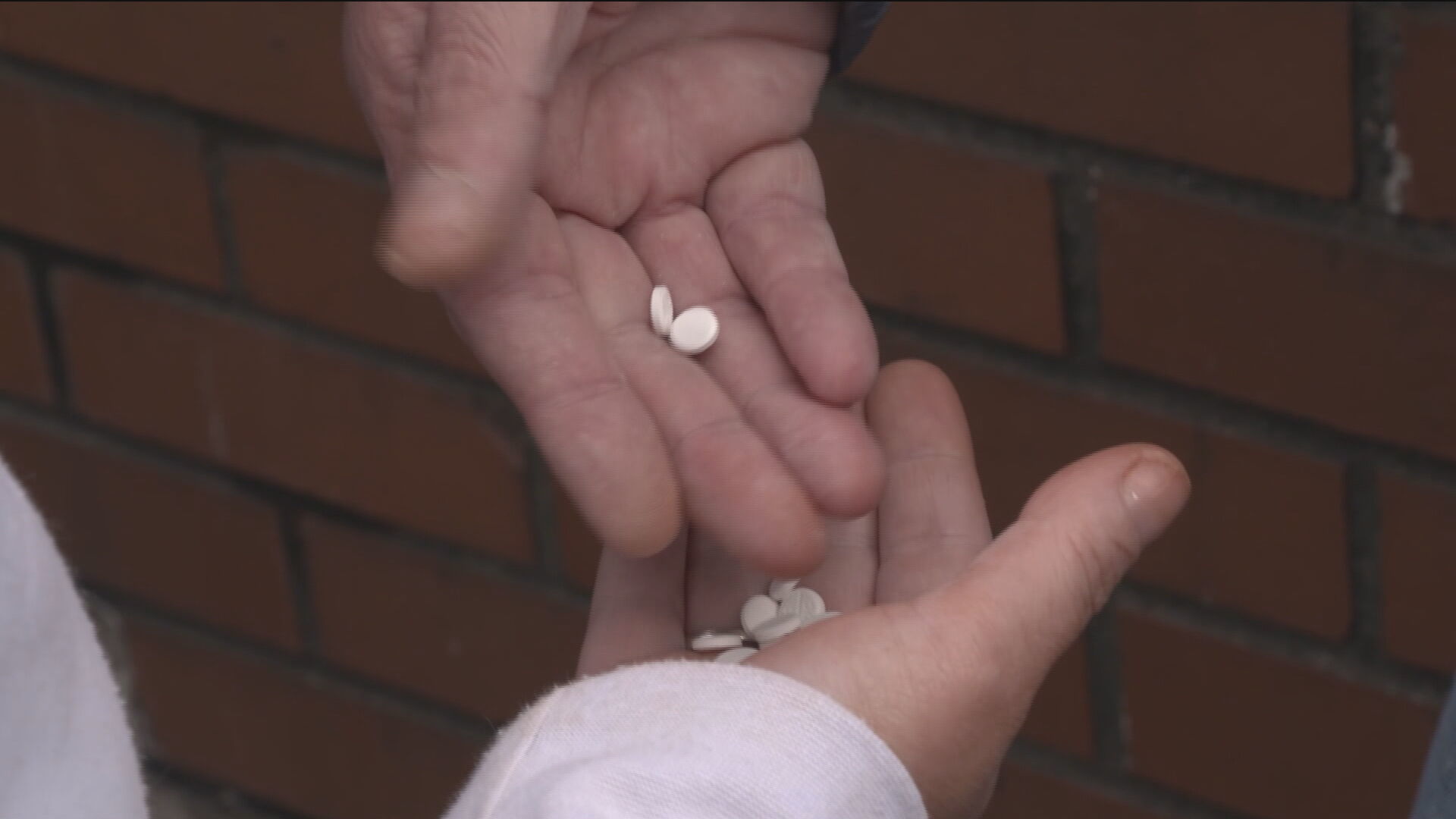 Senior addiction nurse, Alison Robertson Brown, is one of the first people someone seeking detox treatment will meet.
"Referrals will have an initial telephone assessment but when they come into the service, we will properly assess their drug and alcohol use and tailor their treatment," she told STV News.
"For the first five days, they will be monitored hourly. "
Drug tests usually show the presence of street diazepam or valium. In fact, the nurse says she cannot remember the last referral that did not have the pills in their system.
"Now we are seeing a reduction in heroin, a rise in alcohol, a rise in crack cocaine and street diazepam or valium is always there. It is just catastrophic," Ms Brown said.
"Every single service user will tell you they know they are dealing with death every time they take these fake pills.
"They do not know what is in it and they are losing days. I have had people who were using vast amounts of prescribed valium, they then take six street valium and end up needing CPR. "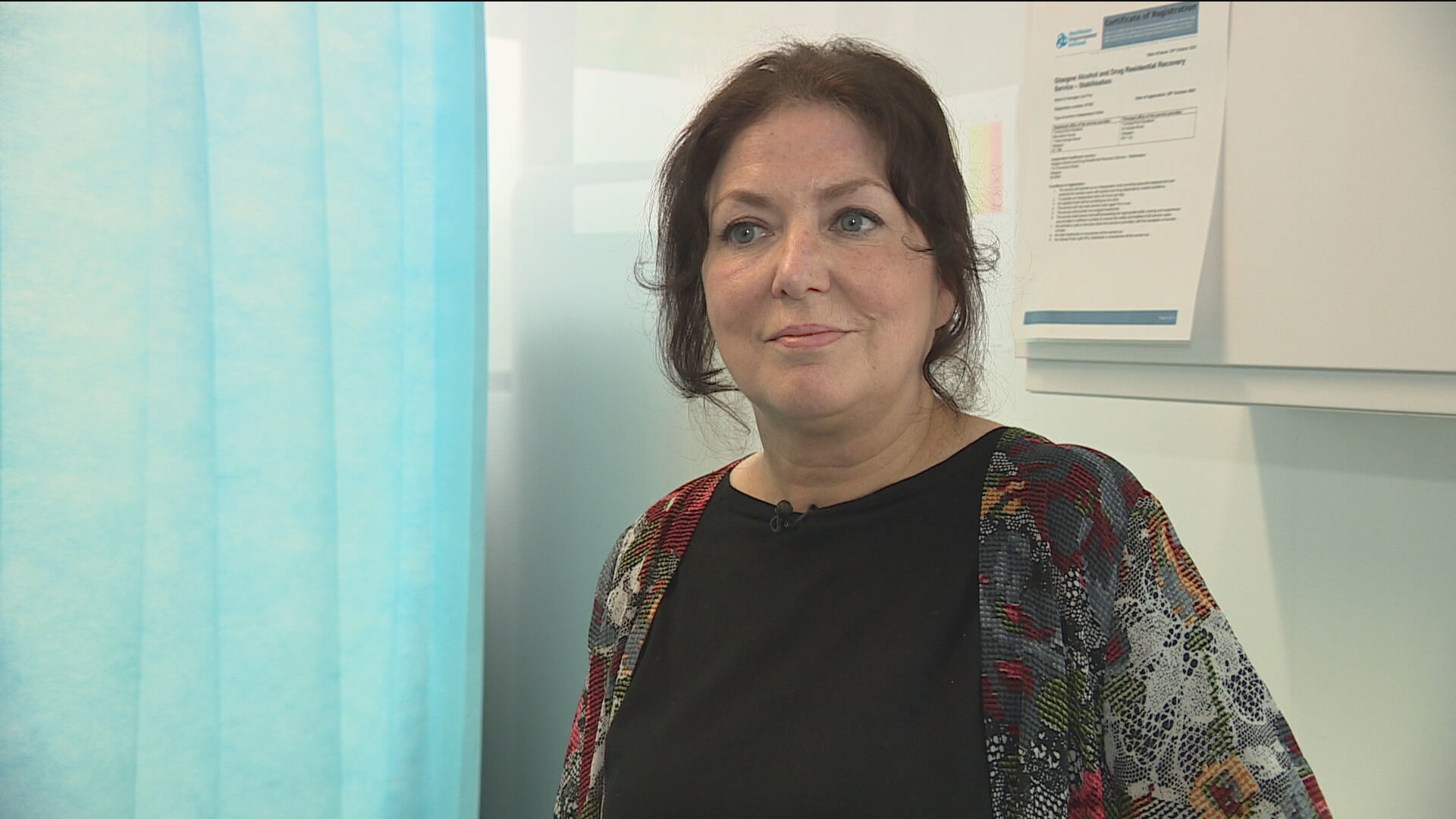 Patricia Tracey, Turning Point's head of alcohol and other drugs, believes stabilisation services form just one part of a large jigsaw of treatment and harm reduction services.
"Not everyone is ready for abstinence," she said.
"Rehabs are great and are important, but we also need somewhere where some people can go outside their community for a shorter period.
"Once stable on medication, they are then able to engage better with other services. We have a range of different treatments to stabilise people on heroin but with benzodiazepines, there is a risk of seizure.
"We do try to do this in the community but for people who can't manage it, we need to think about safety. "
Some referrals require hospital treatment before they come into the service for a period of up to six weeks.
Ms Brown added: "We have people who are so underweight with cocaine use, they are in danger of refeeding syndrome, so they have to go into hospital to get food gradually reintroduced."
In 2022, 1051 people died from drug-related incidents. The latest statistics once again show that poly drug use is a factor.
Turning Point Scotland is among the organisations calling for greater urgency to prevent fatal overdoses.
In January, the Scottish Government committed £18m for more detox and stabilisation services – eight months on, Turning Point claim the money has not been released.
"Nothing moves fast enough when people are dying," Ms Tracey said.
"As we operate the only facility of its kind in Scotland, other organisations are asking us how they can get a similar service in their area.
"We do not know. We need instruction about how we make this real to respond to this urgent situation. "
The Scottish Government say alcohol and drug partnerships (ADPs) are responsible for the final distribution of the money.
ADPs have been allocated £3m each year until 2026 to develop and implement stabilisation services.
A Scottish Government spokesperson said: "A further £6m has been allocated for a capacity fund to allow stabilisation and crisis services to scale up and improve their facilities. That funding will be distributed through an annual fund over three years.
"A working group, made up of experts including those with lived experience, has been established to advise how this will be spent most effectively."
The drugs policy minister, Elena Whitham MSP is visiting the Glasgow service on Thursday and will hear calls from managers to create three or four new regional centres as soon as possible.
Responding to questions on Tuesday, the minister said: "I know from my former work in this field stabilisation is key and that such crisis intervention services are needed. It is definitely at the top of my agenda to ensure these services are rolled out where we need them. "
Jimmy Yates is a support practitioner helping service users build up resilience skills ahead of their move back into the community.
Mr Yates said: "Sometimes it's a challenge but sometimes all it takes is an arm around the shoulder. We are looking at the human being, they are not a series of problems. "
"For some people, longer term treatment and residential rehab is right, but you would be absolutely amazed at what can be achieved in six weeks.
"I've seen people come in and not being able to string two sentences together and then going out the door with some sort of hope for their future. "
An evaluation of the stabilisation service last year shows a 92% reduction in substance use, as well as an 87% reduction in offending behaviour.
Improvements too have been seen in physical and mental health, with staff equally aware of those who never stabilise or beat their addition – they say learning of a drug death never gets easy.
"When the drugs death statistics come out every year, it does affect us in a profound way but it's also something that motivates us to do the job that we do," Mr Yates said.