An exhibition of work by Banksy is to open in Glasgow this weekend – the artist's first solo exhibition for 14 years.
The Cut & Run show, taking place at the city's Gallery of Modern Art (GoMA), has been officially authorised by the elusive street artist.
It spans 25 years and will feature many of the stencils the artist has used to create work.
The exhibition opens on Sunday and will run for three months, opening all night at weekends.
Banksy says the Duke of Wellington statue located in Royal Exchange Square was the deciding factor in bringing his new show to Glasgow.
STV News has been given a sneak peak of the exhibition and the images below give a taste of what is in store for visitors.
Cut & Run
The show opens with a stencil image first painted in Chinatown, New York, in 2013, featuring a young, barefoot boy standing on another boy's shoulders, – with the original can of spray paint swapped for a traffic cone, in a nod to the iconic Duke of Wellington statue.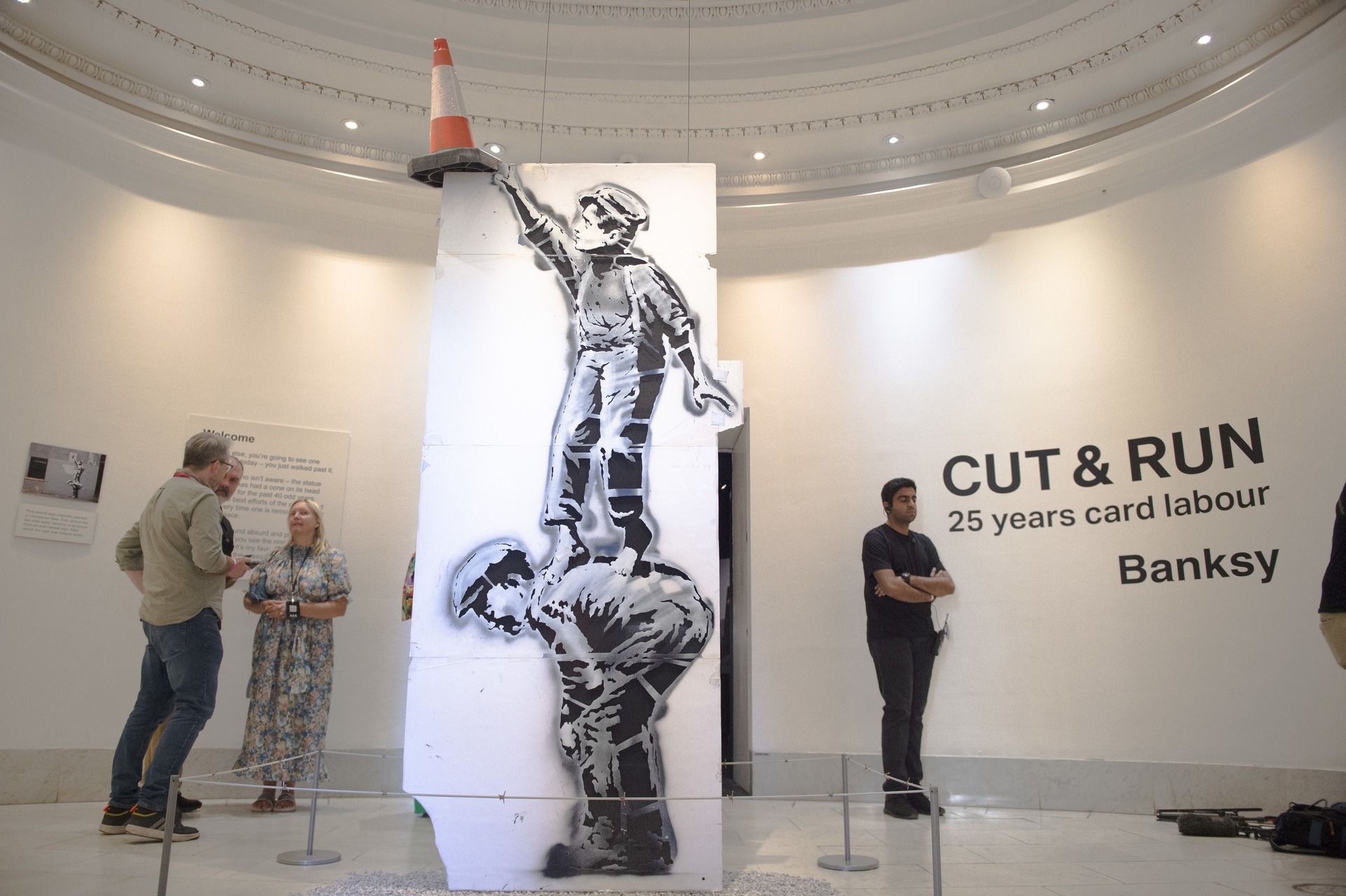 The artist's desk, featuring his tools of the trade, including spray paint cans, tape, Stanley blades and even a coffee-stained mug, which reminds everyone "You have the same amount of hours in a day as Beyonce." as well as the never before seen stencils, used to create many of the artist's most iconic works.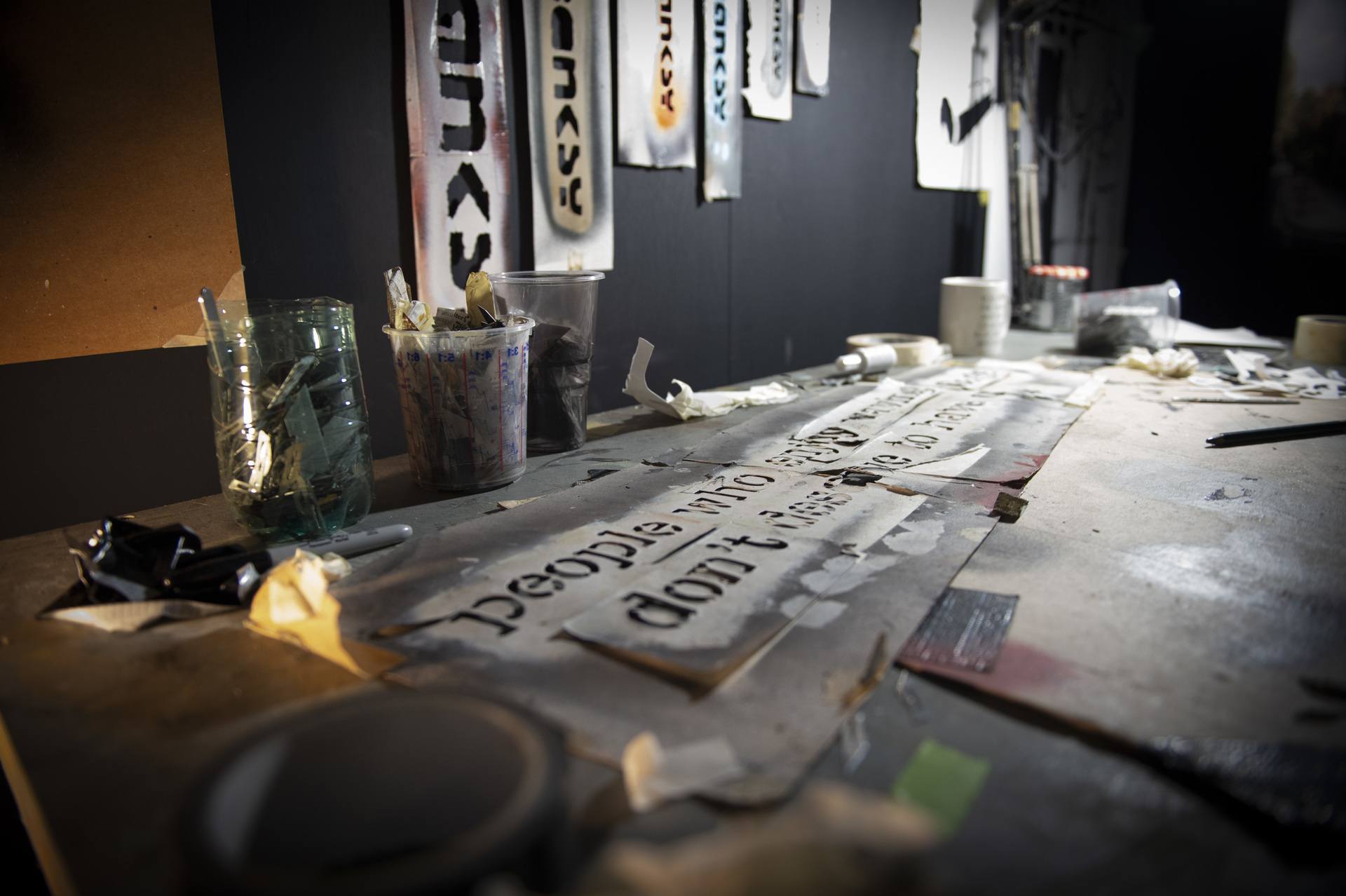 "These are the stencils I've used to print graffiti. I've kept these stencils hidden away for years; mindful they could be used as evidence in a charge of criminal damage. However, that moment seems to have passed, so now I'm exhibiting them in a gallery as works of art. I'm not sure which is the greater crime."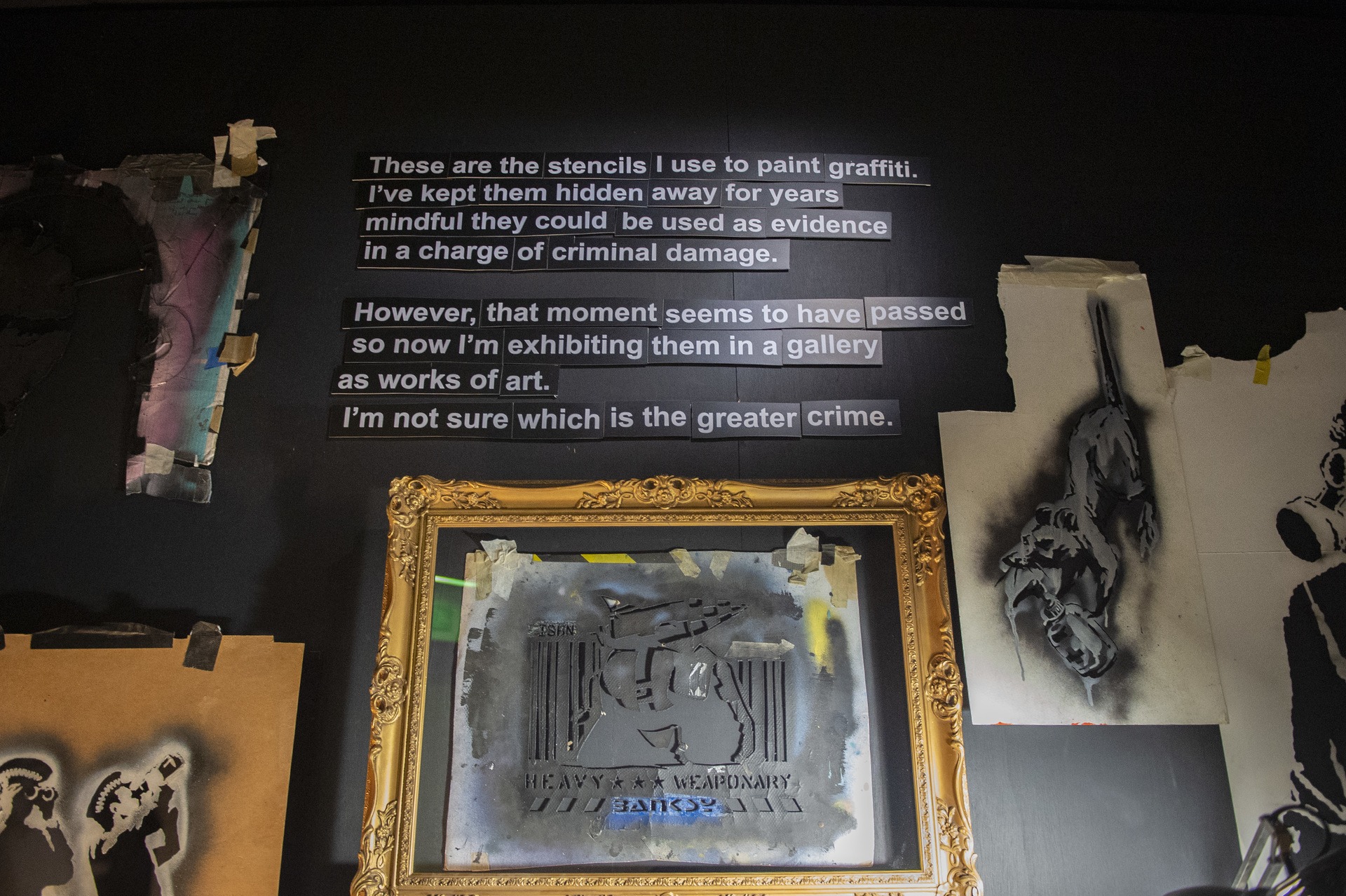 "Better out than in. October 2013."
Piece depicting a tagger vomiting flowers, which are blooming up the side of a wall.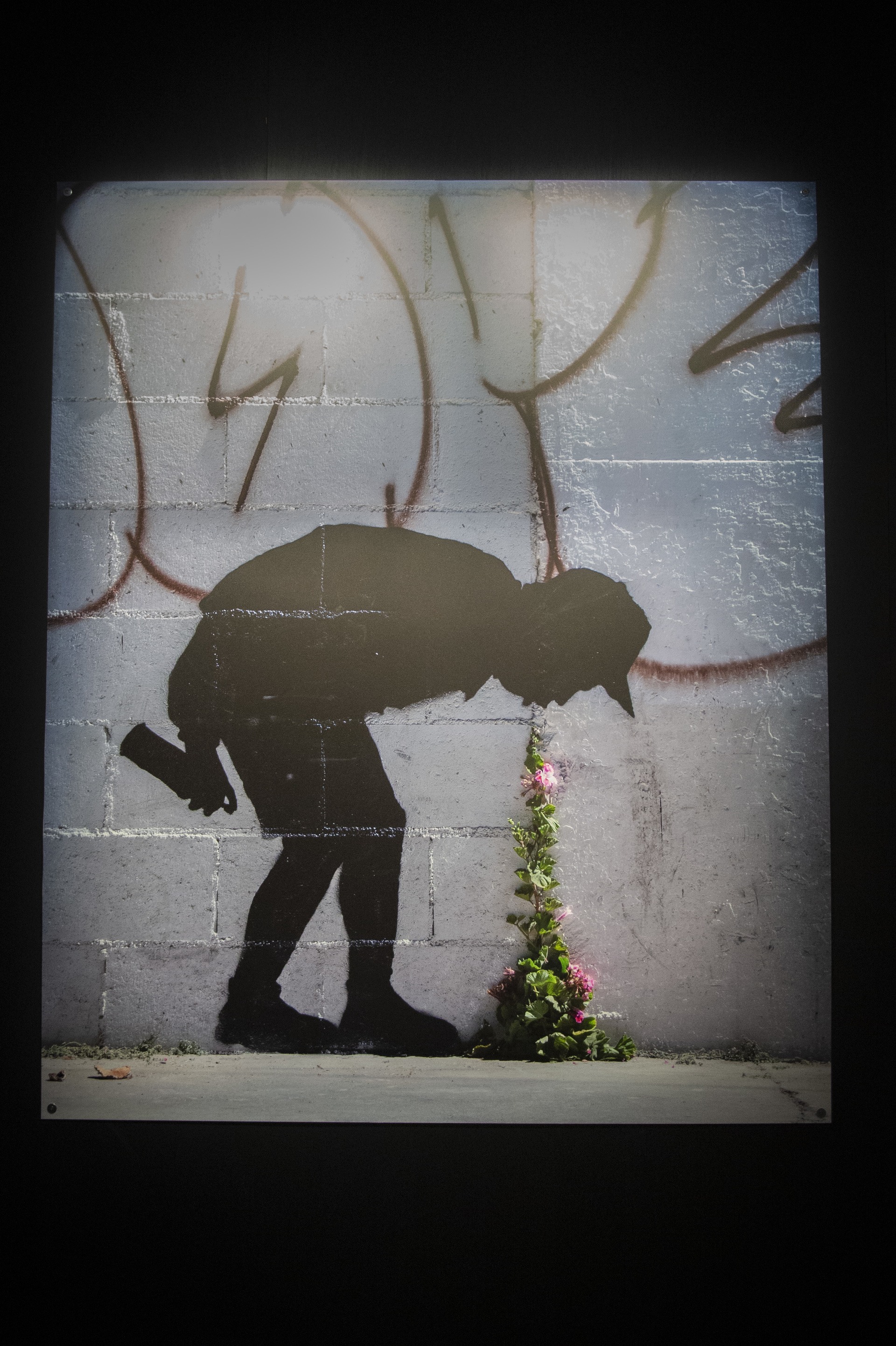 Yellow Line Flower Painter, 2007, Pollard street, Benthal Green, London.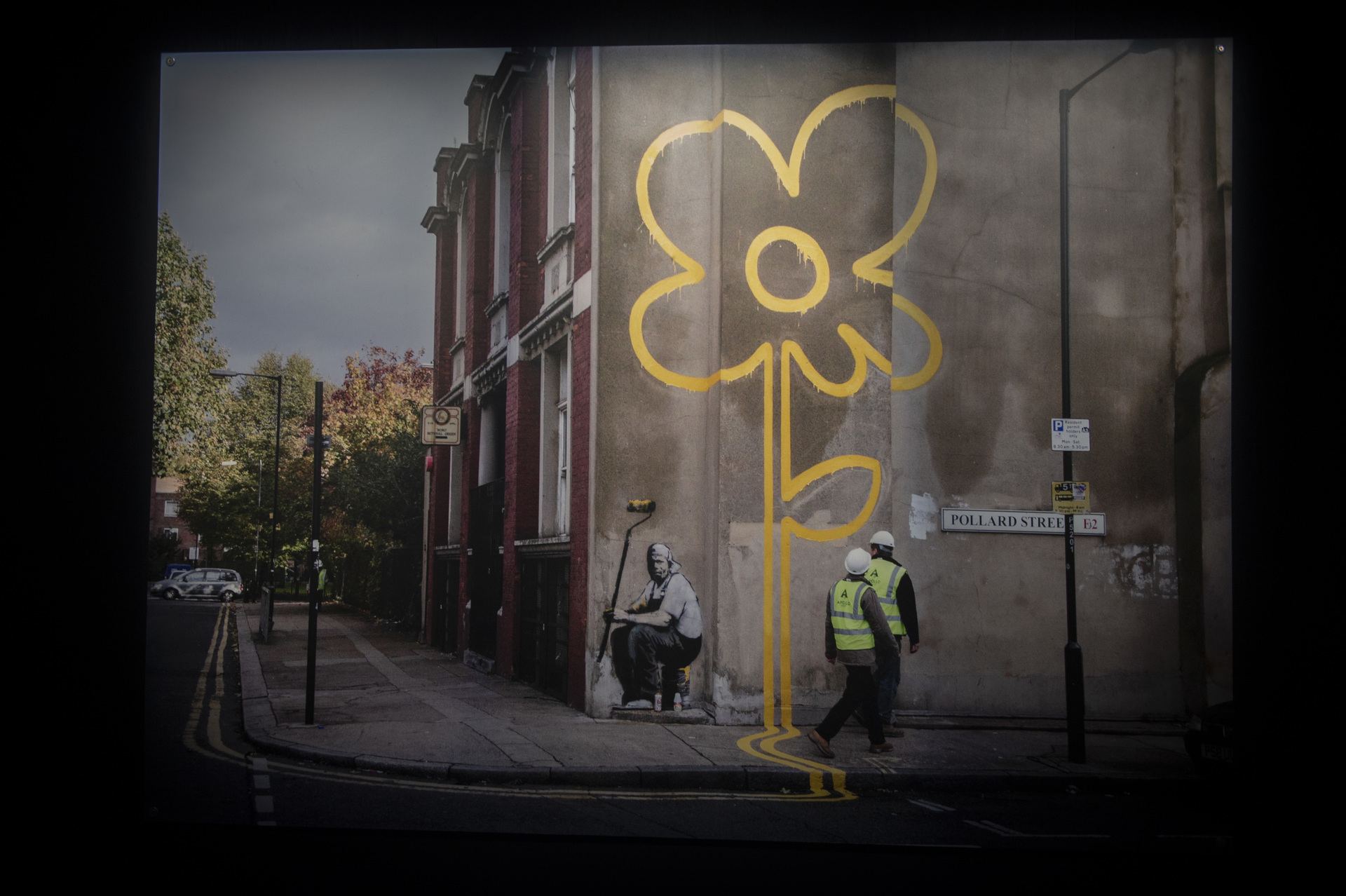 Bank St Banksy, London Underground.
"You'd have thought by now I would have grown out of painting on things that don't belong to me. But these days instead of lying to my Mum about where I'm going when I leave the house, I'm lying to my kids".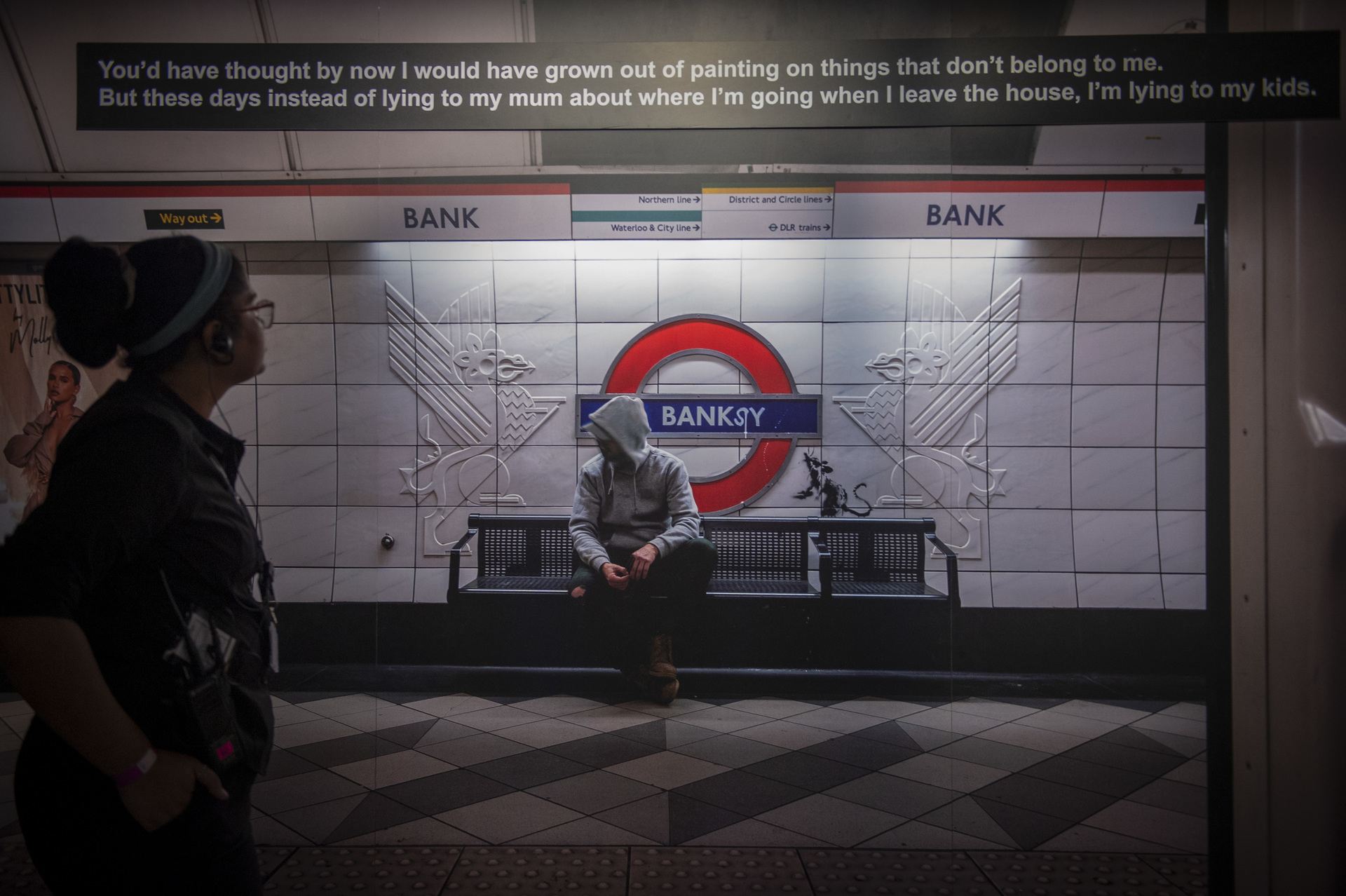 The wall of hate – featuring calls to blind and even hang the controversial artist.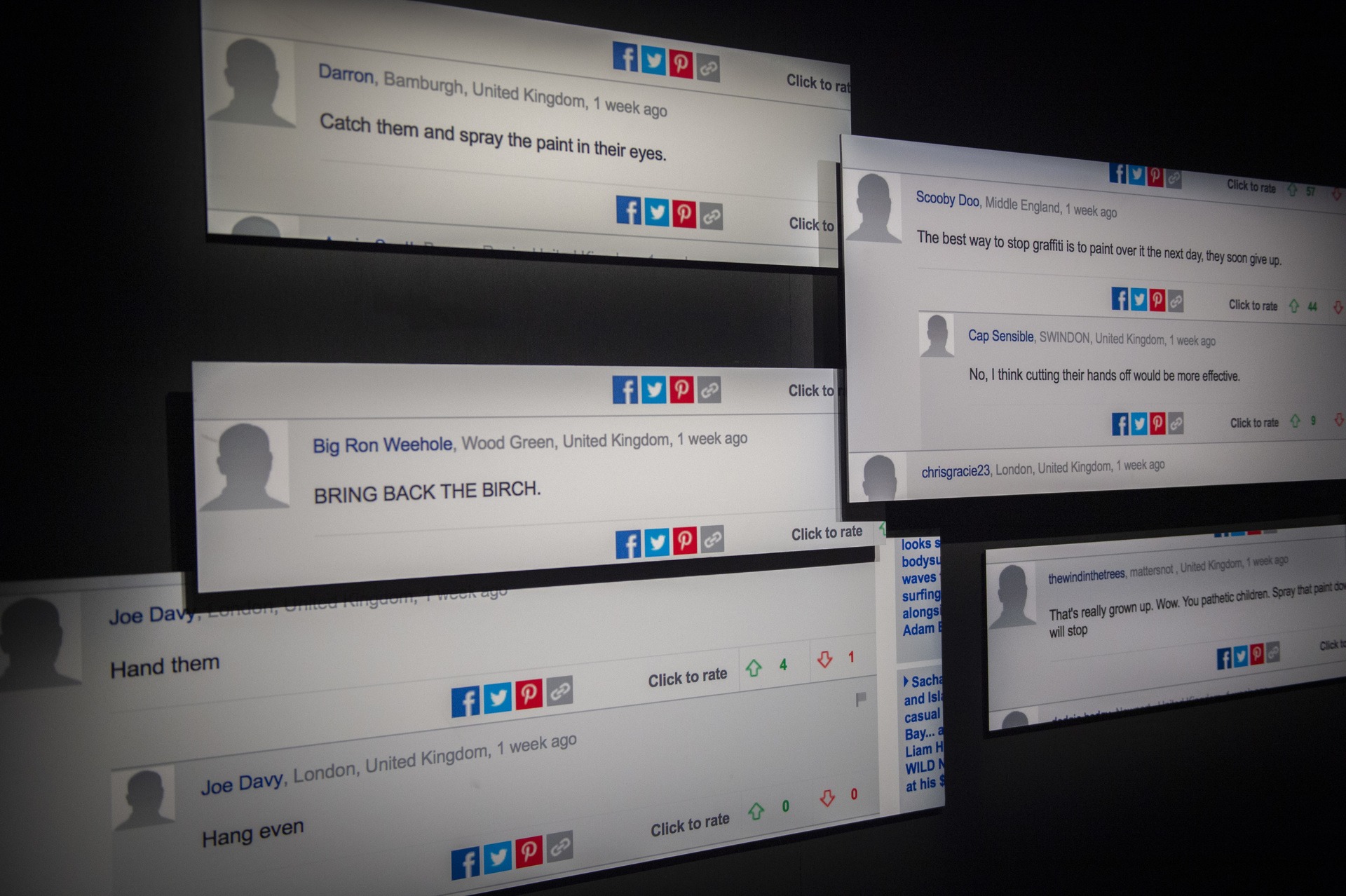 Acclaimed New York graffiti artist, Basquiat, being stop and searched, London 2017.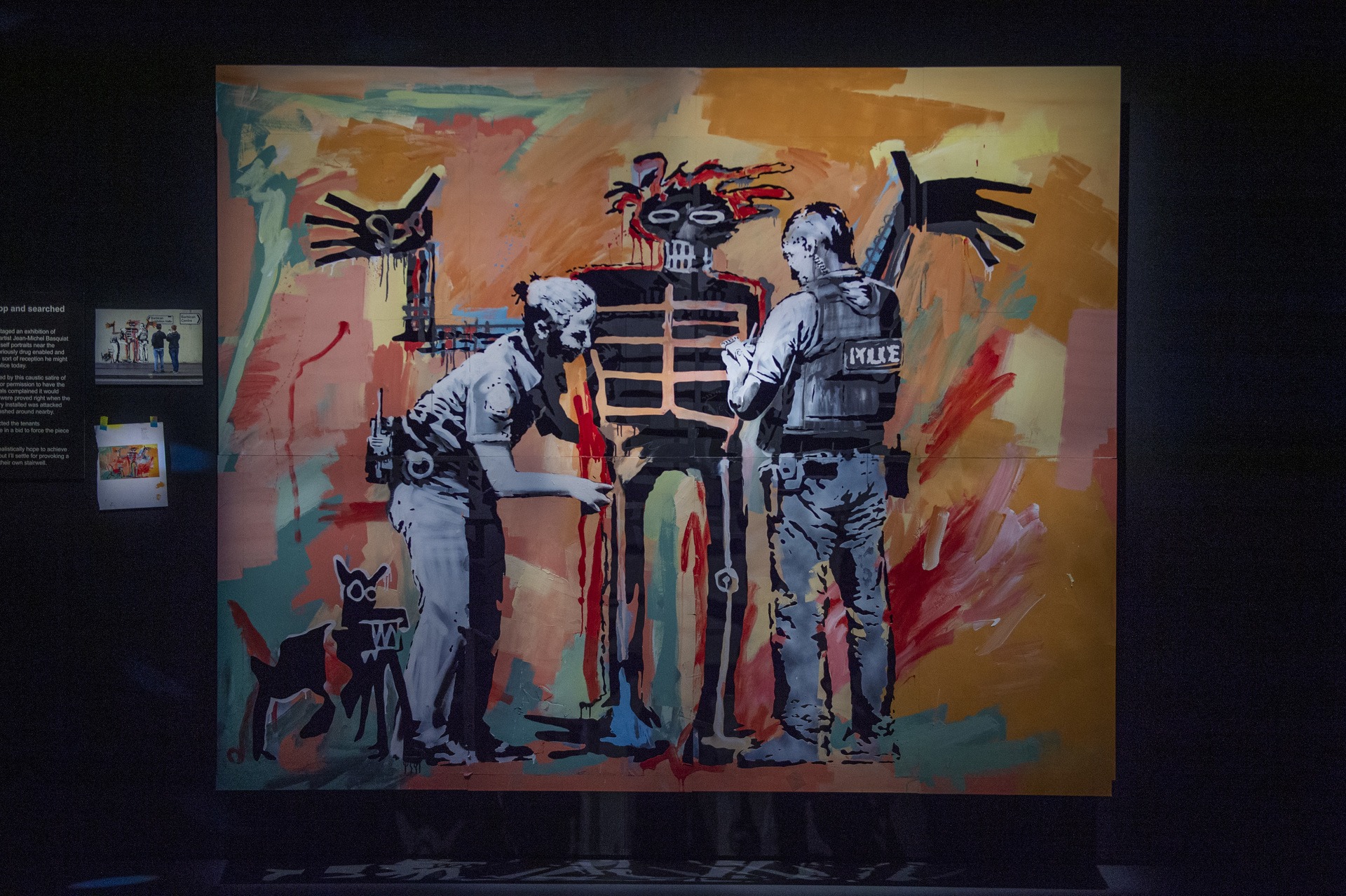 "Most artists have an obsession that defines their work," says one panel. "Monet had light, Hockney has colour. I've got police response time."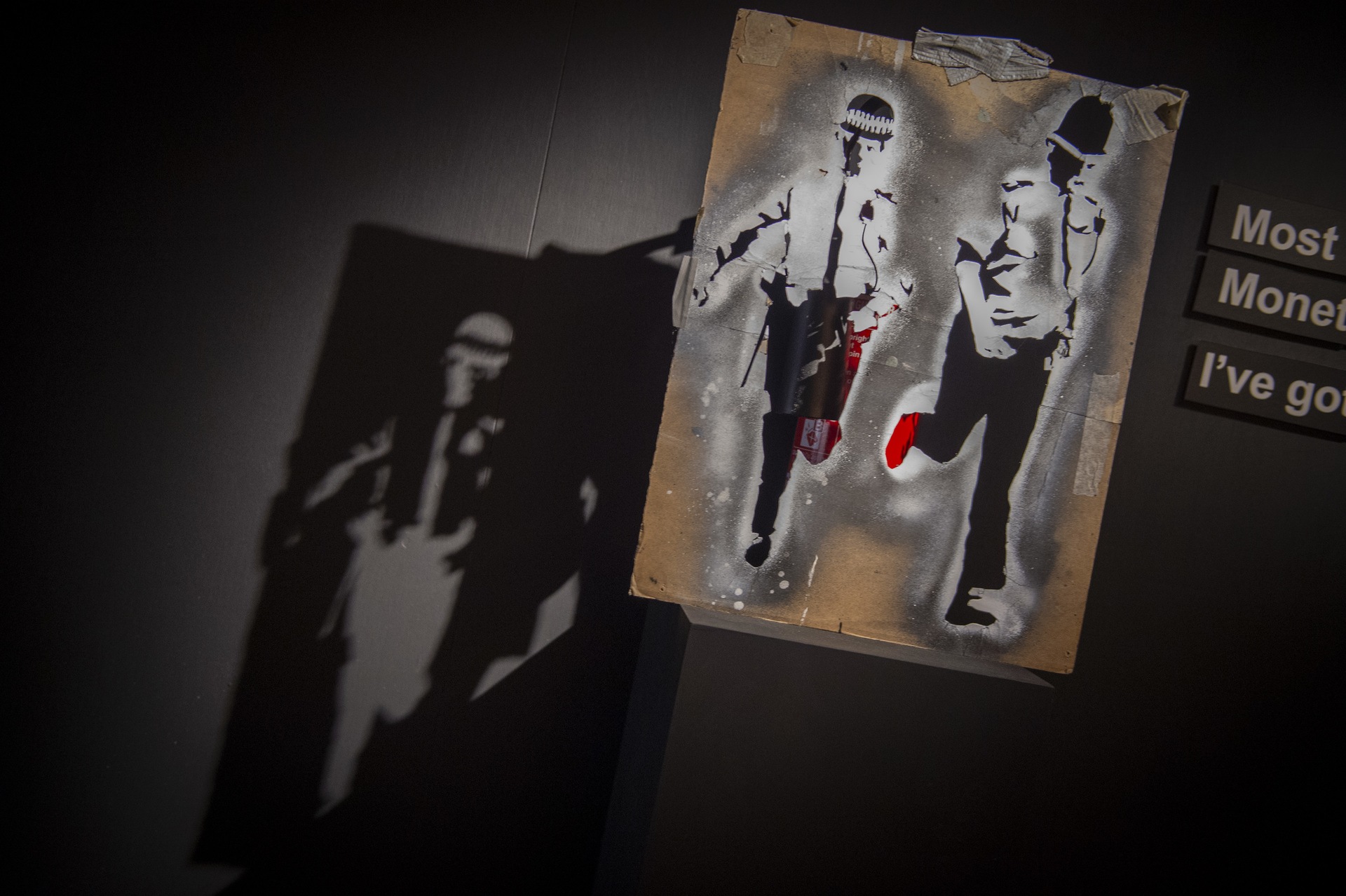 Banksy's Season's Greetings (2018) which first appeared on a garage wall in Port Talbot, Wales.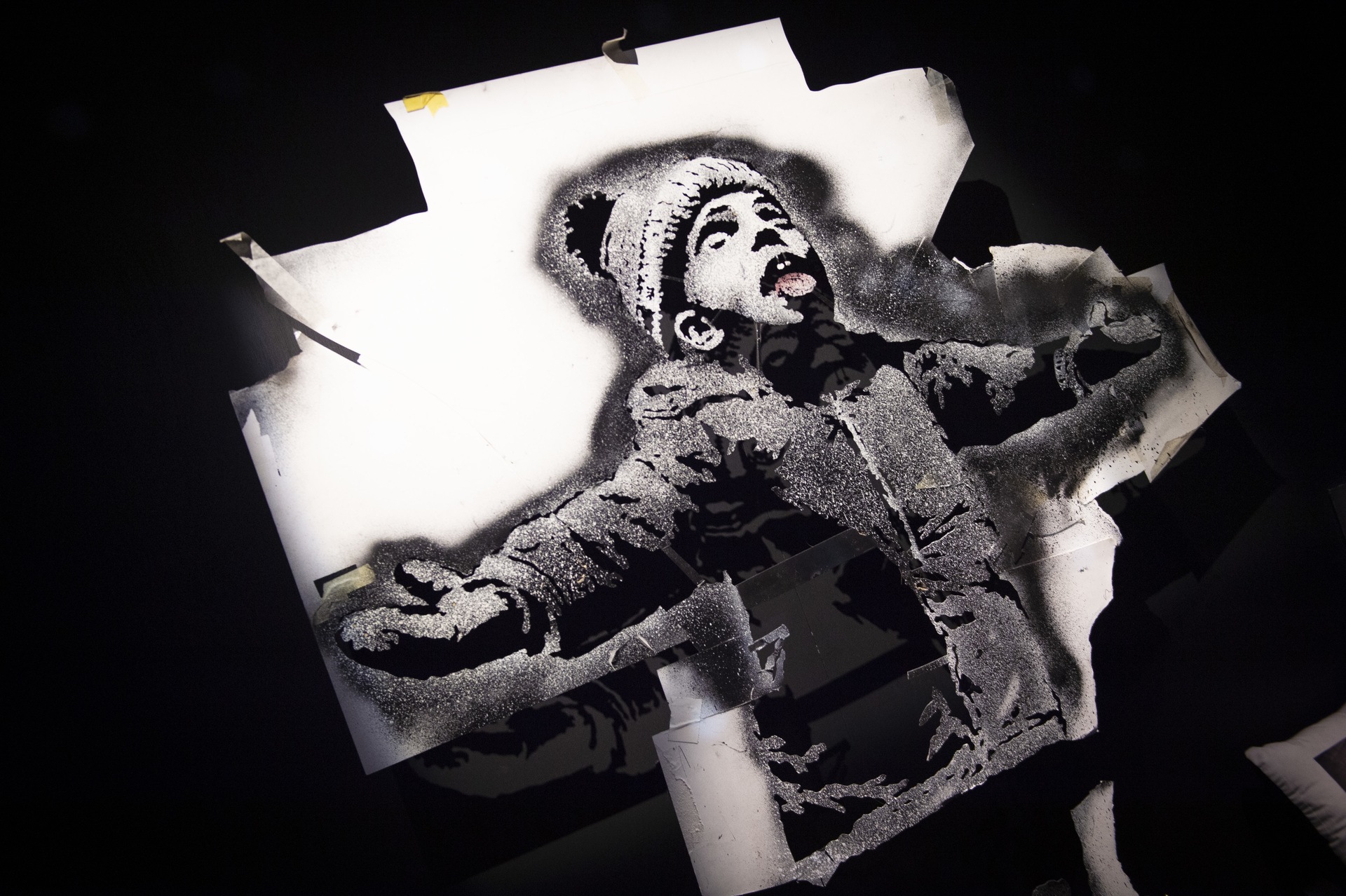 Grand Terrace is Banksy's homage to Rodney King's killing in 1991, in which Banksy has substituted King with a Pinata.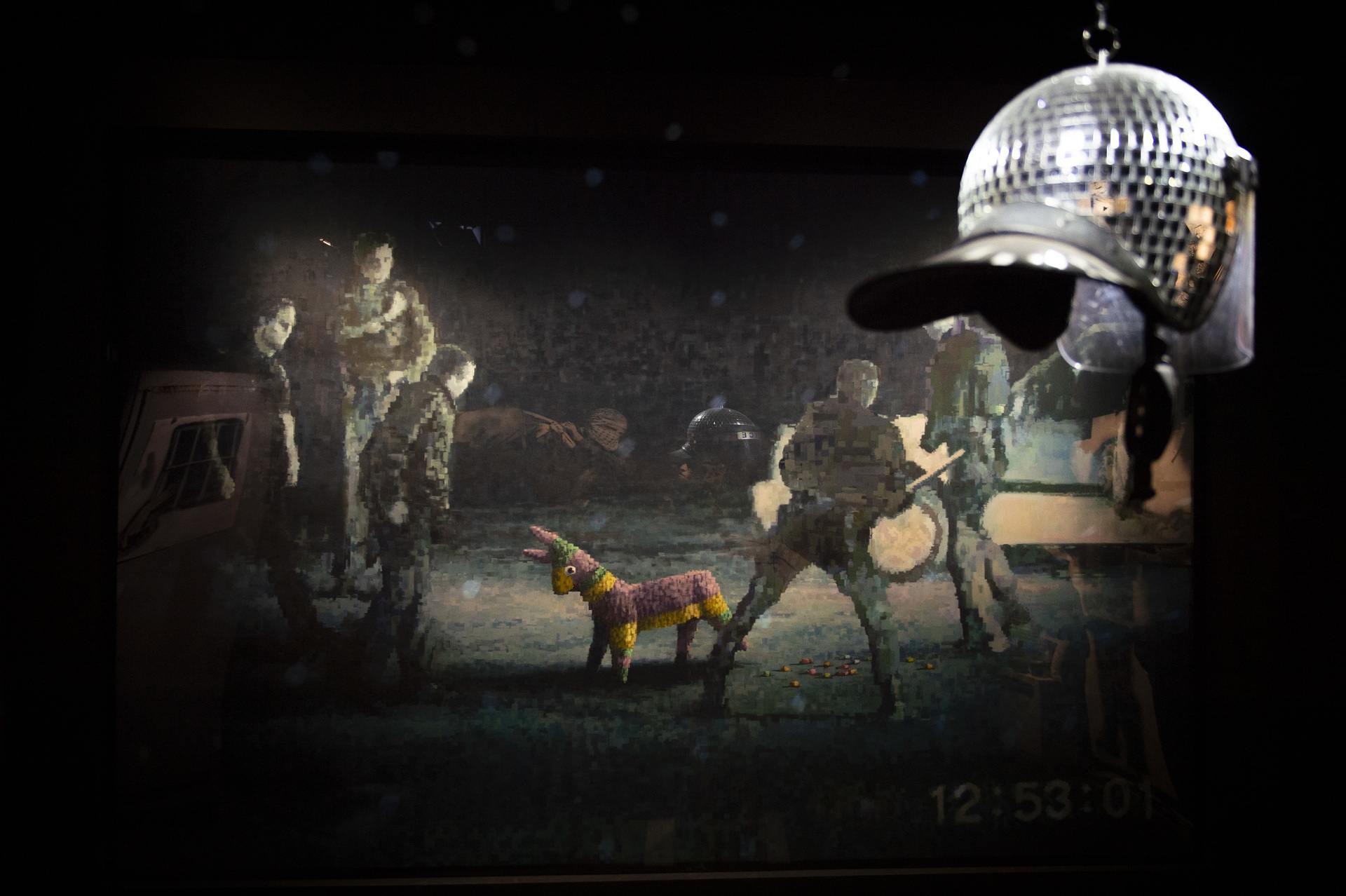 Met Ball, made from an old Police riot helmet, features approximately 650 little mirrors, signed on the inside.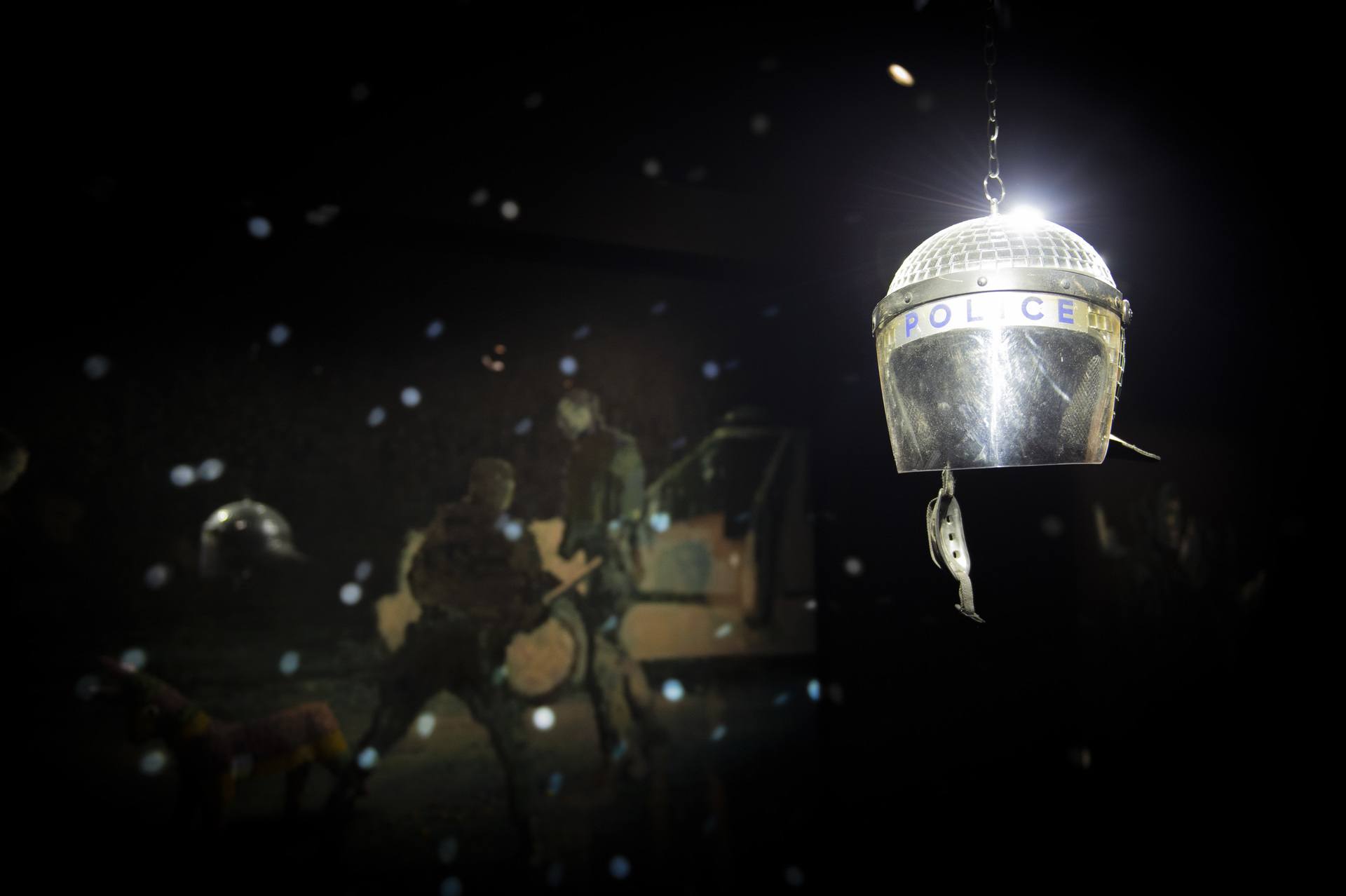 Banksy artwork showing an Israeli soldier and a Palestinian having a pillow fight, at the artist's The Walled Off Hotel, Bethlehem, March 3, 2017.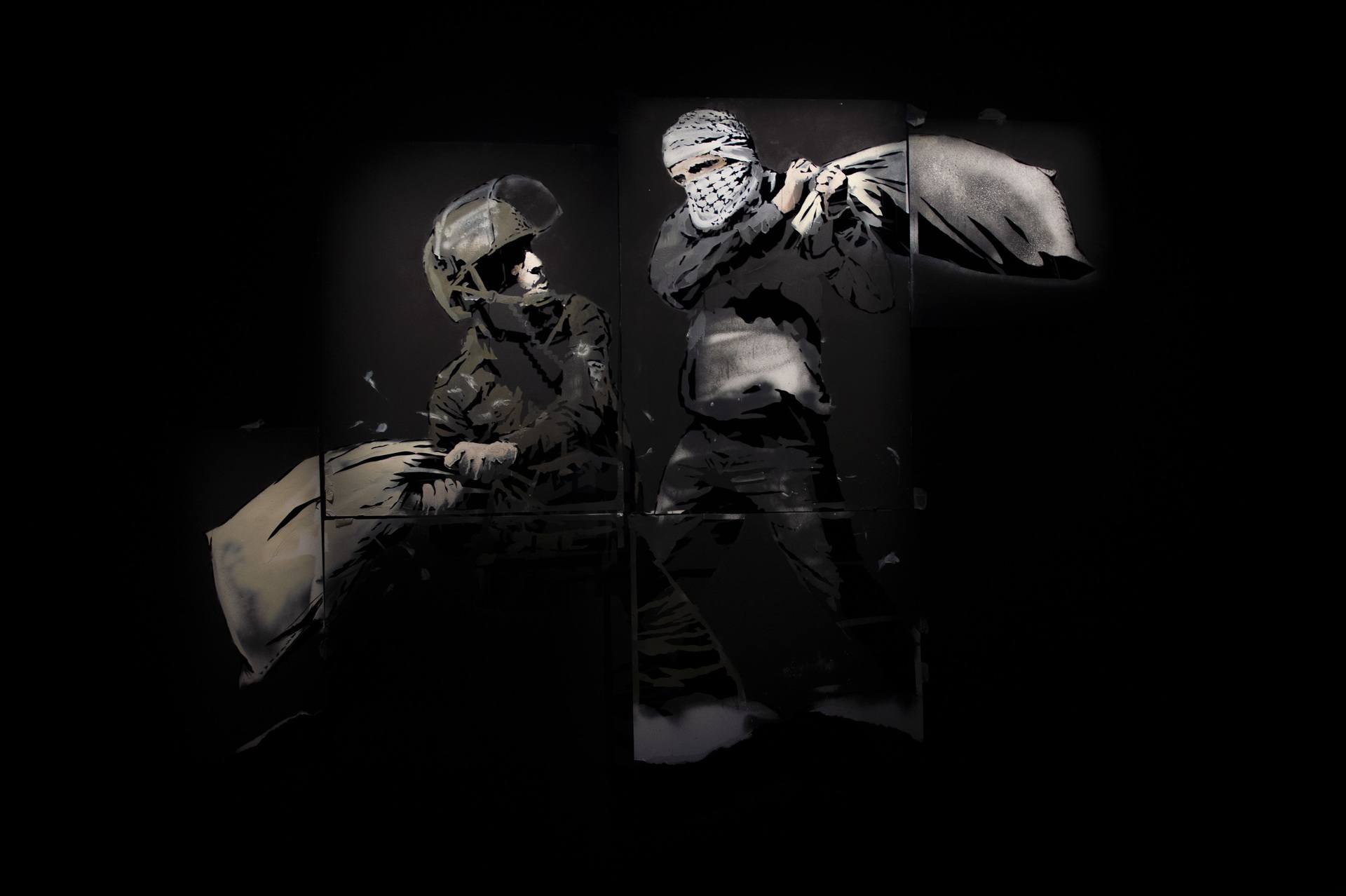 Mobile Lovers, 2014, appeared on a door on Clement Street in Bristol and shows a couple in a close embrace whilst gazing lovingly at their phones.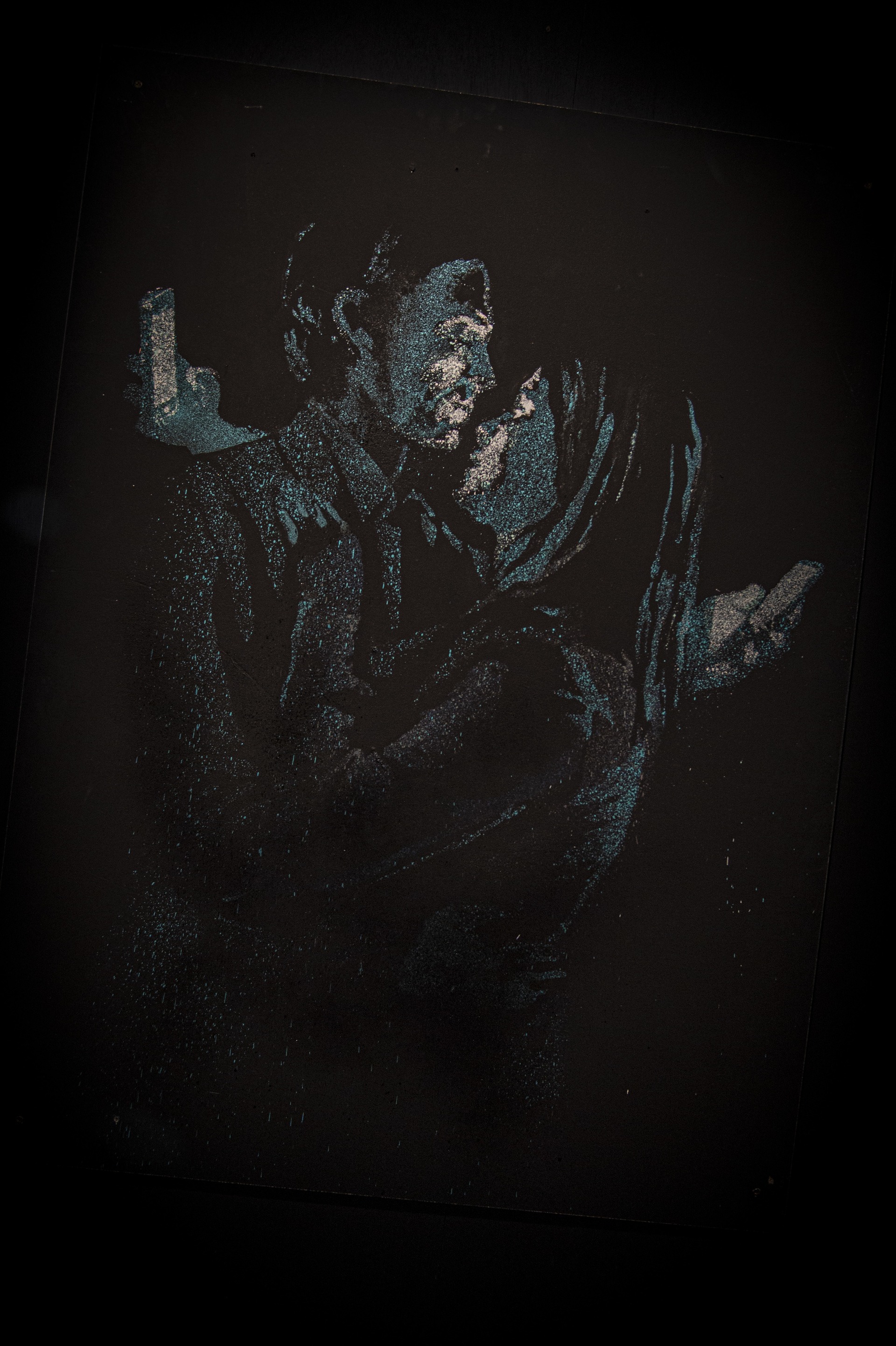 Jail Break first appeared on the New York City Bail Bonds building in 2010.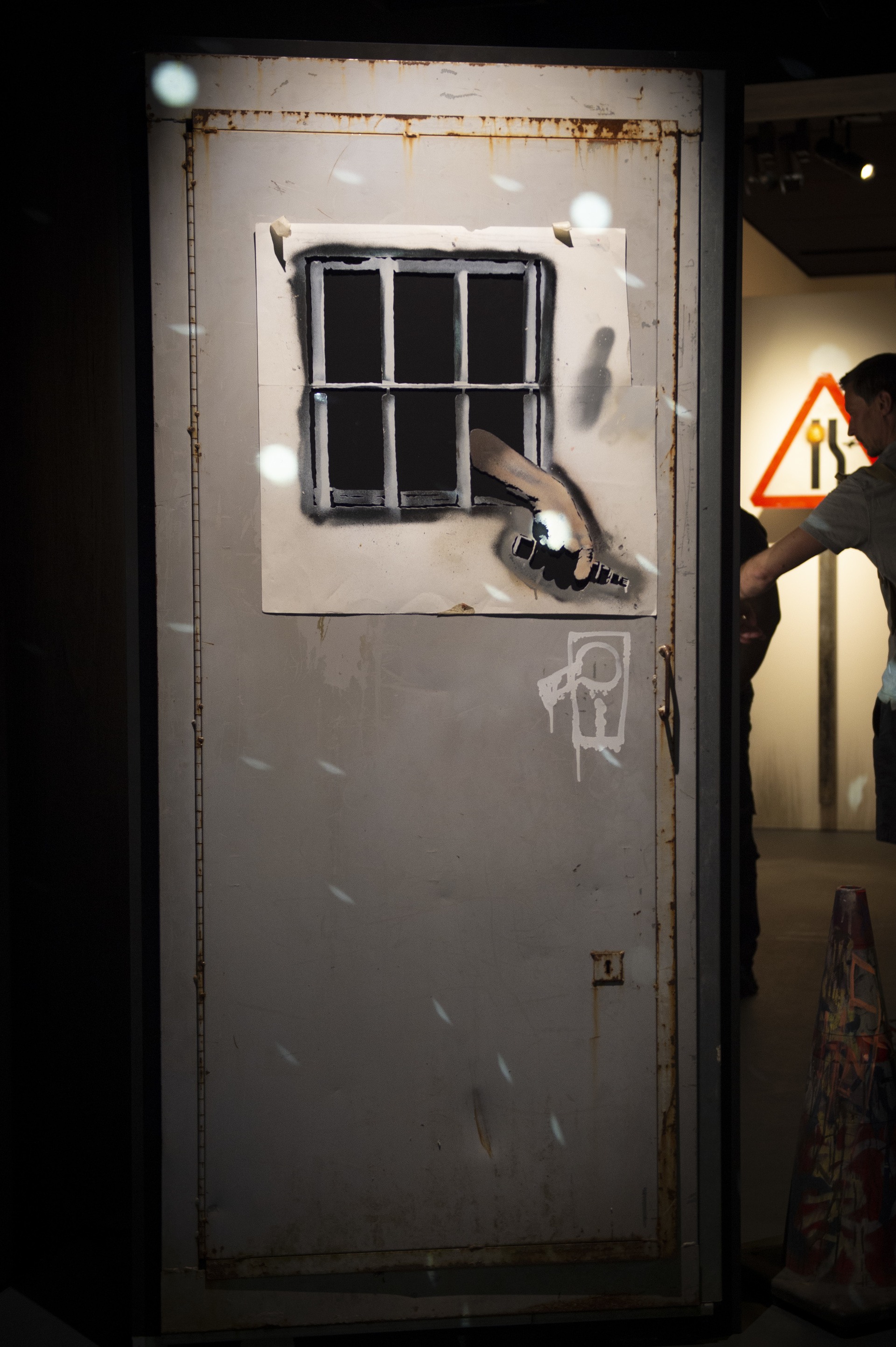 The iconic Kissing Coppers first appeared on the wall of the Prince Albert Pub in Brighton in 2004.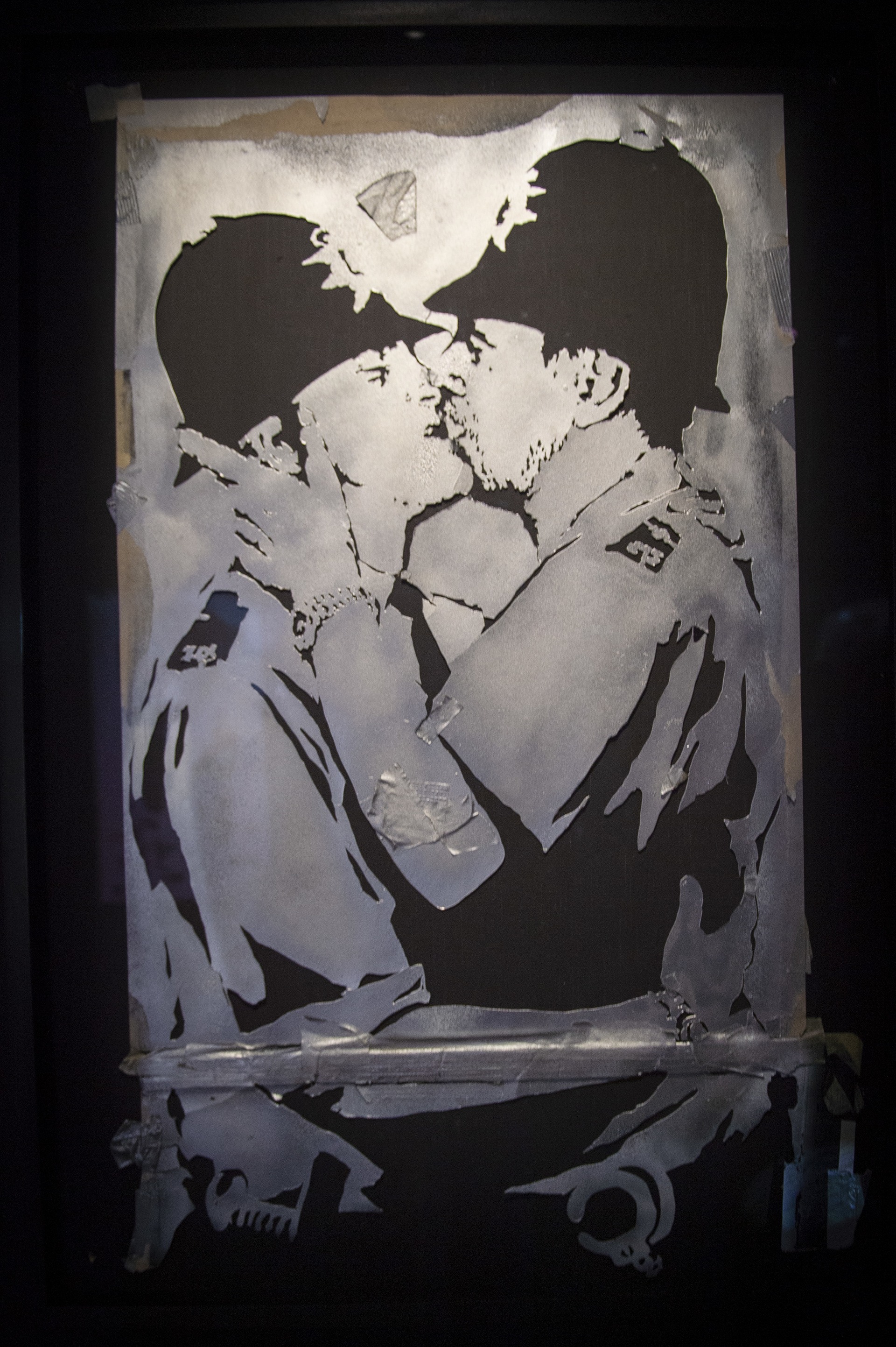 One of three murals painted by Banksy in Ukraine, showing a female gymnast balancing on a damaged building, in Borodyanka, in the Kyiv region of Ukraine.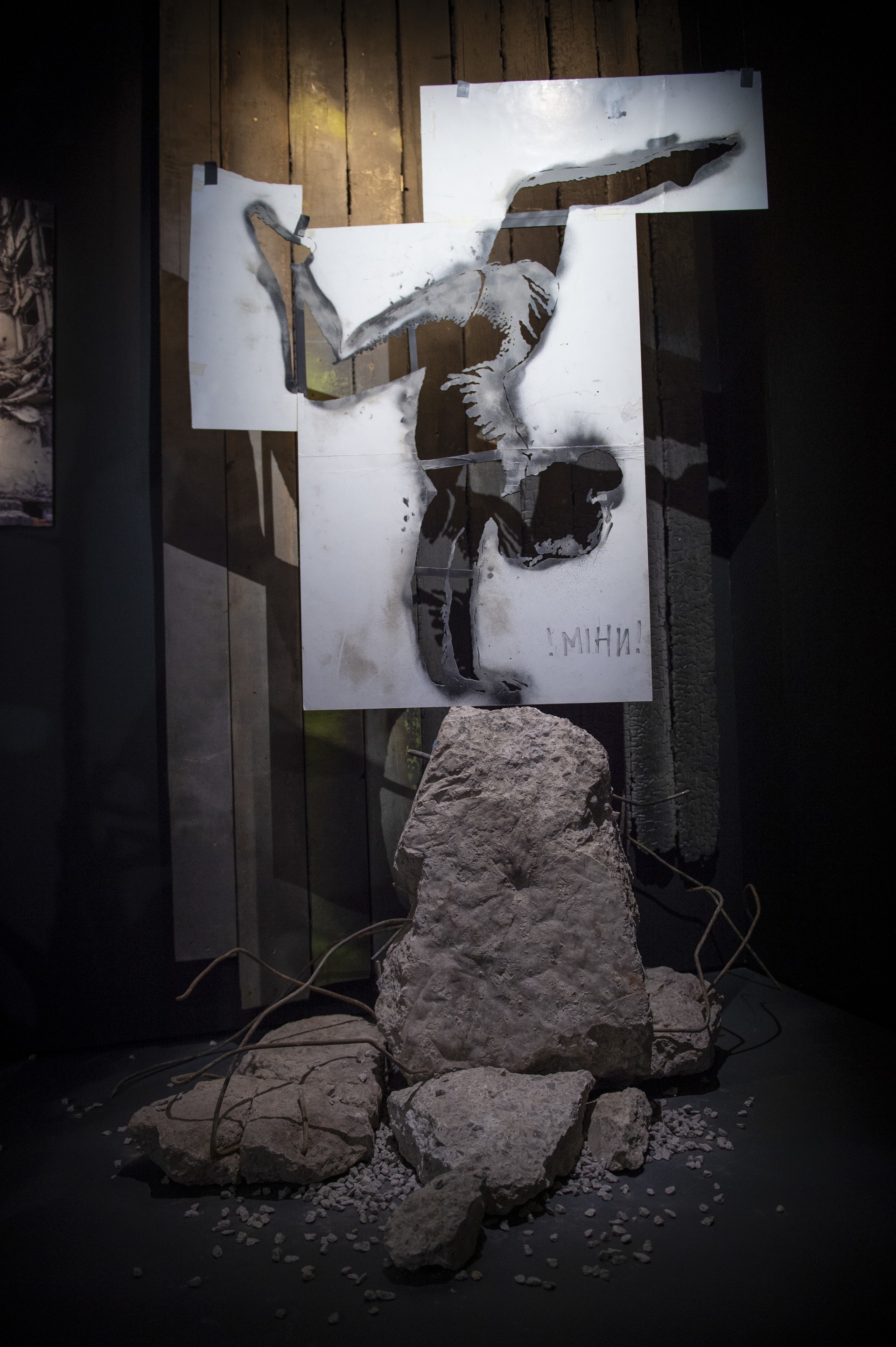 Warning Sign, 2006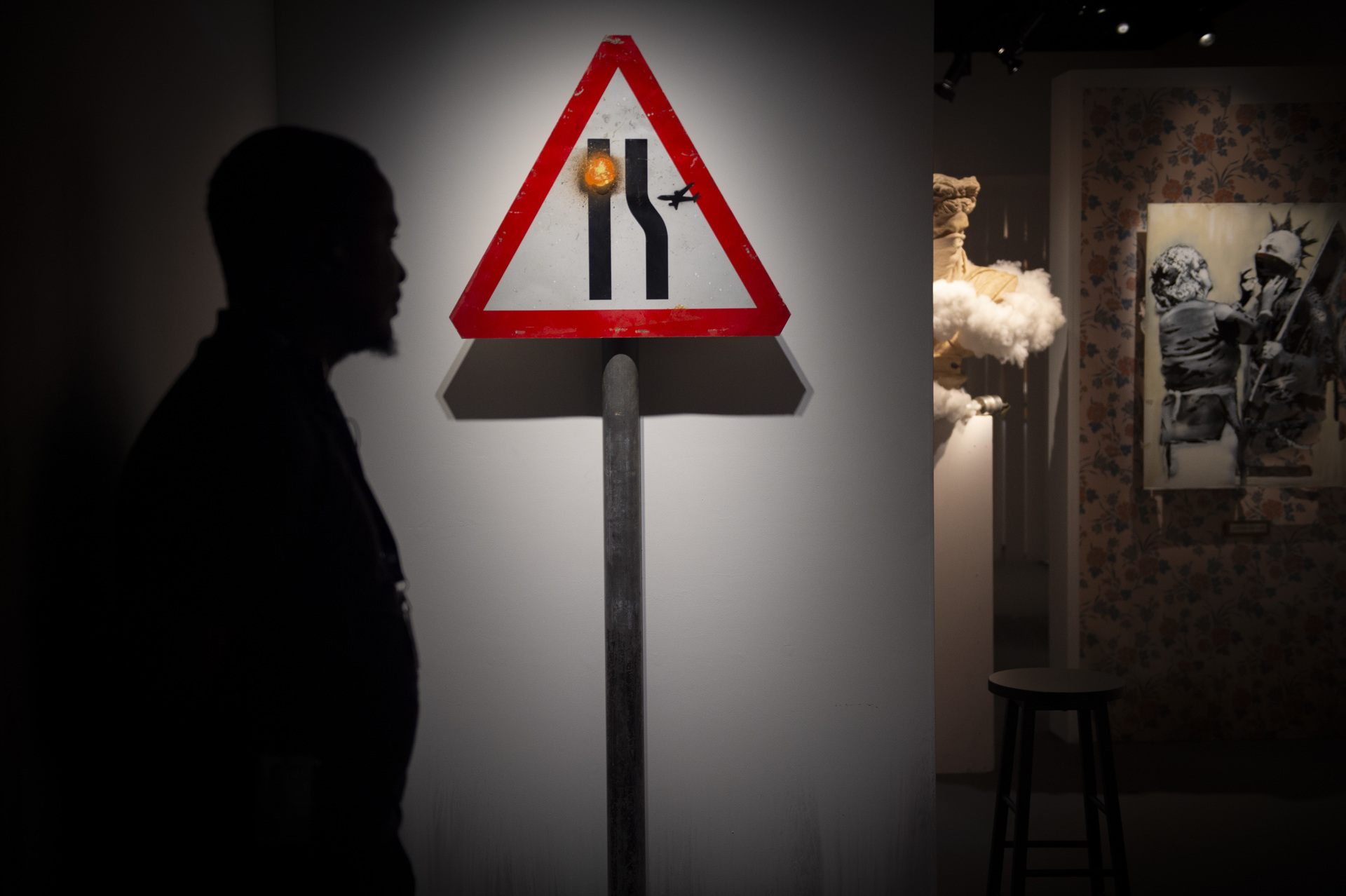 Pie Face, 2006. Banksy talks about how he went through a period of covertly installing his customised oil paintings in art galleries, disguised as an old man. He reminisces about the time he enlisted celebrity, Keith Allen, as his look out at the Metropolitan Gallery in New York, who surprised the artist with his unexpected and hilarious diversion.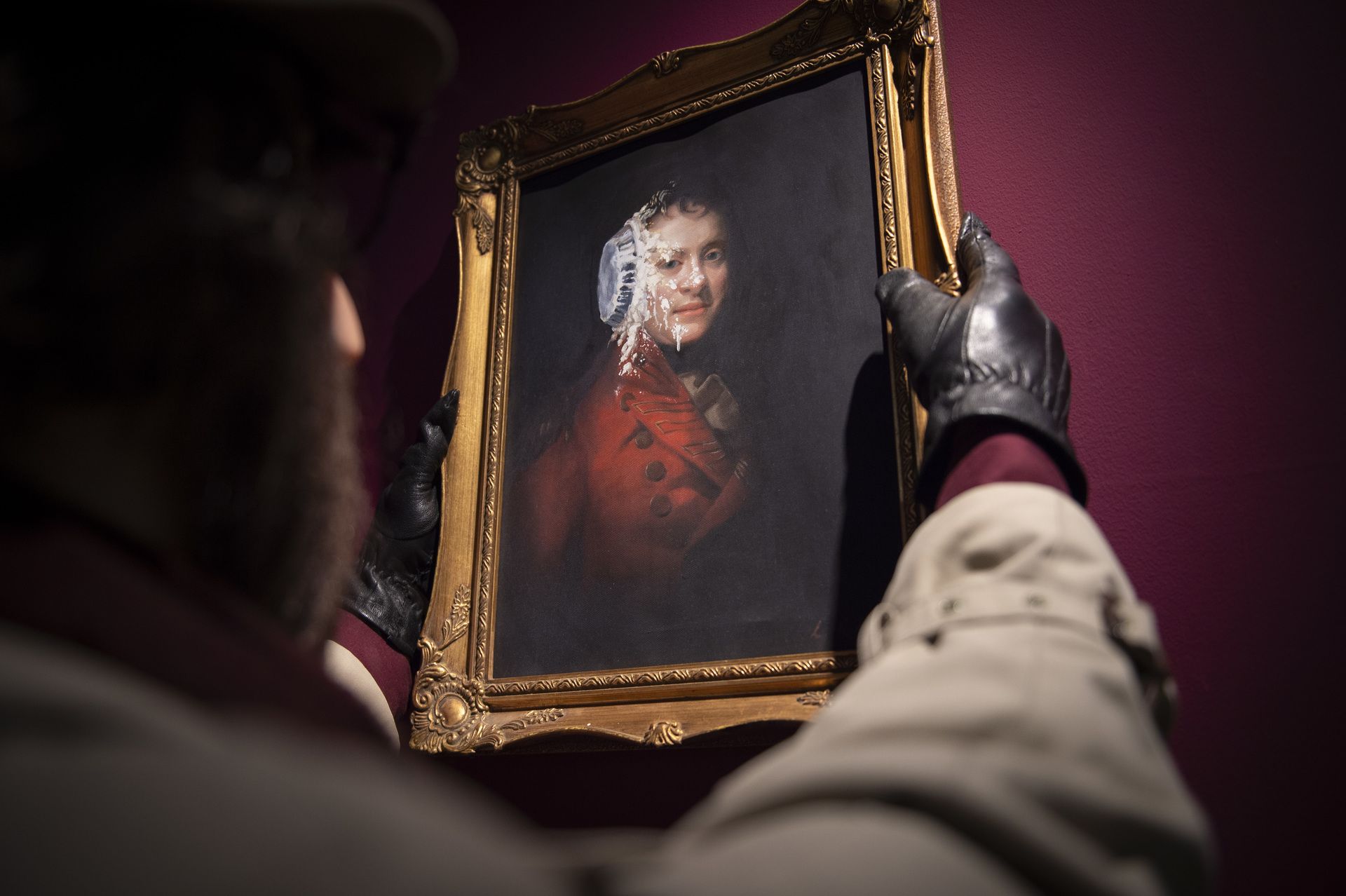 The Iconic Duke of Wellington which sits outside Glasgow's GoMA, which Banksy describes as his "favourite work of art in the UK and the reason I've brought the show here".