Standing inside Stirling's Forthbank stadium, Lorraine Beattie is feeling positive.
The 36-year-old former drug user relapsed again during lockdown.
But the connection she has found within her recovery group in North Lanarkshire is helping her make progress and stay away from illegal substances.
Painkillers have been an issue for most of her life – intensifying eight years ago when she turned to heroin, cocaine and street Valium.
"Lockdown was brutal," Ms Beattie told STV News. "When you're in addiction, you get stuck in your own head and it's a dangerous place to be.
"This is my longest time in recovery and it is working. I was ready for it, more than ready. I didn't know what help was available but when you see the amount of people that are going through the same as you, it does give you strength."
Tackling the stigma of addiction is an ongoing challenge for those working in the field and the people in need of support.
Groups from across Scotland gathered last Friday for the Recovery Olympics, where it's not the winning but the taking part that counts.
The aim was for attendees to learn from each other and celebrate success through sport.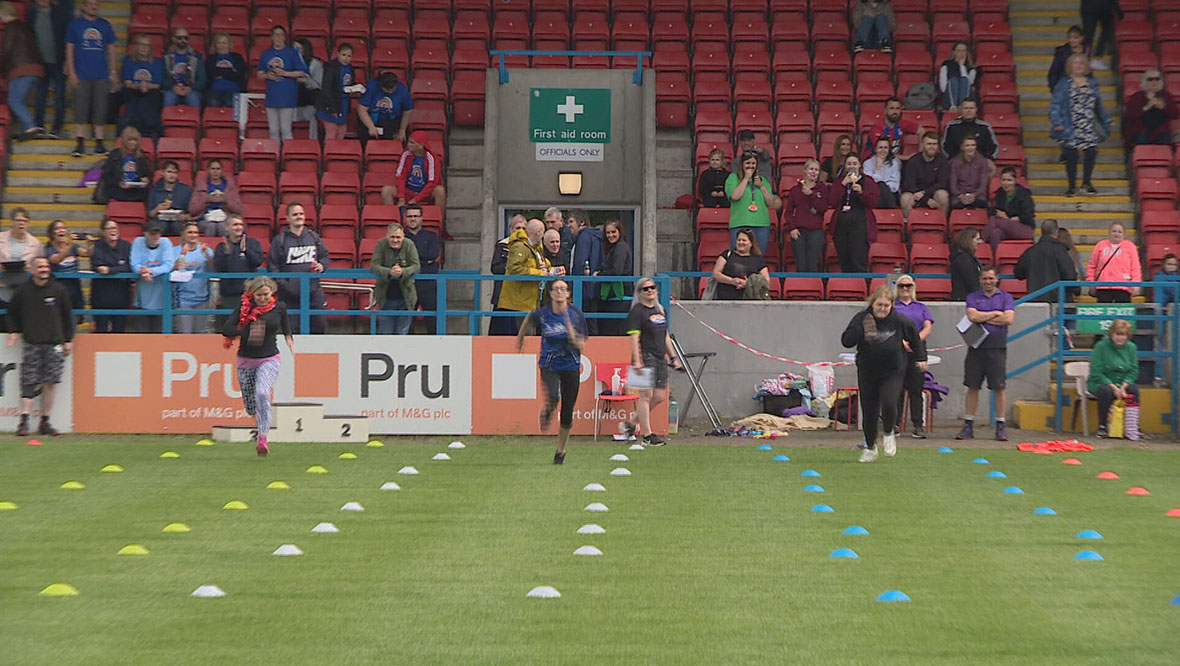 The event, organised by Forth Valley Recovery community, was the biggest in scale since the onset of the coronavirus pandemic. Around 30 teams travelled from across Scotland, including the Borders, Fife, Glasgow and Lanarkshire to compete.

There was enthusiastic support in the stands from volunteers, family and friends who know just how far those lining up on the starting line have come.
Scott Ferguson, 49, works for Forth Valley Recovery Community. Six years ago, he turned to them for help.
"I lost two brothers to addiction," he said. "My older brother died three years ago and I tried but couldn't support him.
"When my brother passed away, my friends, family and old associates said to me we thought that would have been you. I was addicted to opiates and street benzos and on and off a methadone programme for 25 years. I thought that was my life."
Scott was still on his prescription when he first started volunteering with the recovery group, even shadowing his former case worker when he started his new post.
He said: "That was surreal, she was amazed at the change in me. Believing in myself at the beginning was massive. The inspiration from seeing other people in recovery gave me that wee spark to make me think I could do it too. I now try and give that to others."
Angela Constance, the minister for drug policy, attended the games to show her support to competitors who are at different stages of their recovery.
Those leading the teams believe tackling the country's addiction crisis is a marathon not a sprint.
Kerryanne Clarke, team leader of North Lanarkshire Recovery Community, said: "So many people in addiction are stigmatised and treated differently.

"They don't actually know events like this exist where you can bring your family and friends, connect with others in recovery and be substance free.

"That stigma isn't going away overnight. Dealing with issues including barriers to accessing treatment will also take time. As long we can show recovery is possible, for us the focus is on making small changes every day."