First Minister Humza Yousaf has been urged to intervene in his former private school's "bully tactics" amid fire and rehire accusations.
NASUWT general secretary Dr Patrick Roach used his speech at the union's annual conference in Glasgow to urge Scotland's new leader to take action against his alma mater, Hutchesons' Grammar School in the city.
The union balloted members at the school, with 87% in favour of industrial action amid claims the school is forcing teachers to agree to new contracts which would see their pensions downgraded or face dismissal.
The school however has "strongly rejected" the accusations of fire and rehire and pension downgrades.
In March, 80% of EIS members – Scotland's largest teaching union – at the school indicated their willingness to take strike action.
The EIS ballot will open on Tuesday and end on May 4, with strike action likely to commence two weeks later.
Unions have said the school issued teachers with "contract terminations and offers of re-employment" for those who have not yet signed the new terms, with a deadline of April 14 imposed.
Fire and rehire refers to when an employer fires an employee and offers them a new contract on new, often less-favourable terms.
Speaking in Glasgow on Sunday, Dr Roach urged Yousaf, who attended the independent school between 1997 and 2003, to tell the school to "desist" in its action.
He said: "I'm today calling on Humza Yousaf to use his new position as Scotland's First Minister to fix this broken system.
"Intervene to stop the use of those bully boys tactics and to tell his alma mater Hutchesons' Grammar School here in Glasgow to desist from bullying our members and withdraw immediately their threat to fire and rehire dedicated and committed teaching staff, otherwise our members will have no other option than to take strike action to defend their jobs and their livelihoods.
"Our members there have a mandate now for industrial action and they will use it if they have to and they will have our fullest support for as long as it takes."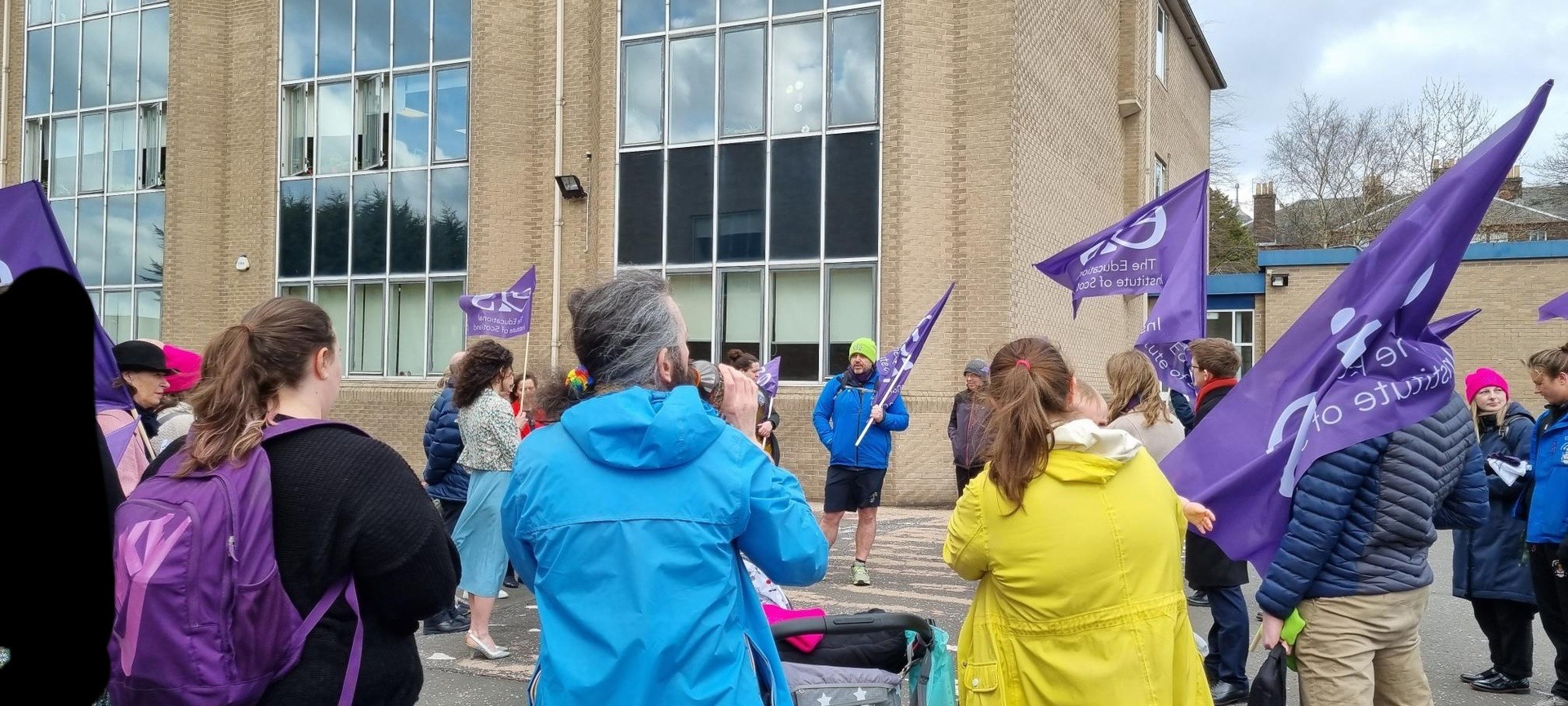 It follows Scottish Labour leader Anas Sarwar – also a former pupil at the school, which charges fees of up to £14,000 per year – saying the school should "see sense" over the alleged policy.
Sarwar told STV last week: "I've met with the unions directly, I've met with representatives of the teachers themselves and I've engaged with the school.
"I think the actions are open to serious questions.
"Any approach to fire and rehire is unacceptable.
"To do things unilaterally without the backing and support of the workforce I think is unacceptable.
"Therefore I'll continue to engage with the trade unions, I'll continue to engage with the workers and I'll continue to urge the school to see sense."
A Hutchesons' Grammar spokesperson said its board of governors "strongly rejects" the fire and rehire and inferior pension accusations.
Instead, the school said it is offering an employer pensions and benefits contribution rate of 23.8%, compared to the Scottish Teachers' Pension Scheme (STPS) rate of 23%.
It also claims to double the death in service benefit offered by the STPS to six times annual earnings and offers three years' income protection when a teacher is unable to work for an extended period of time.
A teacher at the school will also have their remaining pension pot paid into their estate when they die, the school said, with flexibility of early retirement also offered, the school said.
The spokesperson added: "Following a 60-day consultation process with teaching staff, and subsequent individual consultation meetings with some colleagues, the board of governors has taken the decision to withdraw from the STPS and to offer a generous defined contributions scheme in its place.
"The school is offering a different pension, not an inferior one.
"While it will allow the school more control going forward over one of its most significant costs, allowing it to plan more effectively for the future and protect teachers' jobs, it also offers teaching staff greater flexibility in their pension provision and the additional benefits stated above."
The spokesperson also said teaching unions are incorrect to suggest the employer contribution will not rise further in the future, adding that teaching staff are "highly valued and are our school's greatest asset, providing excellent academic and pastoral support to our pupils and all decisions taken by the board of governors are taken in the best interests of staff, pupils and parents."
They continued: "The school would welcome the opportunity to meet with the First Minister to see how he can support the independent school sector which is facing increasing economic pressures. The SNP decision to remove business rates relief, unlike in the rest of the UK, has been integral to the fiscal drag we are experiencing."