Police are on the hunt for an animal abuser after a cat was shot through the neck with a crossbow.
Little Lola was found seriously injured by her owners last Friday in the Castle Avenue area of Motherwell, North Lanarkshire.
The 13-year-old pet was rushed to Brannock Veterinary Clinic in Newarthill, where the vets worked quickly to remove the arrow.
Posting pictures of the injury on Facebook, a spokesperson from the clinic said: "She was sedated, x-rayed and then the arrow removed.
"Her wounds were clipped up and cleaned to try and reduce the risk of infection and she is away home to be treated like a wee princess. She has well and truly earned that privilege.
"Lola is very, very lucky that the arrow penetrated skin and muscle but missed all major organs or body cavities.
"Lucky may be a strange choice of word but it could have been a very different outcome if the arrow had moved centimetres either way."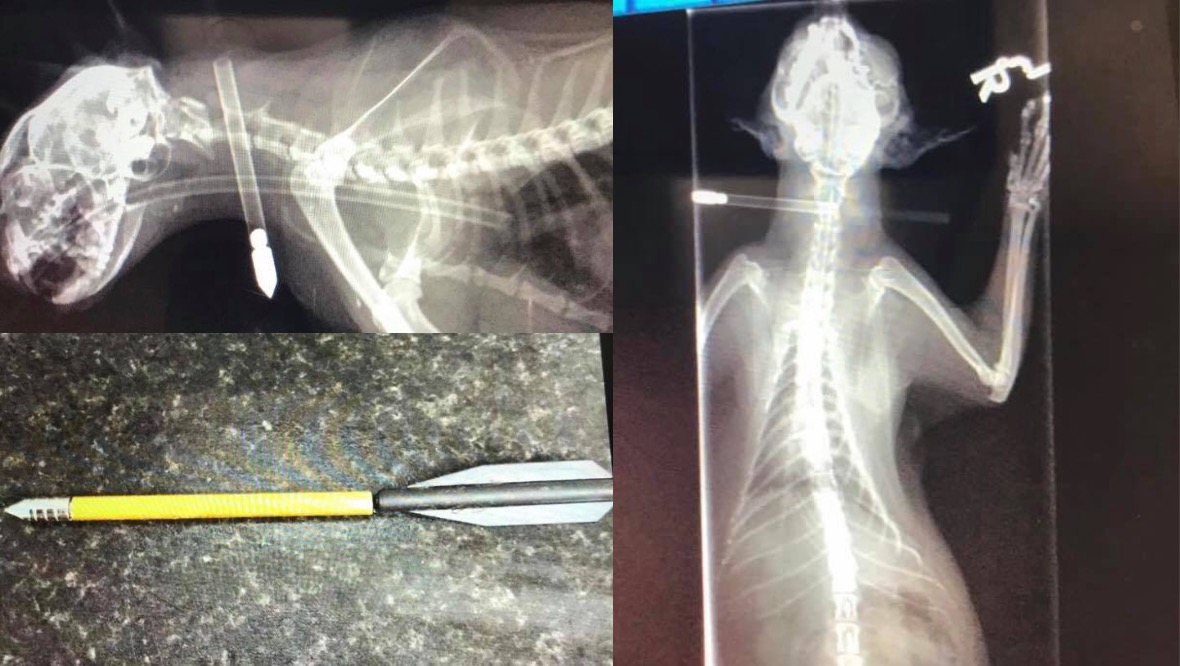 The vets said they were "saddened and disappointed" over the incident.
The spokesperson added: "It is hard to believe that someone could do this to a defenceless animal and I would urge all pet owners to be vigilant with their own pets and also any wildlife in their area.
"No animal deserves to be treated like this. This has been reported to the police and the SSPCA and we will assist with any and all enquiries."
Police have now launched an investigation.
A Police Scotland spokesperson said: "Around 9.45am on Friday, December 11, we received a report that a cat had been seriously injured by a crossbow.
"The cat was found by its owner in the Castle Avenue area of Motherwell and the incident was believed to have happened on the evening of Thursday, December 10.
"Enquiries are ongoing."
If you have any information, call 101.