Hundreds gathered at the doors of Scottish Power's headquarters in Glasgow on Friday to demand for affordable energy.
The protest, organised by Unite the union, called for the energy giant's profits to be frozen amid the cost of living crisis in which many are expected to fall into fuel poverty.
Participants in the demonstration braved the wind and rain and held a large banner calling for "power to the people" across the headquarters' entrance.
Scottish Power have been accused previously of "unfettered profiteering" after the firm raked in £924.6m in profits during the first six months of 2022.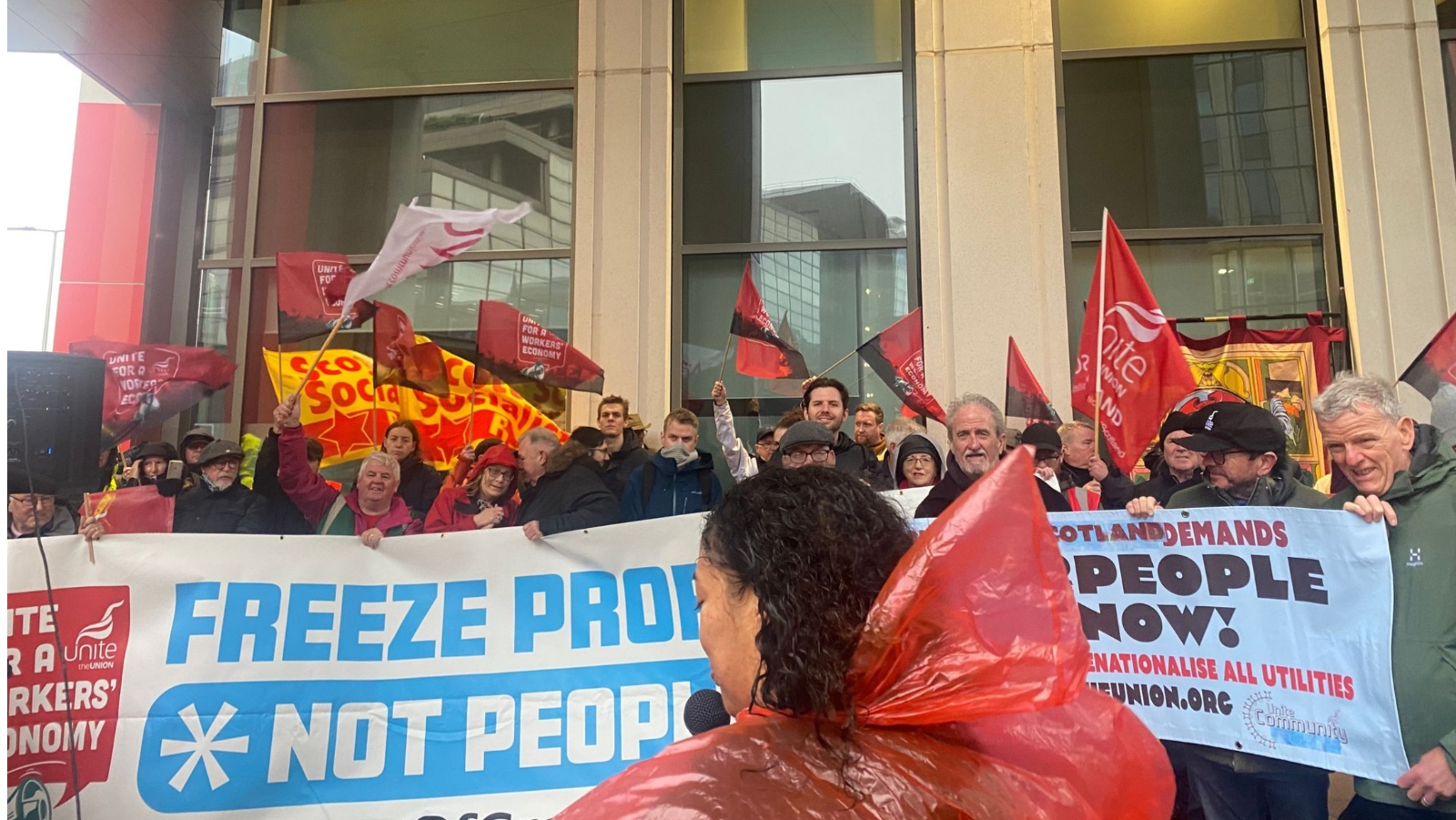 It comes as thousands are expected to experience fuel poverty in the next three months as a result of rising energy bills.
Unite general secretary, Sharon Graham said: "The economy does not work for workers and their families. Britain's real crisis isn't rising prices, it's an epidemic of unfettered profiteering.
"This is why we need to build power in our workplaces and simultaneously organise in our communities. Unite will establish permanent bases on the ground in Glasgow to work with workers. Unite is driving a UK-wide strategy to help bring change to 'heartland' communities."
The union have criticised ScottishPower for handing over dividends of nearly £7bn to owners Iberdrola in Spain over a 14-year period.
Ms Graham added: "How's that for trickledown economics? £7bn handed over from Scottish Power to Iberdrola in Spain. That's trickle-down economics alright.
"Trickle down from Scotland to Spanish shareholders. Proof that government trickle down policies are doomed to fail. Meanwhile, politicians are abysmally failing workers and their families across Glasgow and beyond."
A Scottish Power spokesperson said: "As a business employing thousands in high skilled, high paid green jobs, where our employees – including Unite members – share in our success, we're disappointed by the union's action today.
"This wilful misrepresentation fails to recognise we invest more in UK energy projects than we make in profit or dividends every single year. We're building the renewable and electricity network infrastructure that will help wean this country off expensive fossil fuels and are creating a record number of jobs to help us do it – even in this difficult economic climate, not to mention having led the call for Government action on the cost of living crisis.
"We stand for £10bn investment in the UK to 2025, delivering on the action needed to tackle climate change and investing in people, with 1,000 new jobs to be created in the next 12 months to help deliver our ambitious investment pipeline. We reiterate to Unite that we welcome constructive engagement."