The gunman who killed a man in South Lanarkshire may have used a dark blue vehicle as he fled the scene, police have said.
Graham Williamson, 26, was shot by a man who approached him from behind in the back gardens of Caithness Street, Blantyre, around 5pm on Monday.
Mr Williamson managed to make his way back onto the street, where he was helped by members of the public until an ambulance arrived. He died later in hospital.
Investigating officers believe the shooting was a targeted attack and could be linked to Mr Williamson's car being torched last week.
A leading detective in the murder investigation said a "dark blue motor vehicle" was seen in the street, which he believes the shooter has been in as it made off from the area.
Detective superintendent Kevin Jamieson said: "What I do know from the murder inquiry just now is, just before 5pm on Monday, August 17, the deceased who is Mr Graham Williamson, 26-year-old male, was standing outside his home address in Caithness Street along with some friends and he was organising the recovery of his motor vehicle.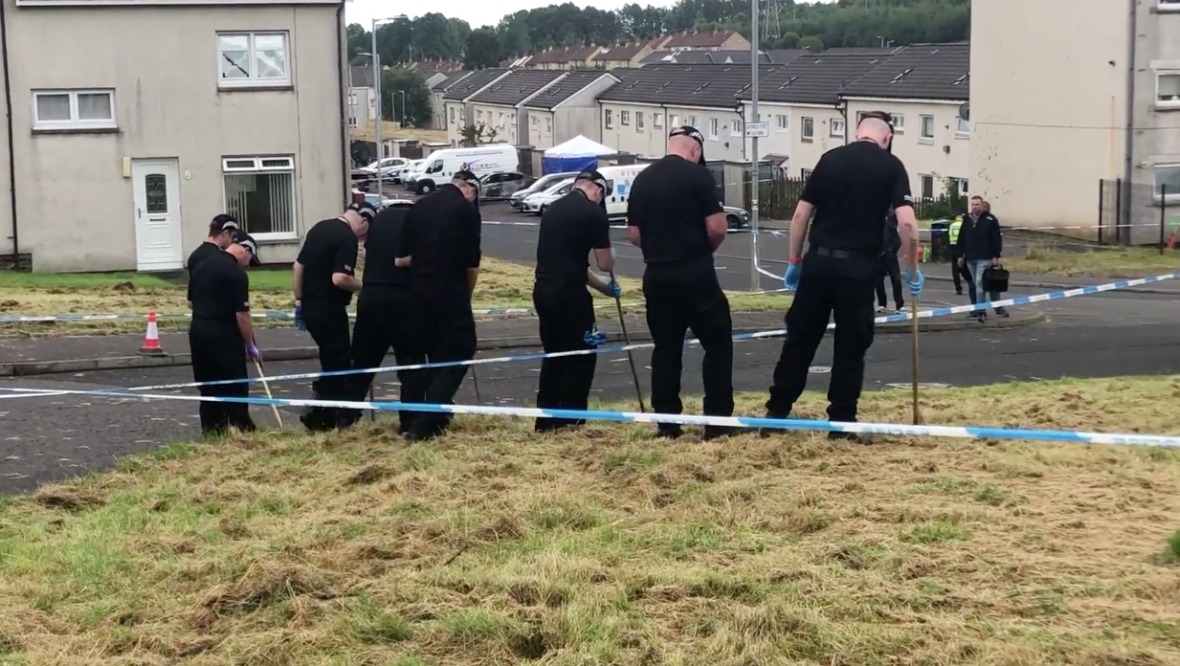 "As he entered into his back garden area of his house, he was the subject of a targeted attack and unfortunately was fatally shot and killed.
"There's a dark blue motor vehicle, which has been in this street, which I believe the person or persons involved in have been in which has then made off from Caithness Street and possibly into surrounding streets in the area and made off from the area."
Officers were seen combing the scene on Wednesday and have been carrying out house to house enquiries in Caithness Street as appeal for information.
Detective Jamieson described the shooting as "heinous crime" and said police will work tirelessly to find the killer.
He added: "I've met Graham's family, they're clearly devastated by the assault on their son, which has killed him.
"He was a son clearly, a father and a partner. They're clearly devastated by this, what's happened to Graham.
"All I can do is provide them with the reassurance we will work tirelessly on this, with myself and the investigation team that's dedicated to this."