Story by Gianni Marini and Louise Scott
A great-grandmother who has tended a remembrance garden in memory of her late sons was told it would be turfed after neighbours complained about it.
Pamela McLaughlan was allocated the plot in the corner of the back garden 28 years ago when she moved into the flat she shares with her husband Robert in North Lanarkshire.
The 80-year-old, who cares for her blind husband and suffers from COPD (chronic obstructive pulmonary disease), was hesitant to start gardening when she was told it was hers but eventually took to it and it became her passion.
"I didn't really want the garden, then I thought, 'I was in my 50s… I'll be retiring', so I said 'I'll take it'," she told STV News.
"So we built it up and built it up. When the sun is out, I'm out at my garden.
"This is my sanctuary. I lost my two sons… there are plaques on the chair, I've got rose bushes, they planted this tree for me."
Trust Housing Association said the organisation took action after it received "a number of complaints from residents" but it was trying to find a solution that would allow Mrs McLaughlan to keep her garden.
The garden became a place of respite for Mrs McLaughlan where she can be alone with her memories, especially of her sons Greig, who died in 2007 from a sudden heart attack, and Clarke, who died last year with cancer.
"I just feel devastated," she told STV News.
"That's my boys' garden.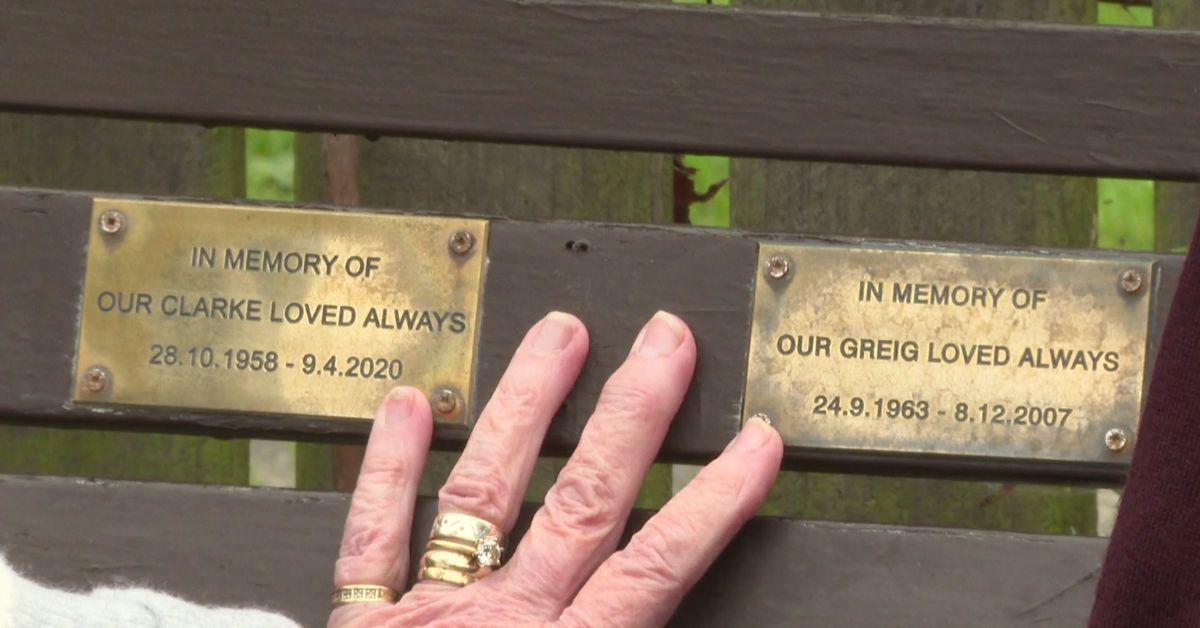 "This is my life, my memories, they're taking everything, they're wiping everything away."
"I have photos of my boys and my grandchildren in that garden. It's the only thing I have," she said.
Mrs McLaughlan turned 80 earlier this month but, she said, she could not celebrate. She said thinking about losing her garden behind her Wishaw flat made her burst into tears.
A letter posted through her door, signed only "your neighbours", said it had been noticed Mrs McLaughlan had "commandeered a section" of the garden.
It continued: "It would be appreciated if you could restore this back to the original condition.
"If this is not done further action will be taken."
The letter was not from Mrs McLaughlan landlord Wishaw and District Housing Association but the organisation, part of the Trust Housing Association group, instructed her that the area is not hers.
Her husband said: "We haven't been told what their objection is. Nobody's told us anything, we're sitting here in the dark."
The two previous tenants of Mrs McLaughlan's flat, more than 28 years ago, were already caring for the plot at the rear of the back garden so not only does she not know what its original state was but she was hurt by the accusation that she had "commandeered" it.
Mrs McLaughlan's only living child, Elaine, her nephew Davie Armit and son-in-law Paul Jordan all told STV News about the impact the loss of her garden would have.
A petition set up by Mr Jordan has more than 6000 signatures calling for Mrs McLaughlan and her blind husband to be allowed to look after the garden for their remaining years or until they become unable to do so.
You can find the petition here.
Gail Gourlay, director of customer experience at Trust Housing Association, said: "Following a number of complaints from residents regarding access to the shared communal garden, we have been speaking with Mr McLaughlin and others affected to try and find a solution which meets the legal rights of all residents – both tenants and owners – to access the shared garden space, while respecting the work undertaken in the garden by Mr and Mrs McLaughlin.
"This is a very difficult situation for everyone involved and we are in ongoing discussions with all parties and hope a compromise can be found."
STV News is now on WhatsApp
Get all the latest news from around the country
Follow STV News
Follow STV News on WhatsApp
Scan the QR code on your mobile device for all the latest news from around the country