The boss of a Scottish drinks company has been named as part of a five million dollar appeal for information on the Irish Kinahan crime gang for the arrest and conviction of its leaders.
A US government department imposed sanctions against seven senior members of the Kinahan crime gang, including John Francis Morrissey, the owner of Glasgow-based Nero Drinks – a vodka company he runs through his wife.
Set up in 2018, Nero Drinks has been registered at addresses in Dennistoun and Cumbernauld.
The US Treasury said Morrissey controls and operates Nero Drinks through his wife, the primary shareholder, who is used as a "frontperson for his interests".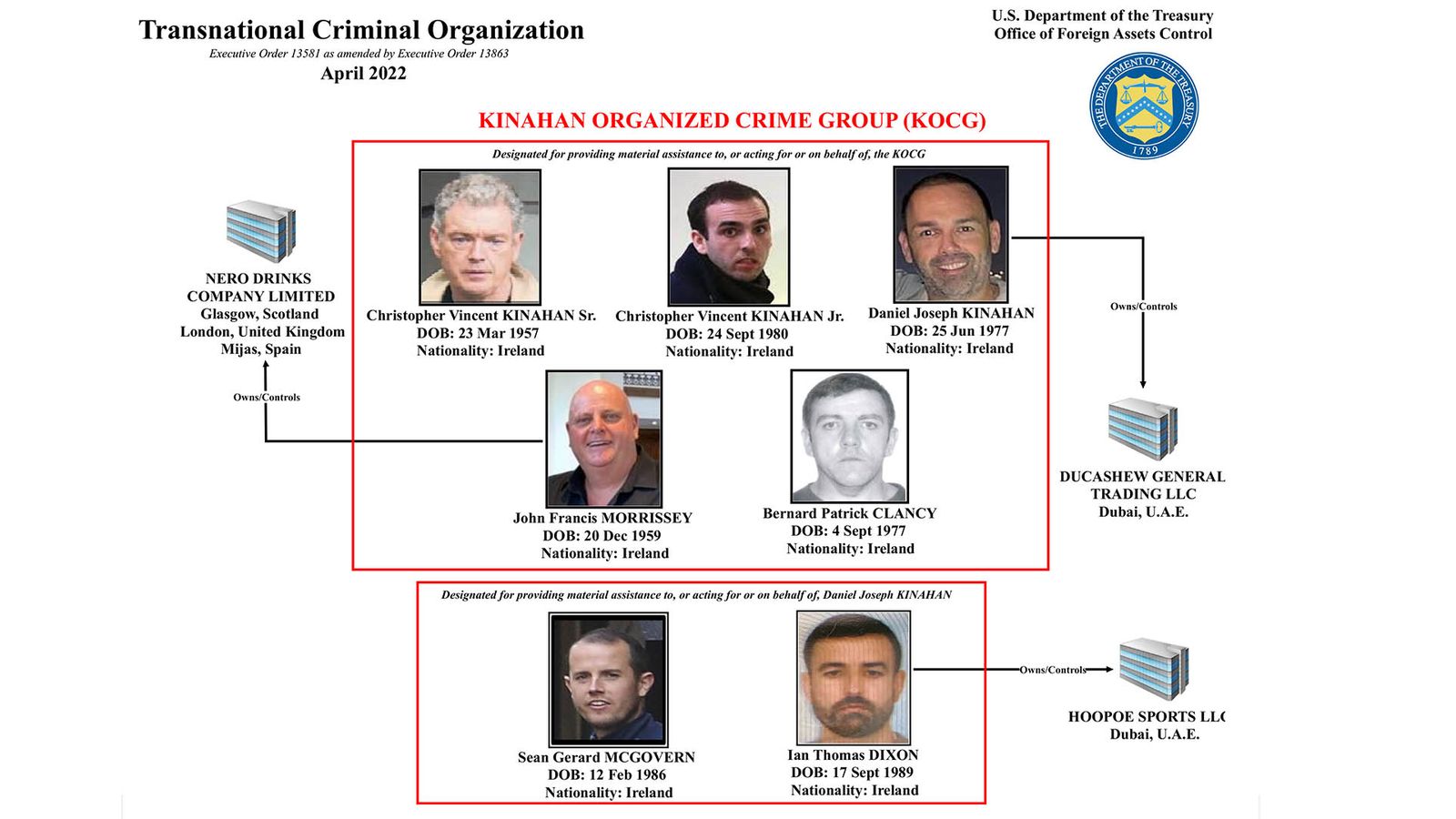 Announcing sanctions against the notorious Kinahan gang, a spokesperson for the department said: "Morrissey, who outwardly serves as the Nero Drinks' brand ambassador, is heavily invested in Nero Drinks and has given a significant portion of the business to Daniel Kinahan to compensate for loads of drugs seized by law enforcement."
Daniel Kinahan is named among three leaders of the organised crime group along with Christy Kinahan Snr and Christy Kinahan Jnr, targeted by authorities.
Scottish boxer Josh Taylor has previously defended his links with Daniel Kinahan who has been credited as an advisor over his career.
In a since-deleted tweet, Taylor wrote of Kinahan: "He's a great advisor and doing great things for the sport.
"I would never have had the deal with With (sic) Top Rank if it wasn't for Daniel and he is also working on the best deal possible for the biggest fight of my life.
"I've had nothing but great experiences with him."
Also named and sanctioned were their associates Sean McGovern, Ian Dixon and Bernard Clancy.
Nero Drinks is among a number of businesses also identified as being associated with the crime gang.
Morrissey, authorities said, has worked for the Kinahan gang for several years, including as an enforcer, and facilitates international drug shipments for the organisation from South America and is also involved in money laundering.
US ambassador to Ireland Claire Cronin told an event at Dublin City Hall that the US department of the treasury is offering a reward of five million US dollars (£3.8m) for information that will lead to the "financial destruction" of the Kinahan crime gang or the arrest and conviction of its leaders.
Matt Horne, deputy director of investigations at the National Crime Agency (NCA), said the gang has been responsible for more than a dozen murders.
He said the cartel had gone to extreme lengths to ensure they go undetected by law enforcement.
The US department of the treasury's office of foreign assets control (OFAC) said as a result of the action, all property and interests in property of the named gang members and their businesses that are in the US or in the possession or control of US people will be blocked and reported to OFAC.
In a statement, the US treasury office said that the Kinahan crime gang is established in Ireland, the UK, Spain, and the United Arab Emirates.
It described their operations as a "significant transnational criminal organisation".
It said the gang emerged in the late 1990s and early 2000s as the most "powerful organised crime group" operating in Ireland.
Since then, Irish courts have said that the Kinahan gang is a "murderous organisation" involved in the international trafficking of drugs and firearms.
The Kinahans are said to also frequently use Dubai as a facilitation hub for its "illicit activities".
STV News is now on WhatsApp
Get all the latest news from around the country
Follow STV News
Follow STV News on WhatsApp
Scan the QR code on your mobile device for all the latest news from around the country