The Greater Glasgow and Clyde health board region has recorded 14 new cases of coronavirus overnight, the biggest daily jump since late May.
The health board area – the most populous in Scotland – has had nearly 5000 cases of the virus overall but numbers have been falling for weeks.
The 14 cases confirmed on Friday are the most reported since May 28, when NHS Greater Glasgow and Clyde reported 18 new infections.
At the peak of the pandemic in Scotland, the region saw daily cases rise to more than 100 on several occasions.
But new cases had been in the single figures for nearly a fortnight, with the 12 infections recorded on July 12 the last time that run had been broken.
It comes amid a cluster of Covid cases originating from a test and trace centre in Bellshill, in nearby North Lanarkshire.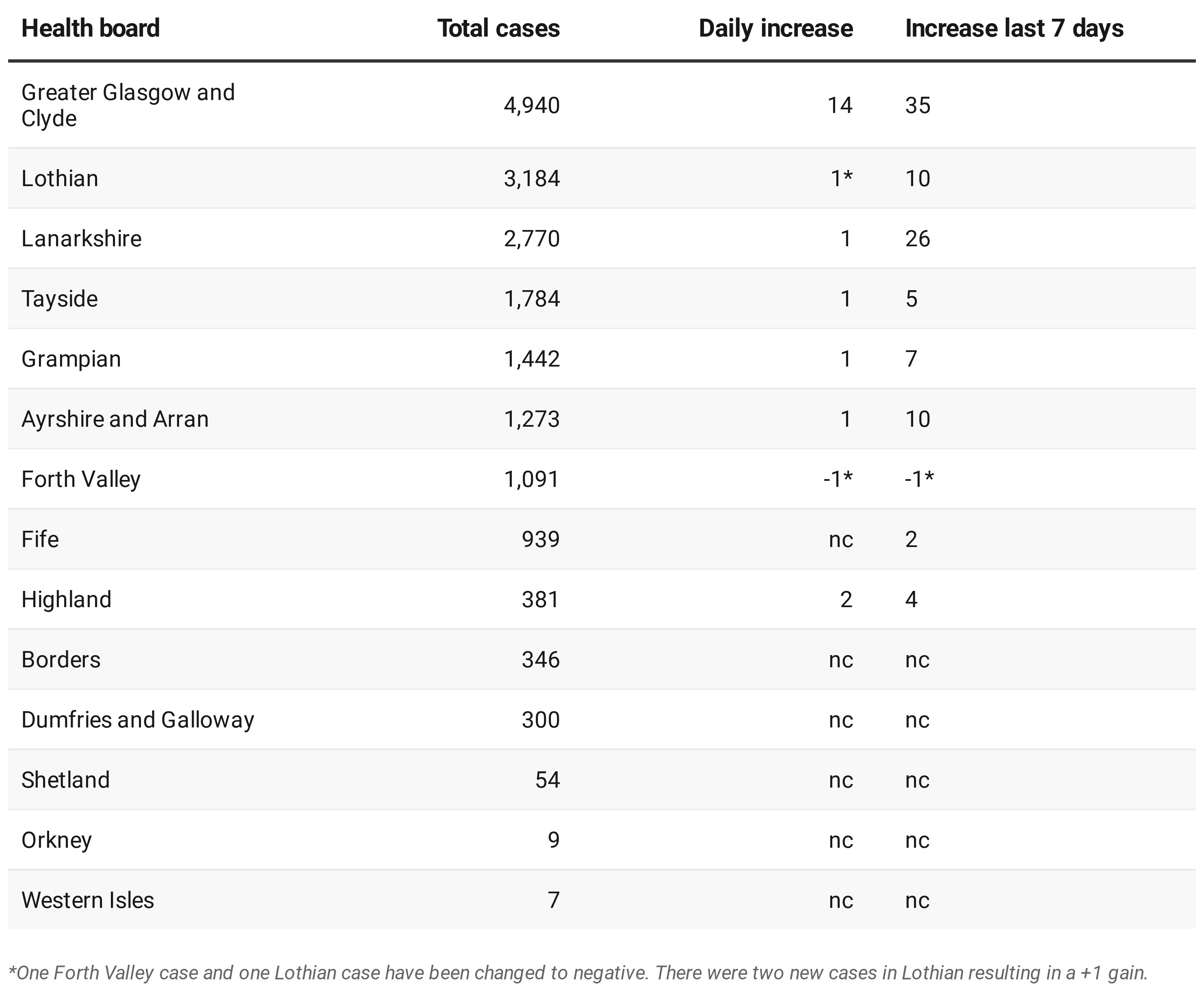 A total of 24 infections among employees at the Sitel call centre or their close contacts had been identified as of Thursday.
NHS Lanarkshire recorded just one new case of coronavirus on Friday but has seen 26 new cases overall in the last seven days.
In total across Scotland, there are 22 new confirmed cases of the virus, although two previous positive test results have been changed to negative, meaning the net increase is 20.
This came from more than 16,000 completed Covid tests in the last 24-hour period, meaning 0.5% of those tested were diagnosed with the virus.
For the eighth straight day, there have been zero deaths of confirmed Covid-19 patients in Scotland.
There are 278 people with coronavirus currently in Scottish hospitals, a decrease of nine on the day before, and just two people in intensive care – unchanged from yesterday.
First Minister Nicola Sturgeon tweeted: "Another day in Scotland with no deaths of confirmed cases, and tests coming back positive still under 1%.
"But we must not drop our guard. Our economy has opened up a lot."
An earlier version of this story said the number of new cases represented 0.4% of newly tested individuals – this was subsequently updated to 0.5% on the basis of new information provided by the Scottish Government.