When she first arrived in Glasgow as a frightened, confused and extremely cold 12-year-old, Roza Salih had no idea she was at the beginning of a journey that would see her go from schoolgirl campaigner to a potential MSP in less than 20 years.
It all started on a wet and windy late October night back in 2001, when she was bundled out the back of a van and left standing on the damp, grey concrete in front of high-rise flats in an area that couldn't have seemed any further from home if it had been on Mars.
Unable to speak a word of English, she had just fled from war-torn Kurdistan where a family member had been brutally murdered.
But less than four years later she was part a group of high school friends known as the 'Glasgow Girls' who led a successful campaign to stop their friend and fellow Drumchapel High School pupil Agnesa Murselaj being deported.
It was an inspirational story that made national headlines, changed laws and was immortalised on television and stage.
Now 15 years later, the 31-year-old politics graduate is hoping the experience will hold her in good stead as she seeks nomination to be the SNP candidate for Clydebank and Milngavie in next May's Holyrood elections.
Recalling her first experience of Glasgow she said: "My first thought was 'it's so cold here' and we weren't used to it because back in our country it is like 40C. So the weather was something different. I was thinking 'what are we doing here?'."
With no money and no local knowledge they were handed food tokens from the Home Office and left to find their own way around.
Feeling constantly helpless and lost, even small details such as finding the nearest supermarket, then one that would accept the tokens, became an arduous task as the family struggled to find their feet in the area.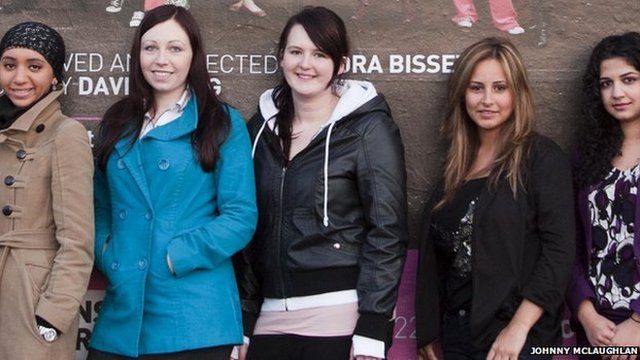 She said: "Life was very hard for me as a teenager, life is really hard for everyone when they are a teenager I think, but for me there were extra barriers, like I couldn't speak the language properly or express myself and I think that was the biggest challenge for me.
"There was also the hardship of not having any money, the discrimination we faced and even things like going to supermarkets.
"Some supermarket workers wouldn't accept our tokens or wouldn't know what they are and we would have to explain in front of a queue of people in broken English where they were from and that we didn't have any money for food.
"We all used to hate it, but I would always stay strong for my family and say 'I'll do it' especially when my English was improving. Because I could see my mum was a bit embarrassed handing over the vouchers."
They didn't have much, but one thing those arriving in the north side of Glasgow on that wet and windy October night would be thankful for was a community of new neighbours who welcomed them with open arms.
Roza is now looking to give back by representing the area she now calls home in the Scottish Parliament.
She said: "Life was hard for us and it took us time to get to know the community but people were very welcoming, we were blown away how quickly the Scottish people welcomed me to this country, like literally there were people campaigning for me to stay in this country and I will always be grateful for that."
It was when Roza started school that she started to find her feet as a well-respected and popular pupil, known for standing up for others and helping fellow asylum seekers integrate.
She: "I loved school, it was the best thing for me, I made friends instantly and it finally integrated me into the community.
"I am still in contact with most of the people from school today.
"Even some of the ones who were nasty to me or said racist things to me or didn't accept who I was as an asylum seeker, they have come to me recently and apologised and that kind of gave me closure with that.
"It's nice of someone to admit and realise when they were wrong and it was really nice for me to hear that after all those years.
"I think at the time they just never realised why I was there or what an asylum seeker was, they never knew that, and I just think when they grew up they must have thought about it and reflected on it.
"When I was running for council in the area they approached me and said sorry for things they had said in the past and told me they were voting for me and wished me good luck."
When Roza's close friend was detained and threatened with deportation following a raid, the then 15-year-old knew she had to take action.
Reminiscing on the campaign, she said: "It was brilliant, when you are a teenager and you are holding politicians to account it seems really big now, but we didn't really think of it like that at the time, we just saw it as campaigning for a friend and doing what we had to do.
"It was just teenagers fighting for their friend really.
"Thinking back now it all seems so much bigger than what we thought at the time.
"We did so much without even thinking about it, we were meeting at four in the morning at the flats campaigning and telling people to come out and help stop the raids telling them 'we need to help our friend, this is not right'.
"What happened with the Glasgow Girls situation was the catalyst for me.
"I think that is why I am now involved in politics, because I felt that it was so important to my life and how it impacted on so many things.
"I have been campaigning since I was 15 and feel like I won't be silent and if someone comes to speak to me about an issue then I will take action on it.
"My story is a real story and I have lived my life through hardship and I have gone through so many things.
"We need more people with different life experiences and from different communities around the table as you have to be the voice for so many people."
Among other things, Roza feels strongly that asylum seekers should be allowed to work and pay into the system while waiting on a decision.
She says throughout the next parliament the coronavirus recovery will be the main priority and making sure local areas are well represented in any discussions over that.
If she is elected, as well as working closely with the local community, she wants to help bring more tourism to Clydebank and Milngavie by promoting the area's West Highland Way and Roman Baths in Bearsden North.