Images of what Glasgow city centre could look like with cycling at the heart of its infrastructure have been created.
Japanese cycling manufacturing company Shimano have been reimagining what city centres could be like with urban and leisure cycling at the forefront of planning.
After transforming London and Berlin, Glasgow is the latest city to be redeveloped using computer-generated animations.
It comes after the city was under international focus after hosting the Cycling World Championships in August.
Shimano said cities that have cleaner air, less traffic and less noise pollution ultimately look nicer and are more welcoming and fit for the future.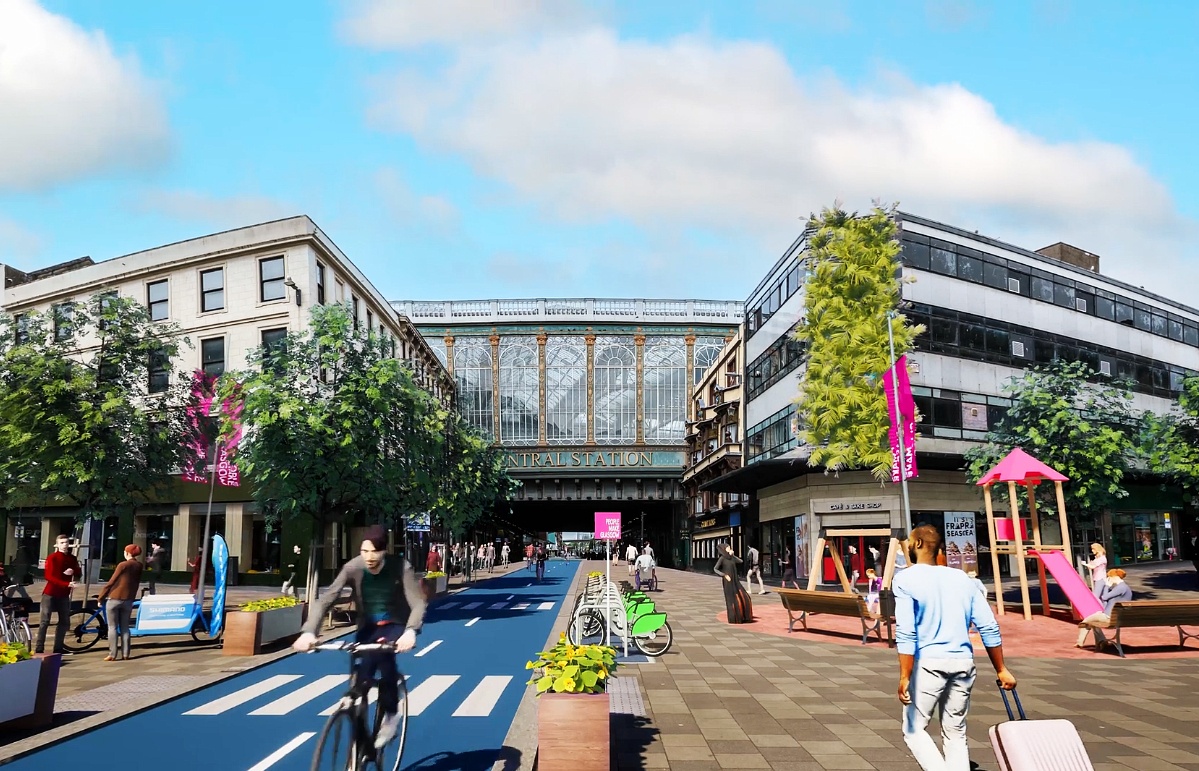 A busy transport hub and an icon of architecture from the industrial age, Glasgow's Central Station was chosen via social media polls as the winner to be transformed.
Situated in the heart of the city centre, the station plays a significant role as the northern terminus of the West Coast Main Line, facilitating travel across all regions of the UK.
The station, inaugurated in 1879, welcomes international visitors, tourists and commuters to the city every day.
The striking architecture including glass-walled train shed and rail bridge have been brought to the fore in the redesigns with Shimano stating that "removing cars and making space for people to walk and cycle would allow its iconic architecture to sing again".
Safe, integrated infrastructure has been proven to increase levels of cycling within cities and the Future Cities project aims to start a conversation with urban mobility experts, residents, politicians, planners and other interested parties to encourage greater ambition and reconsider what is possible when it comes to changing our cities and making them fit for people.
Jonathan Davis, PR and communications for Shimano Europe said: "We are very proud to be unveiling the second stage of our Future Cities project this year, in line with our mission to promote health and happiness through the enjoyment of nature and the world around us.
"After consulting with local people through social media polls, we wanted to create a bold and innovative vision of the area outside Glasgow Central Station. Through our ongoing campaign, we have created an alternative vision of the future where our cities are healthier, safer, and ultimately more enjoyable places to live."
Gregory Kinsman-Chauvet, founder and cycling enthusiast officer at Glasgow-based charity Bike For Good said: ''Creating a sustainable and livable city requires enhancing cycling infrastructure and ensuring safer streets. This aligns with Bike for Good's vision of a healthy and inclusive environment where the entire community benefits from increased cycling. It's an exciting vision that we fully support.''
Colby Robertson, GoBike – Strathclyde Cycling Campaign, added: "The recent spate of pedestrians and cyclists killed or seriously injured in the Glasgow area highlights that the status quo of car-based urban planning is badly broken. Change is needed. Using a bike should be a safe, efficient, clean and healthy mode of active travel; open to everyone.
''We support high quality designs to make public spaces accessible. Everyone should be able to choose active travel – whether walking, wheeling or cycling. We at GoBike look forward to seeing the plans for Glasgow Central station progress."