An 85-year-old woman has completed a 1,000 mile cycle across Scotland in memory of her children.
Mavis Paterson, also known as Granny Mave, crossed the finish line on Monday in support of Macmillan Cancer Support.
Ms Paterson, from Auchenmalg in Dumfriesshire, set off one month ago and completed 1,031 miles of cycling.
She carried off the challenge in memory of her three children, Sandy, Katie and Bob.
Sandy died of a heart attack in 2012, Katie of viral pneumonia in 2013, and Bob died in an accident in 2016 -they were all in their 40s.
Picking up cycling in an effort to work through her grief, in 2019 Ms Paterson became the oldest-ever woman to cycle the entire length of Britain – from Land's End to John O'Groats.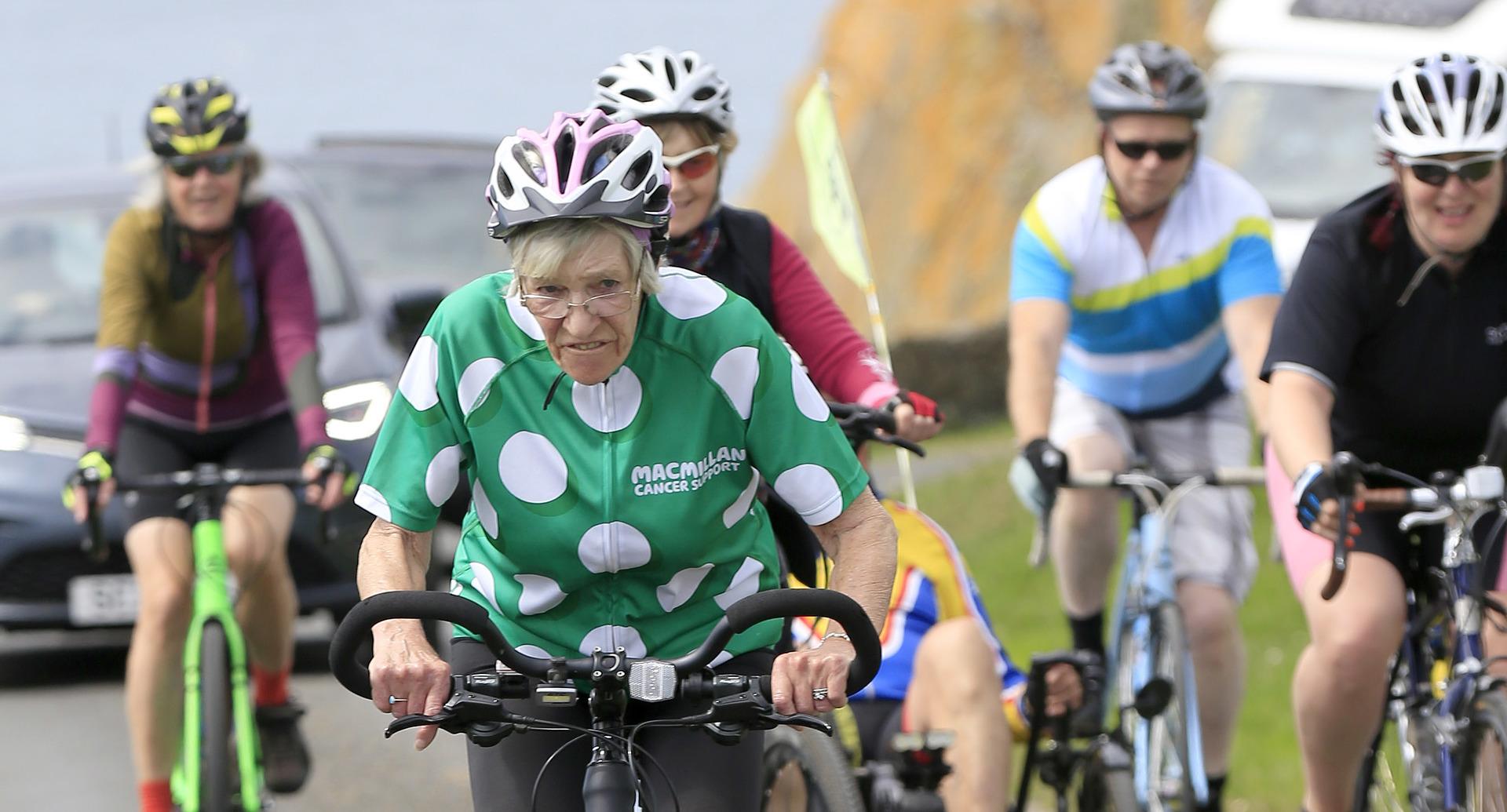 The year before, she completed a 24-hour cycle, and before that she completed a cycle across Canada, to raise money for Macmillan.
"I've always enjoyed taking on challenges, I cycled across America when I was 52, I've climbed Kilimanjaro, and I was in the Guinness book of records as the oldest female to cycle from Land's End to John O'Groats," she said.
"I've had a lot of heartache – my three children died within four years of each other.
"And I thought, you know, this is grief that I'll never ever get over. To lose all my children, it's the saddest thing that could ever happen to me.
"I couldn't believe it and I didn't think I'd be able to carry on."
But cycling and taking on challenges has helped her cope with some of the heartbreak, Ms Paterson said.
Her latest challenge began near her home in Galloway on April 29, as she made her way up the west coast towards Thurso, then down the east coast through Fife, and then back to Galloway.
Bruce Port, Macmillan fundraising manager said: "Seeing Mavis cross that finish line and achieve this incredible challenge is something I won't ever forget.
"To achieve this challenge at any age is a huge accomplishment, however Mavis celebrated her 85th birthday just four days ago. It's amazing and she is one of the most inspiring people I've met.
"We're just so grateful she chose Macmillan as the charity she wanted to support. Macmillan relies almost entirely on donations and it's only thanks to people like Mavis, and their remarkable determination to take on challenges like this, that we are able to continue to support the growing number of people who need us.
"Mavis really is helping us to make a difference to those affected by cancer in Scotland."
You can donate to Granny Mave's fundraiser via her JustGiving page.