A Filipina teenager is travelling back to her homeland after undergoing major facial reconstruction surgery in Scotland.
Angela Arreola from Manila was born with a severe form of craniofacial microsomia, a congenital condition that is seen approximately in one in 5,000 live births internationally.
The 18-year-old realised she didn't have many options for treatment in the Philippines, so she flew to Scotland last month and has since received private treatment at Ross Hall Hospital in Glasgow.
She told STV News: "I am partially deaf (as a result of my condition). It has been really hard to live with, I have had to deal with discrimination and I was subject to a lot of bullying at school.
"It got so bad that I stopped going to school in the eighth grade, when I was aged 14, and started home schooling.
"It was the way people perceived me, they were very judgemental. People told me I was ugly, so I started to believe that I was ugly. I just wanted to hide from everybody."
Angela's condition can range from a minor facial asymmetry – with all normal structures – to severe, where a number of structures can be either smaller in size, misshapen or fully missing.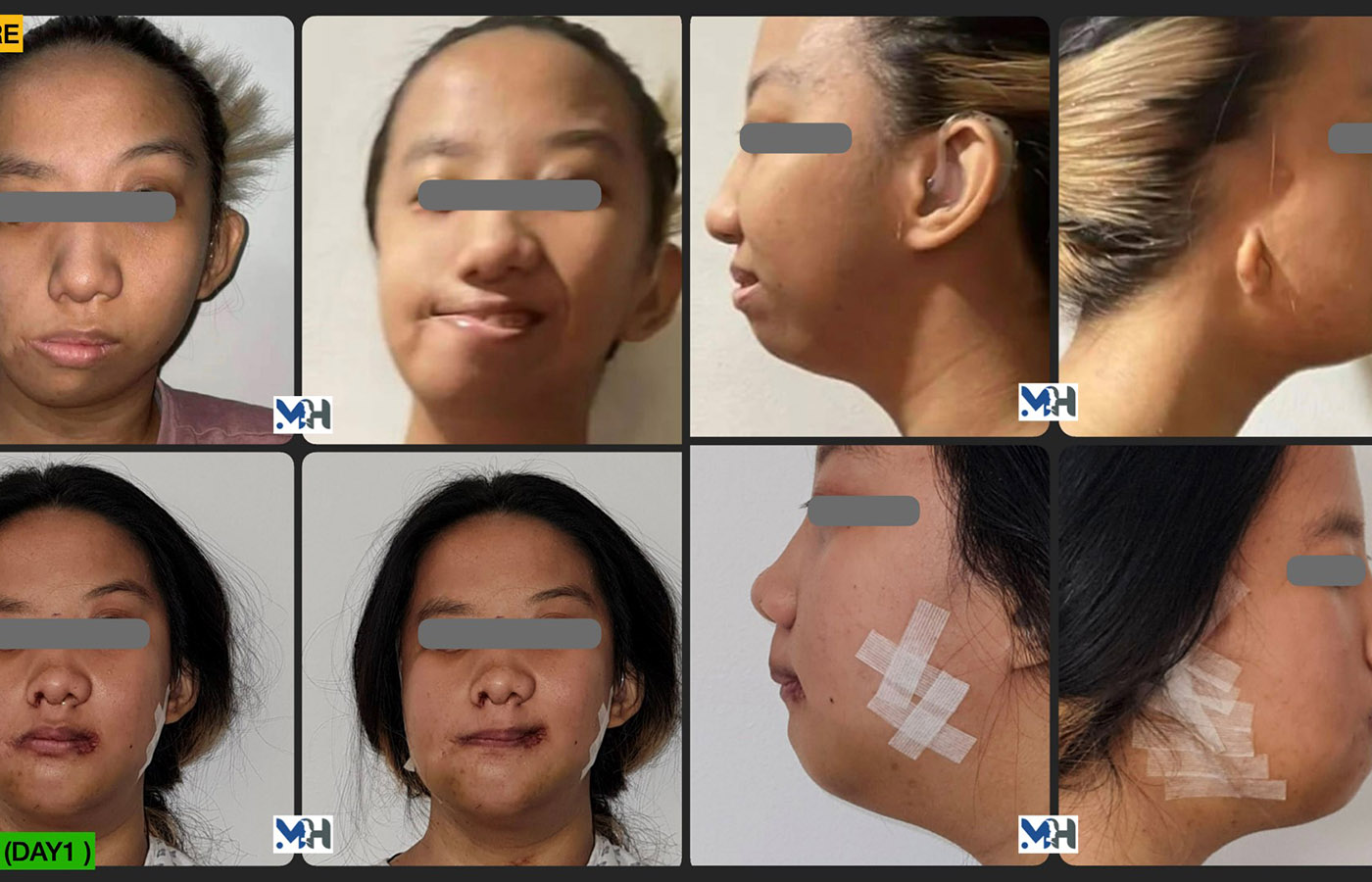 Angela had some minor surgery in the Philippines but she needed significant reconstruction work, including on her jaw joint (right side), as well as aligning her upper and lower jaw and her chin.
The surgery required 3D planning and 3D printing of many components.
Moorthy Halsnad, the consultant craniofacial surgeon who carried out the procedure at Ross Hall Hospital, said: "She had an asymmetric face but there was no normal joint structures on the right side. The whole jaw was tilted. It was definitely an operation at the more serious side of the spectrum.
"Angela underwent a long operation that lasted ten hours. As a result, the framework of her facial structure now has some kind of normality.
"It was quite an undertaking, operating on a patient who lives thousands of miles away – the planning had to be executed to absolute perfection."
The operation is believed to be the first of its kind carried out at a private specialist hospital in the UK.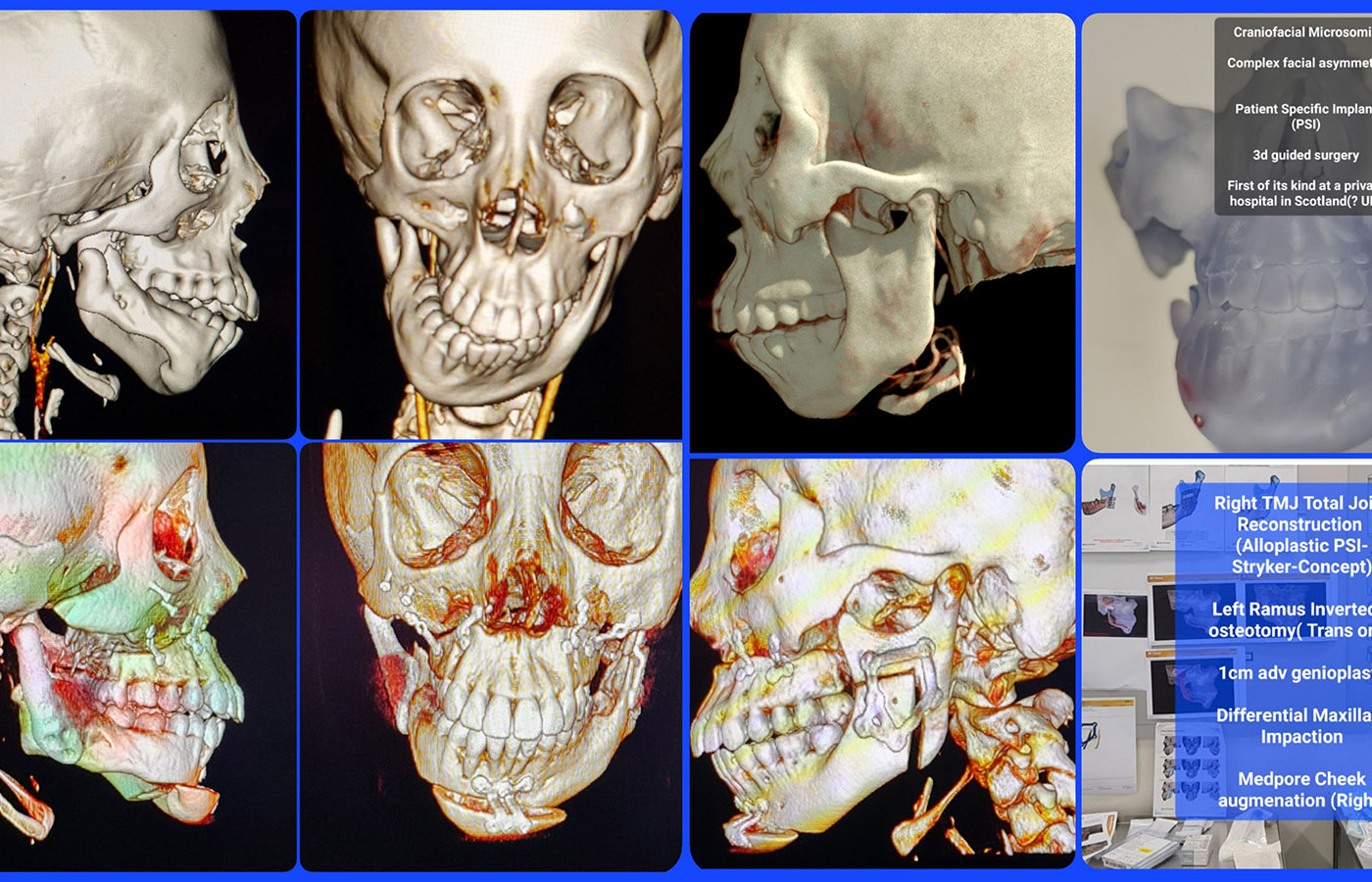 Mr Halsnad added: "She (Angela) is in a situation where she is flying back home at the exact time she was meant to – that is a success story. She also has a significant foundation to have second-stage surgery in around a year's time."
Angela's parents carried out research online and found about Mr Halsnad's work last year. He conducted several online consultations to assess her suitability for complex surgery.
"Getting this surgery has helped me a lot," said Angela. "I'm still in recovery but I feel much better now. In the future, I might want to consider few smaller procedures to help me further.
"We didn't have many choices to get the surgery done in the Philippines, they didn't have the technology either. We were talking to Mr Halsnad and decided it would be a good idea to get the surgery done in Scotland.
"I really am grateful, so glad that we managed to meet Mr Halsnad.
"When I get back to the Philippines I will be going to college and hopefully will go on to get a good job."
Mr Halsnad now wants Scotland to be known as the premier destination for carrying out complex facial surgeries. He thanked his anaesthetists (Dr Rangappa and Dr Roux), all the staff of Ross Hall Hospital and surgical technology company (Stryker) for their support on this case.
He said: "We are in talks with colleagues in different parts of the world, with a view to bringing more patients to Scotland – and specifically Glasgow – for similar treatment."
STV News is now on WhatsApp
Get all the latest news from around the country
Follow STV News
Follow STV News on WhatsApp
Scan the QR code on your mobile device for all the latest news from around the country