A freight train carrying cement to North Lanarkshire derailed due to faulty wheels, an investigation has found.
Five 100-tonne wagons came off the track at about 20mph near Petteril Bridge junction in Cumbria shorty after 8pm on October 19.
The train was travelling from Clitheroe in Lancashire to Mossend near Glasgow when it derailed on a junction, with two bags of cement powder falling from a bridge.
No one was injured in the incident but the derailment caused the closure of lines from Carlisle to Newcastle and Settle for almost two months.
Network Rail said it had taken 40 engineers and more than 25,000 hours of work to restore the line.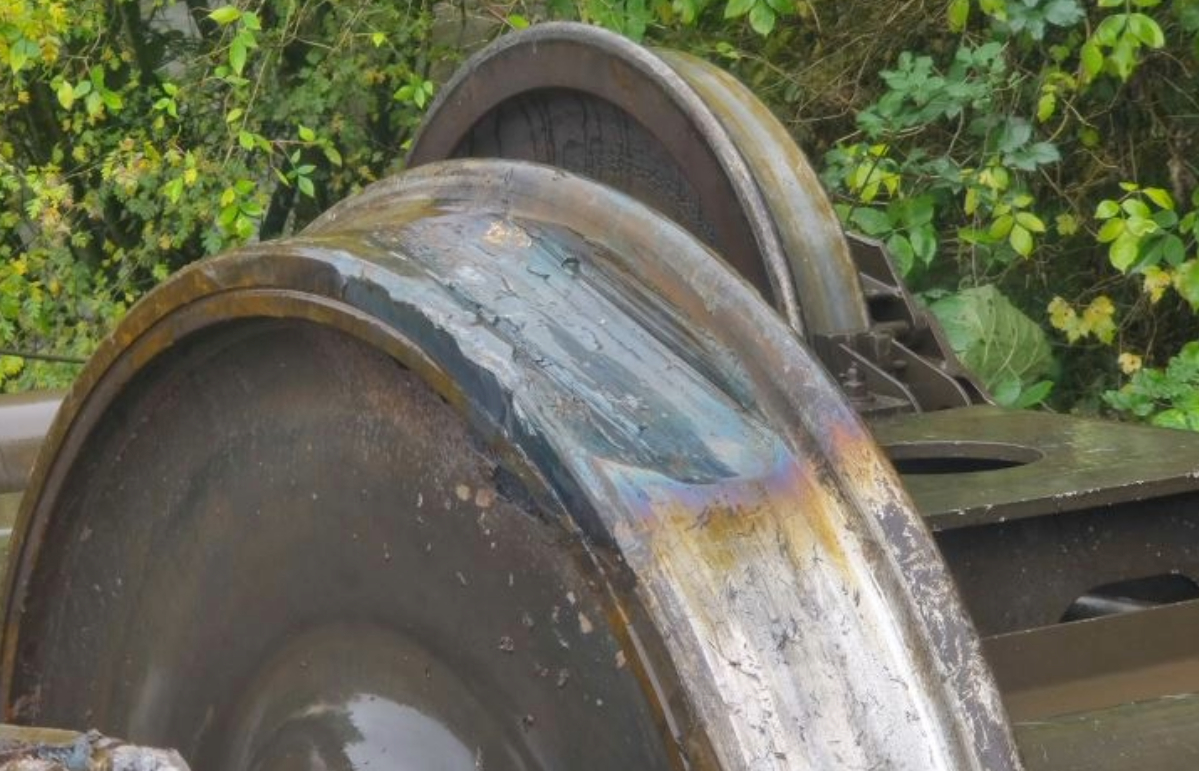 An Rail Accident Investigation Branch (RAIB) investigation found that a set of wheels on the ninth wagon stopped rotating up to 55 miles before the junction, causing it to slide along the top of the rail causing "considerable damage".
The report read: "The derailment occurred because one set of wheels on the ninth wagon in the train stopped rotating during the journey. These wheels had stopped rotating up to 55 miles (88 km) before the derailment and continued to slide along the railhead causing considerable damage to the profile of the wheel treads.
"This meant that the wheels were unable to safely negotiate a set of points just before Petteril Bridge Junction, damaging them and causing the ninth wagon to become derailed. Five of the wagons derailed due to the consequent track damage and two of them fell off the side of the bridge.
"The initial wheel slide was probably the result of a normal brake application made in low adhesion conditions that were not abnormal for the route at the time of year. The wheel slide continued because the adhesion between the wheels and the rails was then insufficient for the wheels to restart rotation.
"The non-rotating wheels were not identified by the signallers on the route, nor by the train driver or any engineered system, meaning that the train was not stopped before it reached Petteril Bridge Junction."
RAIB investigators made a number of recommendations to relating to both drivers and signallers.
These included:
For the railway industry to undertake work to understand the specific risks to freight trains in low adhesion conditions.
For rail firms to review requirements for stopping and examining trains.
An improvement in the requirement for drivers to look back along their trains.
A reminder for signallers of the circumstances in which they should stop and examine trains.
Train operator GB RailFreight have been contacted for comment.
STV News is now on WhatsApp
Get all the latest news from around the country
Follow STV News
Follow STV News on WhatsApp
Scan the QR code on your mobile device for all the latest news from around the country