A family seeking asylum in Scotland say coming to the UK via legal routes is just as challenging as crossing the channel on migrant boats.
Henry Okwo, his wife and young children were forced from their home in North Lanarkshire and left waiting in the back of a police van amid a row over their right to live and work here.
They were renting a home in Coatbridge from a private landlord, but when Dr Okwo made an asylum claim, he was told he was no longer permitted to work and had to give notice on the property because he could not afford the rent.
A tumultuous sequence of events has now left the family homeless and living in a hotel paid for by a charity.
Mr Okwo fears some asylum seekers will be forced to turn to illegal gangs and people smugglers.
He told STV News: "We came here in the most legal way possible, we had our visas active, we had all our papers, paid for health insurance, we paid for everything we could.
"It wasn't easy, but we did that just to ensure that we didn't put ourselves at the mercy of anybody.
"I hope this was a glitch, I hope this is not the norm. If this is the norm, the painful thing is it's self-contradictory, in that the Home Office might be trying to emphasise that nobody should go through dangerous routes like the English Channel, but those who came here legally are not having it any better.
"Those that run illegal cartels may show them (refugees) an interview like this and say 'see, he spent over £30,000 to be here and look at what he went through'. 'Don't bother yourself, give us £500, we'll take you over by boat and you'll face the same thing'. There's no difference between him and yourself'."
The Okwos story has been anything but a family friendly tale. Two weeks ago, the family were forced out of their home by their private landlord.
The family said they were left in the back of a police van while they waited for emergency accommodation, before being taken to Newcastle, then York, and finally back to Glasgow.
But Police Scotland said the Okwo family were able to use the station's facilities while they were waiting.
A spokesperson said: "On Monday, 16 January, 2023 officers supported a family who had been evicted from their property in Coatbridge.
"To ensure they were comfortable before a partner agency was able to assist them, the family were taken to Motherwell Police Office where they had access to all necessary facilities."
"They were able to use the public area and toilet facilities and chose to go between these areas and their belongings in the van during the time they were waiting."
Temporary host
The Okwo family are now temporarily staying with their host, Mary Child.
She told STV News: "We're still at the stage now where we're negotiating how to live together and it's complicated because there is so many of them.
"I am happy to have other people in my house and I know a lot of my friends are just horrified – people say 'I couldn't do that'.
"I just feel very strongly that people shouldn't be made destitute on the streets of Glasgow, it's horrifying, so I take in people that that's happened to."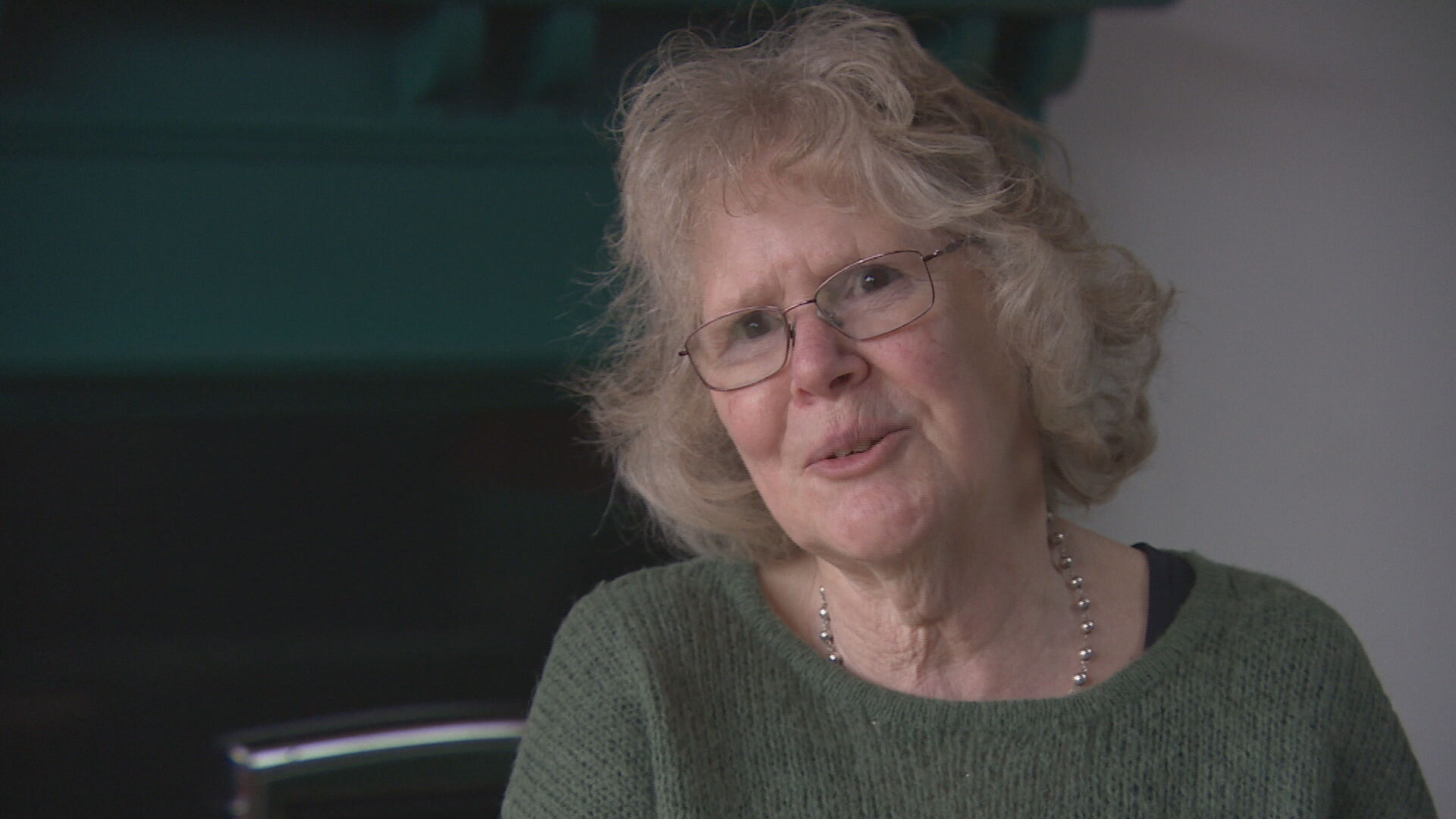 Ms Child has opened her doors to those in need before, but there are new challenges to contend with in a cost-of-living crisis.
"I can't afford to heat them properly and they are finding the house really cold," she said. "And I'm getting really upset that I can't afford to keep them hot enough, and I think that's a challenge for half the population just now.
"I'm having to heat the whole house because there's a baby here. So, yeah, my biggest concern is that they are cold."
Henry is doing his third masters degree and already has a doctorate. He says his studies have been a lifeline.
While the family wait for an update on where their new home may be, Henry is already planning for a future where he can finish his degree and work again.
"Schooling has been a therapy for me," he said. "This is my third masters degree, I have a PhD. School has been a way to cope and it has been a positive distraction for me – not to think about lots of things.
What is the Home Office saying?
The Home Office said those seeking asylum can work if their claim has been outstanding for 12 months or more, and they can fulfil a job on a shortage occupation list.
A Home Office spokesperson said: "Where an individual claims asylum before the expiry of their current leave, the applicant is able to carry on working on the same conditions until their claim is finally determined.
"Where it is found an individual has used deception to obtain that leave, all previous conditions – including right to work – no longer apply."
Timeline of events
On Monday, January 16, the Okwo family endured sub-zero temperatures for over 12 hours in Coatbridge following a catalogue of failures.
They sheltered in the corridor of their building from sub-zero temperatures with their belongings.
The charity Positive Action in Housing once again escalated their case with MigrantHelp to urge the Home Office to approve their emergency homelessness request, which they had asked for one month previously.
Late that afternoon, MigrantHelp told Henry emergency support was now approved and to "wait in the street so that he was visible to the driver who would take them to their accommodation".
To avoid upsetting the landlord, Henry moved their things, which the letting agent emptied out of the flat, onto the street while his wife, Blessing, hid with the children at the back door.
At 10pm a driver arrived, he was contracted by a company called CMAC, which is contracted by Mears Group – the Home Office accommodation contractor.
The driver said they were going to York. Henry was shocked and said that there's some kind of a mistake and he had to call MigrantHelp.
The driver left without them. At 10.45pm the property agent messaged Henry repeatedly, accused him of trespassing and threatened to call the police.
The police arrived at 11pm and took the family to Motherwell Police Station in a patrol van. Henry states that the police told him there was no room in the police station so they would stay in the van.
At 3.17am on Tuesday morning (January 17), police released the family from the van. After spending over 12 hours in sub-zero temperatures, the family was driven in separate to the Embassy Hotel in Newcastle, run by Mears Group, arriving at 6am.
But they were told there was no room. The driver left them there. The family slept for two hours in the hotel lobby.
At 8am on January 17, a Mears official told them they were going to York. On arrival, the children slept from exhaustion.
The two older children developed bleeding lips from the cold. The family spent over 12 hours in sub-zero temperatures, taken hundreds of miles from their home in Glasgow.
Positive Action in Housing arranged for train tickets to bring the family back to Glasgow, where they stayed in a hotel room paid for the charity's emergency relief fund until a volunteer was able to provide a short-term let.
STV News is now on WhatsApp
Get all the latest news from around the country
Follow STV News
Follow STV News on WhatsApp
Scan the QR code on your mobile device for all the latest news from around the country