Memorial benches damaged by Rangers supporters in George Square will be restored by Glasgow City Council.
The local authority condemned the "deplorable" behaviour of those who breached lockdown rules and destroyed memorials while celebrating the Ibrox club's first Premiership title in ten years.
Police made 28 arrests and handed out seven fixed penalty notices on Sunday after supporters flocked in their thousands to the city centre.
Glasgow City Council said: "The lack of care and respect shown to a place and facilities that all Glaswegians should be able to enjoy is disturbing – but destroying memorials placed by grieving families and friends is, frankly, deplorable."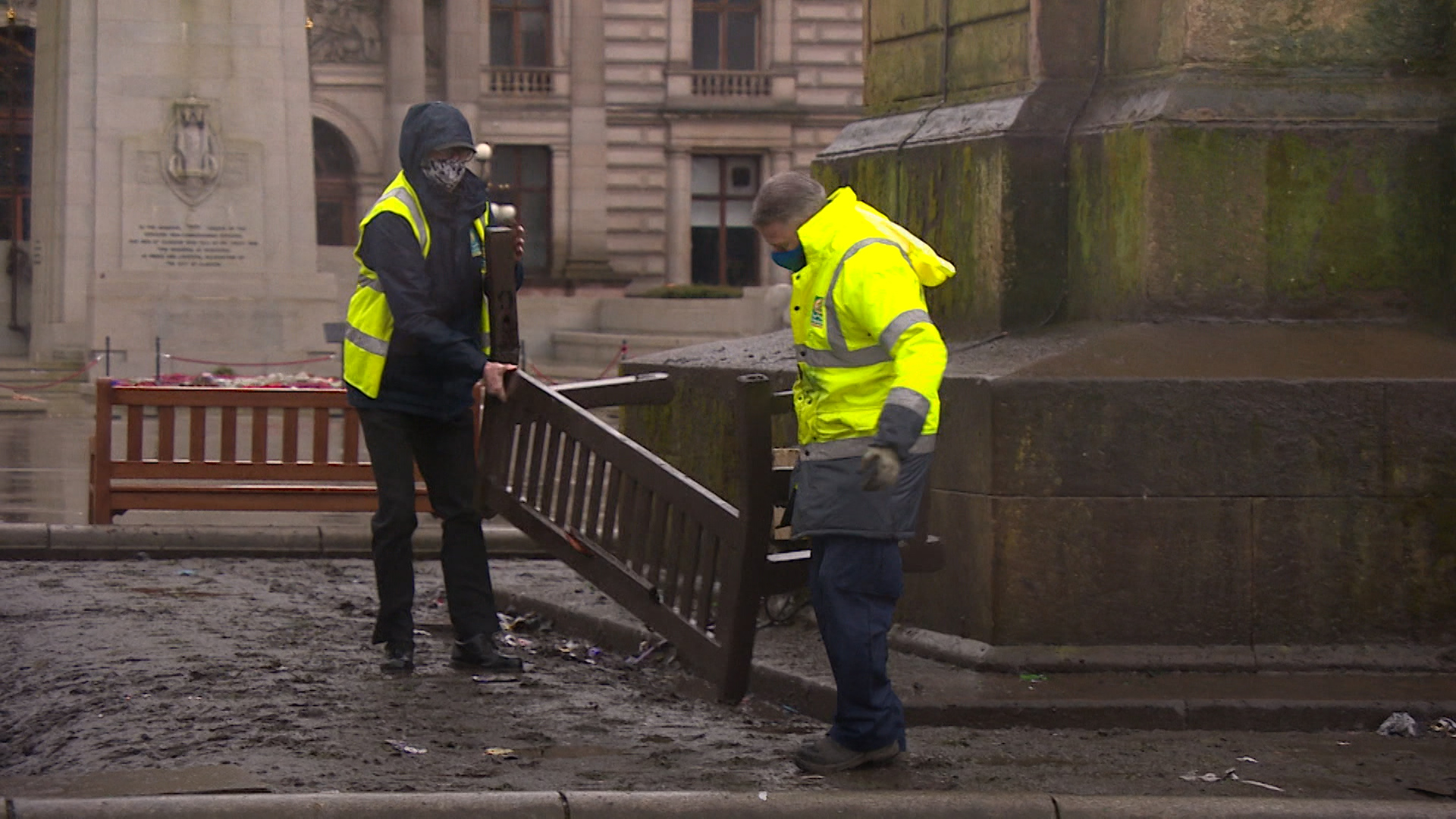 The council believes it has managed to recover all memorial plaques from the damaged benches and is in the process of contacting the families affected.
One of the benches that sustained damage was in memory of Jacqueline Morton, one of the six people who died when a bin lorry crashed into pedestrians on Queen Street in 2014.
Glasgow City Council added: "The memorials will be restored; however it is not yet known how much this will cost."
It also appealed for help in locating the families involved.
The plaques that were recoverd are as follows:
Plaque One: In Loving Memory of JACQUELINE MORTON In our hearts you are always there
Plaque Two: In Loving Memory of ROBERT and JANE SHEARER and Their Son ROBERT Who All Loved Glasgow
Plaque Three: Donated by the Netherlands Ambassador JAN HERMAN van ROIJEN on the occasion of his visit to the City of Glasgow on 18/19th September 1997
Plaque Four: In memory of JOANNA WESTON 1994 – 2004 Sadly missed by all at H.O.S.
Plaque Five: Dedicated To The Memory Of JOHN HAMILTON Died 22.4.1994 Donated by His Loving Wife And Family Rest Awhile
Earlier on Monday, Deputy First Minister John Swinney criticised Rangers over "disgraceful" scenes which marred their title celebrations.
Swinney said the club's leadership failed to warn supporters to stay at home if the league was wrapped up on Sunday.
He also criticised them for not tell fans to go home as thousands gathered for celebrations – both outside Ibrox and in George Square.
As well as the damaged benches, fireworks were let off and rubbish was left strewn across the civic heart of Glasgow city centre.
First Minister Nicola Sturgeon tweeted on Sunday the actions of those flouting restrictions was "infuriating and disgraceful".
Rangers said fans had been told to remain socially distanced while celebrating.
A statement read: "We reiterate the message from our manager, Steven Gerrard, who highlighted that fans should adhere to government guidelines – stay safe, socially distance and look after each other in this difficult time.
"We are aware there is the possibility of more, significant milestones within this season, and we will continue to proactively engage with key stakeholders to maintain a cohesive message in relation to government guidance at this present time.
"We look forward to further open dialogue with the government, police, SPFL and other key stakeholders."