An eco-warrior has completed an impressive 1300 mile run from Greece to Glasgow for COP26 in just 87 days.
Agis Emmanouil, 52, was inspired to take on the challenge after watching a David Attenborough' documentary.
Agis set off from Athens on August 11 running through six different countries – including stops in Milan, Paris, Brussels, Rotterdam, and Manchester.
Other than two ferries and a train between Italy and France, Agis travelled by foot the whole way and stayed in hotels and with friends or mutual acquaintances.
The Greek activist ran the distance of a marathon for around 50 days in total without any assistance, and finished his Herculean adventure in Glasgow on Friday.
Agis has never been to the UK before but said he felt like Mel Gibson in Braveheart when he arrived.
He said: "I wanted to yell 'Freedom' when I arrived."
Agis, from Athens, said he cried when he watched David Attenborough's 'A Life on our Planet' and knew he wanted to run to raise awareness of the effects of climate change.
He sustained six injuries on his route – even hurting his Achilles' tendon.
Agis added: "I had to see a physiotherapist in Milan for two days.
"I injured my knee and my Achilles' tendon.
"I was flying – today, I ran a marathon in four hours, I was running like a race.
"The day before yesterday I was exhausted, I couldn't run."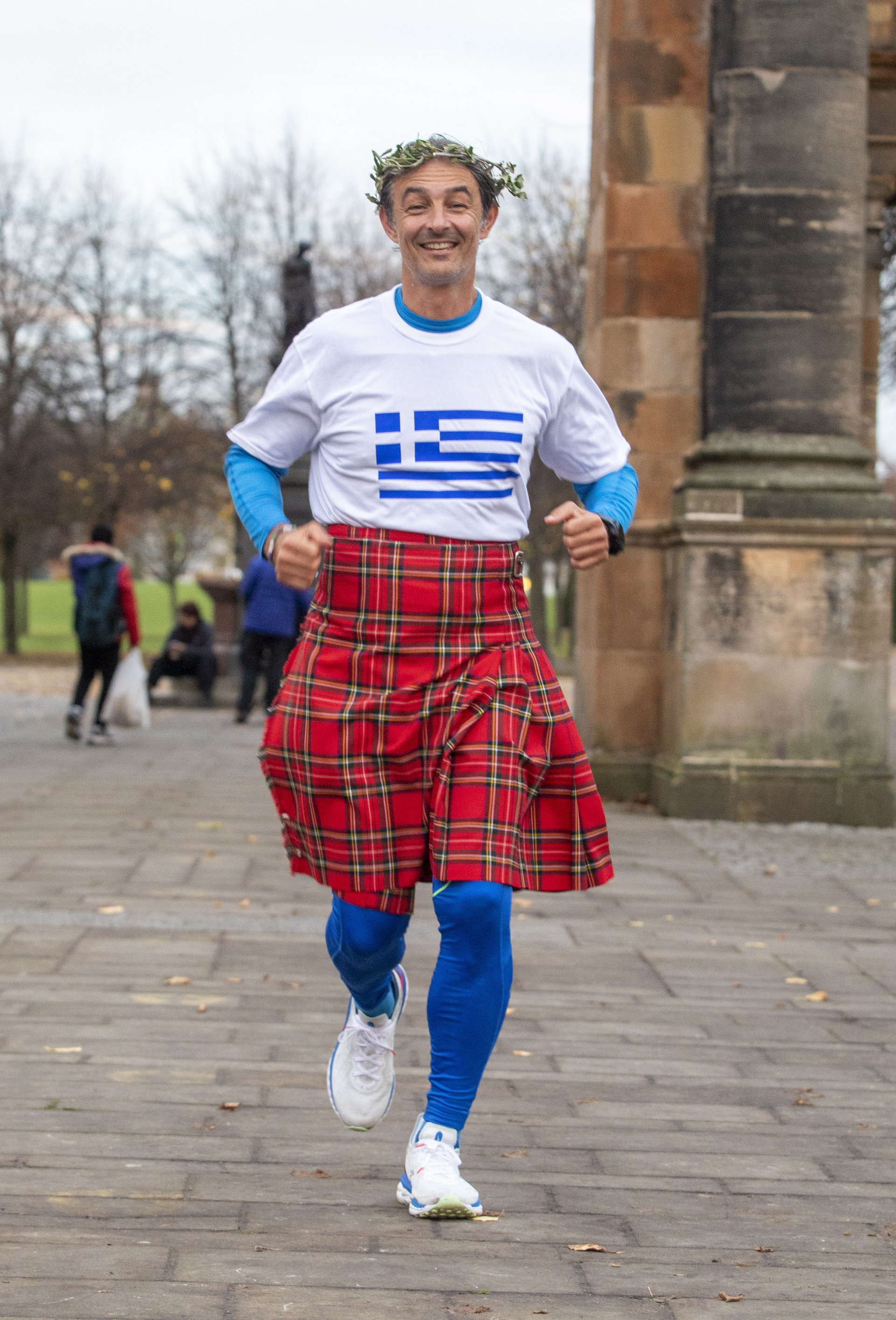 His darkest moments came in France, where he knew no one and was unable to communicate with people because few spoke English or Greek.
But the highlight of his trip came when, after running nine miles with no water, two French boys ran after him and gifted him a drink.
He added: "I was totally alone, especially in France.
"I didn't have any connections and the French don't speak English.
"I was hosted in Venice and Milan people hosted me – I connected with them through other friends.
"The weather was amazing, the worst was at the beginning and the heat of 45 degrees.
"Yesterday was very cold but it never stopped me running.
"Outside Rugby I was in the station and I spoke with a woman from Liverpool and her daughter.
"Because I wanted to speak with people in England, I started to share my story.
"Afterwards, she embraced me, it was very warm.
"Her daughter gave me a bracelet and every day from then I wear it."