A vigil for people who have died as a result of drugs has taken place after Scotland recorded its highest annual number of drug deaths on record.
Families and campaigners gathered to remember all the men and women who have lost their lives to drugs.
The event, organised by Faces and Voices of Recovery, kicked off at 1pm at the Royal Concert Hall Steps on Glasgow's Buchanan street.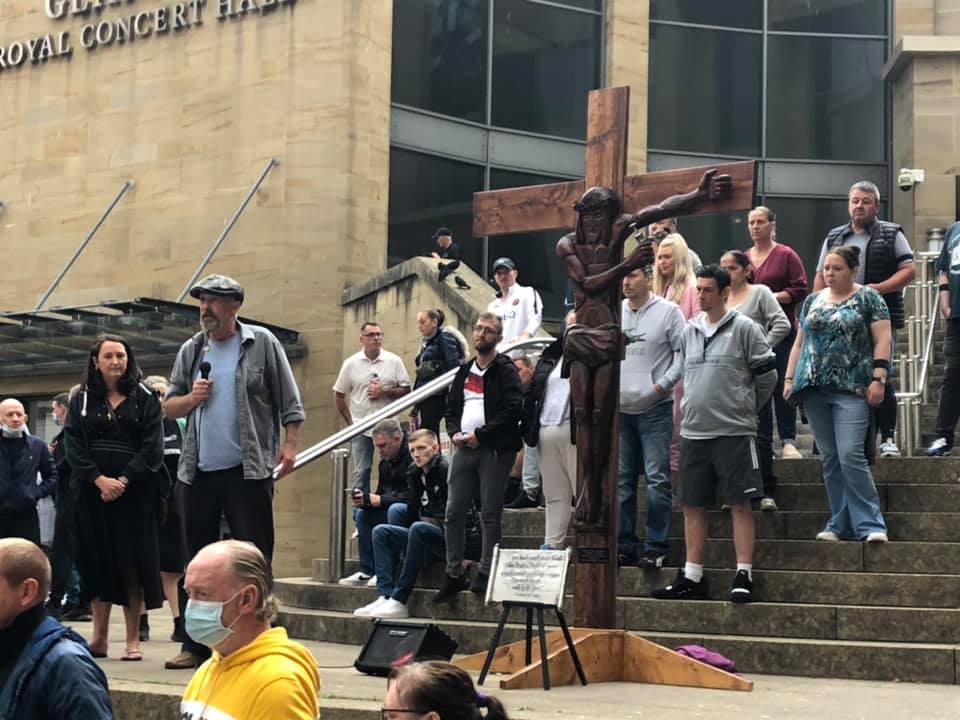 It was scheduled on the same day as the drug death statistics for Scotland as campaigners are calling out for the Scottish Government to do more to prevent the issue.
Drug rehab campaigner Annemarie Ward, who is in long-term recovery from addiction, told the Scottish Government "talk is cheap" as she joined others affected to demand change.
Ms Ward and her group Faces And Voices Of Recovery (Favor) UK has backed Scottish Tory proposals to introduce a Right to Recovery Bill enshrining in law the right of Scots to get the drug treatment they request.
Ms Ward hit out at a speech made at the event by drugs minister Angela Constance in which she referenced the Deacon Blue song Dignity and promised to "climb the mountain and turn the tide" of drug deaths, without pledging any specific action.
Ms Ward said: "I think Angela is doing the rounds. She's talking to a lot of people and listening to a lot of people, but talk's cheap.
"We can talk all day long and people can listen all day long, but unless we start to take action, nothing changes.
"Angela was talking about 'a ship called Dignity' and she was using a variety of different analogies and I was just like 'we've got a Bill about to come through parliament, Angela – back that Bill, that will change the law and that will prevent our local authorities and our NHS and anybody else who is withholding actual treatment, it will make them actually help people.
"It will force our current system to change and, at the moment, those turkeys aren't going to vote for Christmas.
"Those services are rationalising, justifying and defending the status quo – they don't know how to deliver recovery and they need to get the experts in that do."
Speaking at the emotionally charged memorial service, Ms Constance told the assembled crowd – some of whom had experienced addiction themselves: "My focus is on turning fine words into action."
She added: "The ship has been sailing in the wrong direction for 20 years and its been getting worse, not better year after year.
"I want to convey to you my utter commitment and what we need is a culture of change and a culture of compassion.
"If you are as old as me, you will remember that song about a ship called Dignity and we all know what it's going to take to turn that ship around."
Figures published by the National Records of Scotland (NRS) reveal 1339 drug-related deaths in 2020 – a 5% increase on the previous year's statistics and represent the largest number since records began in 1996.
The country continues to have the worst drug death rate in Europe, with 21.2 deaths per 1000 of the population, more than three-and-a-half times higher than the rest of the UK.
First Minister Nicola Sturgeon said the number of lives lost to drugs is "unacceptable".
She tweeted "Each one is a human tragedy. @scotgov does not shirk the responsibility & we are determined to make changes that will save lives ."