Drivers with older vehicles face being fined up to £480 if they enter central Glasgow from Thursday as the city's new low emissions zone (LEZ) comes into effect.
All vehicles entering the zone now need to meet the less-polluting emission standards or face a penalty charge, which starts at £60 and then doubles with each subsequent breach of the rules.
Phase one of the LEZ – focusing on buses – has been in place since 2018. The second phase will affect drivers of older petrol and diesel cars and vans.
What area does the low emission zone cover?
The LEZ covers area of Glasgow city centre bounded by the M8 motorway to the north and west, the River Clyde to the south and Saltmarket/High Street to the east.
The motorway itself is not included in the LEZ.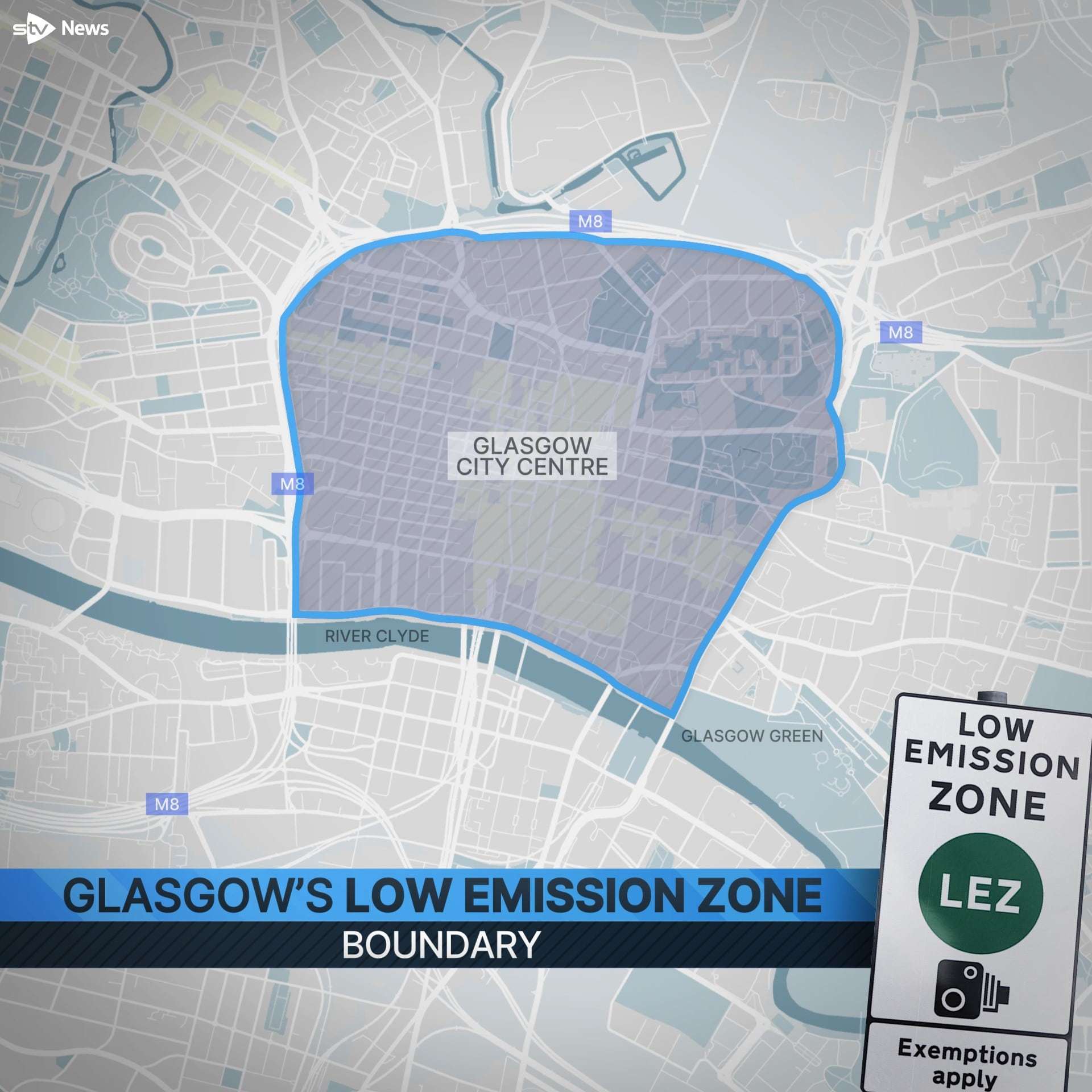 Glasgow City Council has installed signs and road markings at all entry points, and automatic number plate recognition cameras have been installed.
What are the penalties?
The initial penalty charge for non-compliant vehicles is £60 but the fine will be halved to £30 if paid within 14 days.
A scheme surcharge means the penalty charge amount will double with each subsequent breach of the rules in a 90-day period.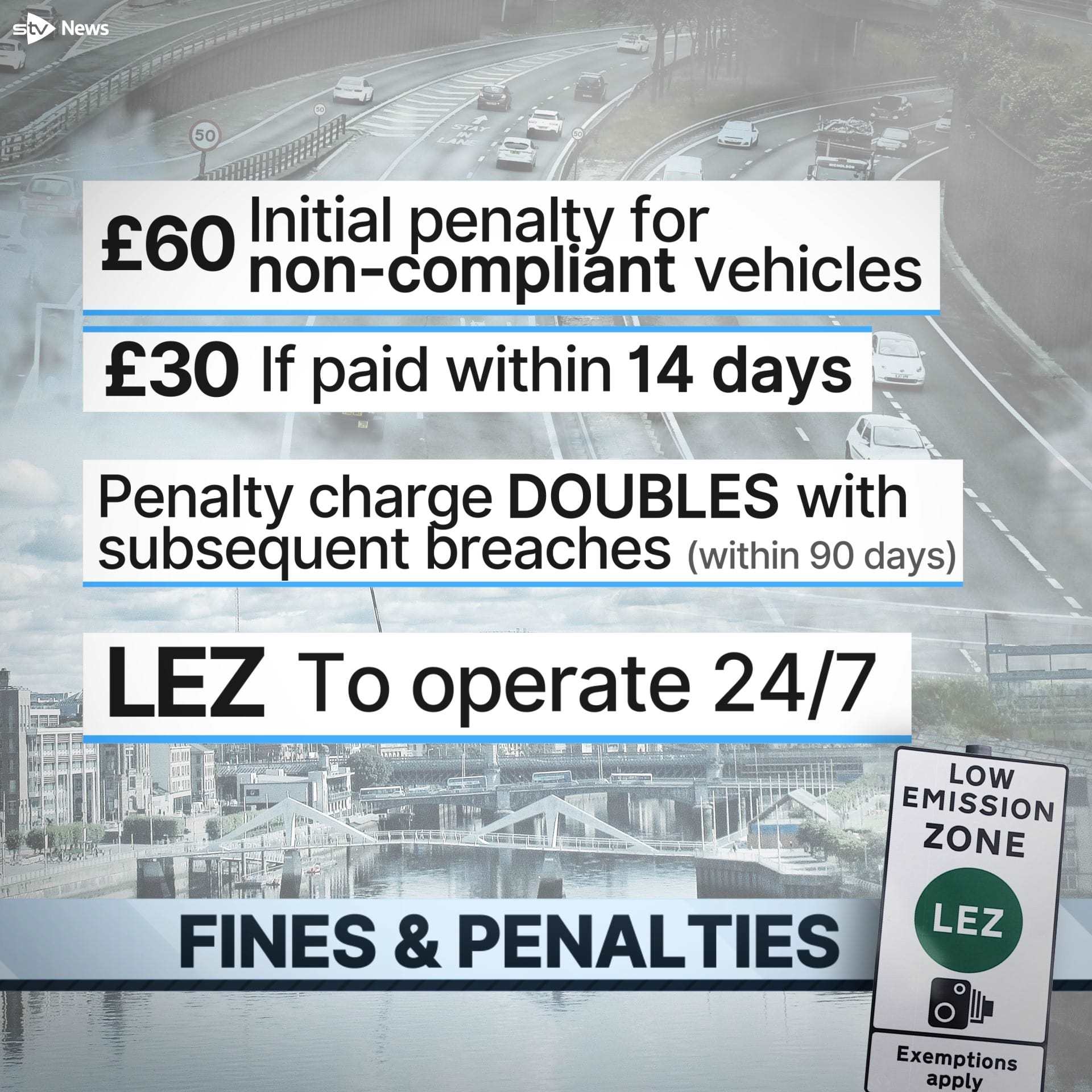 Penalty charge rates are capped at £480 for cars and light goods vehicles, and £960 for buses and HGVs.
The LEZ will operate continuously, 24 hours a day, all year round
Will my car be able to enter the zone?
Petrol cars and vans will need to have engines at the Euro 4 standard, which generally applies to vehicles registered after 2006.
Diesel-powered cars and vans will need to be at the Euro 6 standard, mainly applying to vehicles registered after 2015.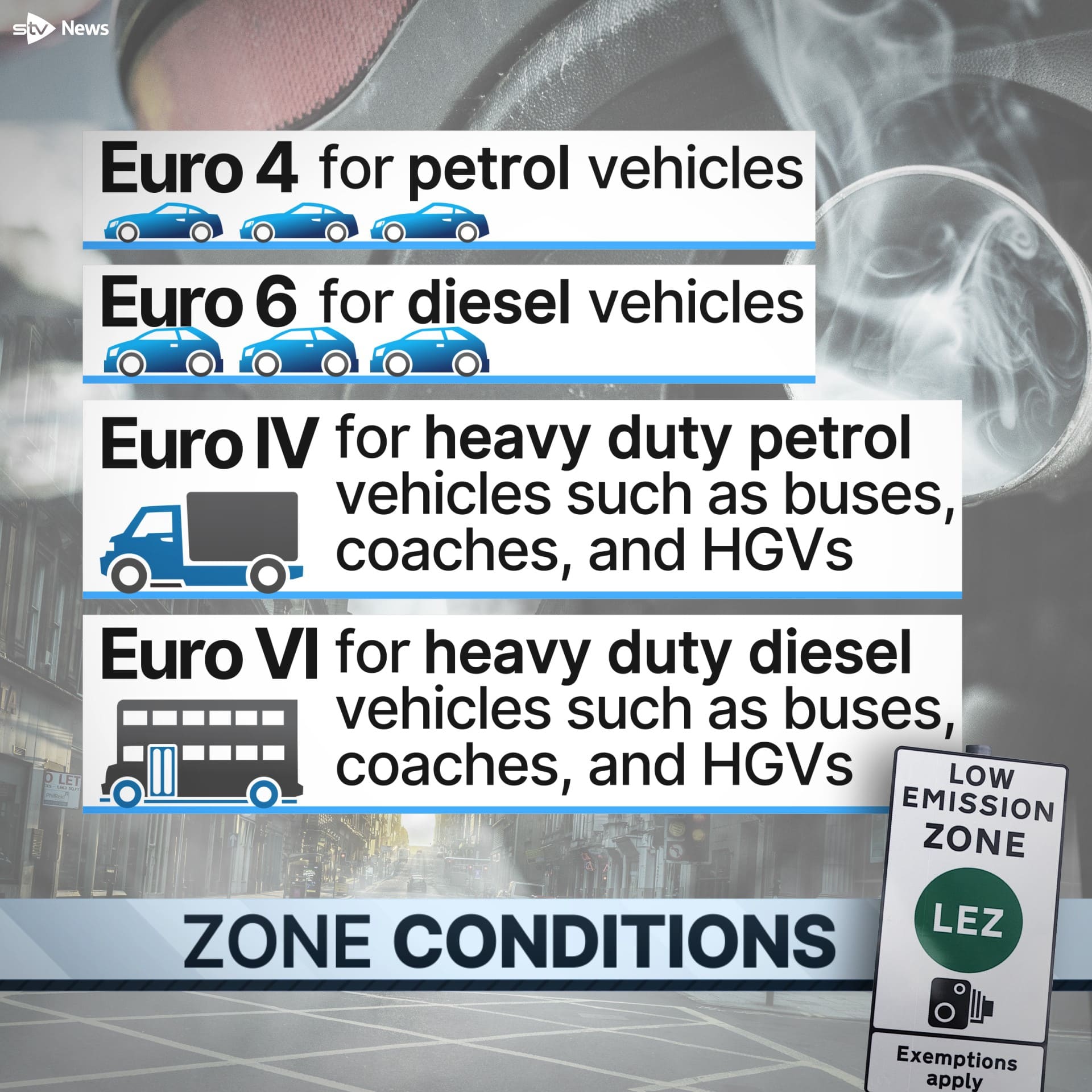 You can check if your vehicle meets LEZ emission standards by using Transport Scotland's Vehicle Checker.
There will be some exemptions from the scheme, including blue badge holders, motorbikes, mopeds and emergency vehicles.
Taxi operators with vehicles that are non-compliant with the LEZ are being urged to take advantage of exemptions that provide flexibility up until June 1, 2024.
Is Glasgow the first Scottish city to implement a LEZ?
Glasgow, Edinburgh, Aberdeen and Dundee are all introducing LEZs in order to improve air quality, with many older vehicles banned from city centres.
Grace periods are now in place for the four cities, with enforcement due to begin on different dates.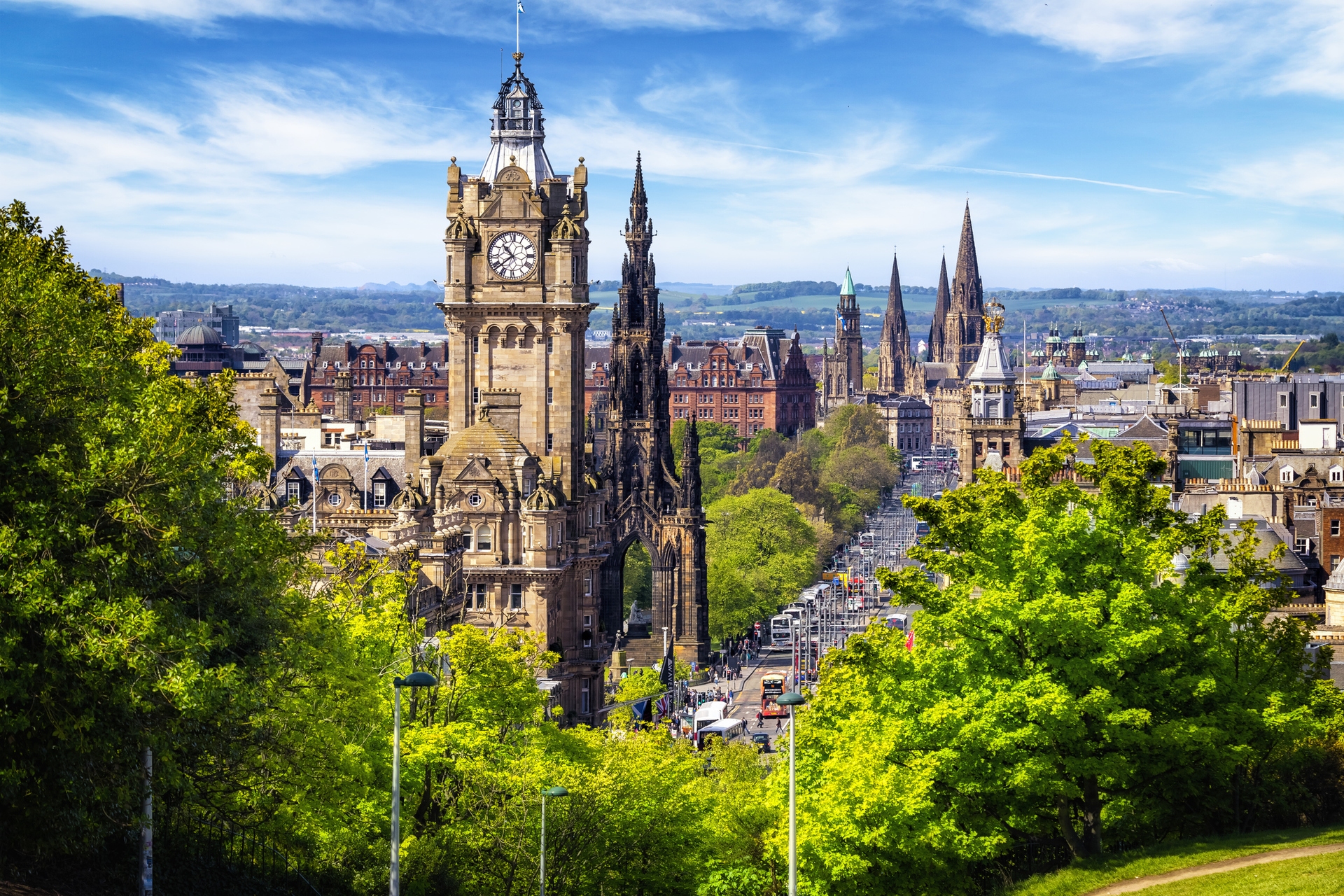 In Glasgow, the LEZ is already in place for buses and will apply to other vehicles from Thursday, with the grace period for residents extended to June 1, 2024.
In Edinburgh and Aberdeen, enforcement will begin on June 1, 2024.
In Dundee, enforcement begins on May 30, 2024.
Why are LEZs being introduced?
Glasgow City Council say harmful nitrogen dioxide is being recorded in the city centre at levels that do not meet legal requirements.
The local authority cites the main source of this pollutant as coming from road traffic, adding that a LEZ is essential to improving air quality and helping protect public health.
What are political parties saying?
The Glasgow Labour Group wanted the start of the LEZ scheme to be delayed in order to allow businesses more time to prepare during the cost-of-living crisis.
George Redmond, a Labour councillor for Glasgow's Calton ward, said: "The low emission zone was proposed in good faith but in reality the current model will not work for the city.
"Charities, businesses and volunteer groups have raised alarm about how this change will work in practice, and how much it will cost them to continue their vital work across the city.
"Time is needed to prepare for the LEZ. We need (Glasgow City Council leader) Susan Aitken to listen to what she is hearing from her own city and pause the implementation of this zone."
The Scottish Conservatives also warned the initiative could have "potentially devastating effects" for taxi drivers, shops, restaurants and other local businesses.
Graham Simpson, the party's shadow transport minister, said: "We all want to see a reduction in pollution and to meet environmental targets, but there is evidence that air quality is already meeting those standards, and that phase two will not result in further improvements.
"Meanwhile, the SNP council has not responded to the significant objections to the scheme raised by local businesses.
"It is not just the potentially devastating effects on groups such as taxi drivers or the economic damage to local shops, restaurants and businesses.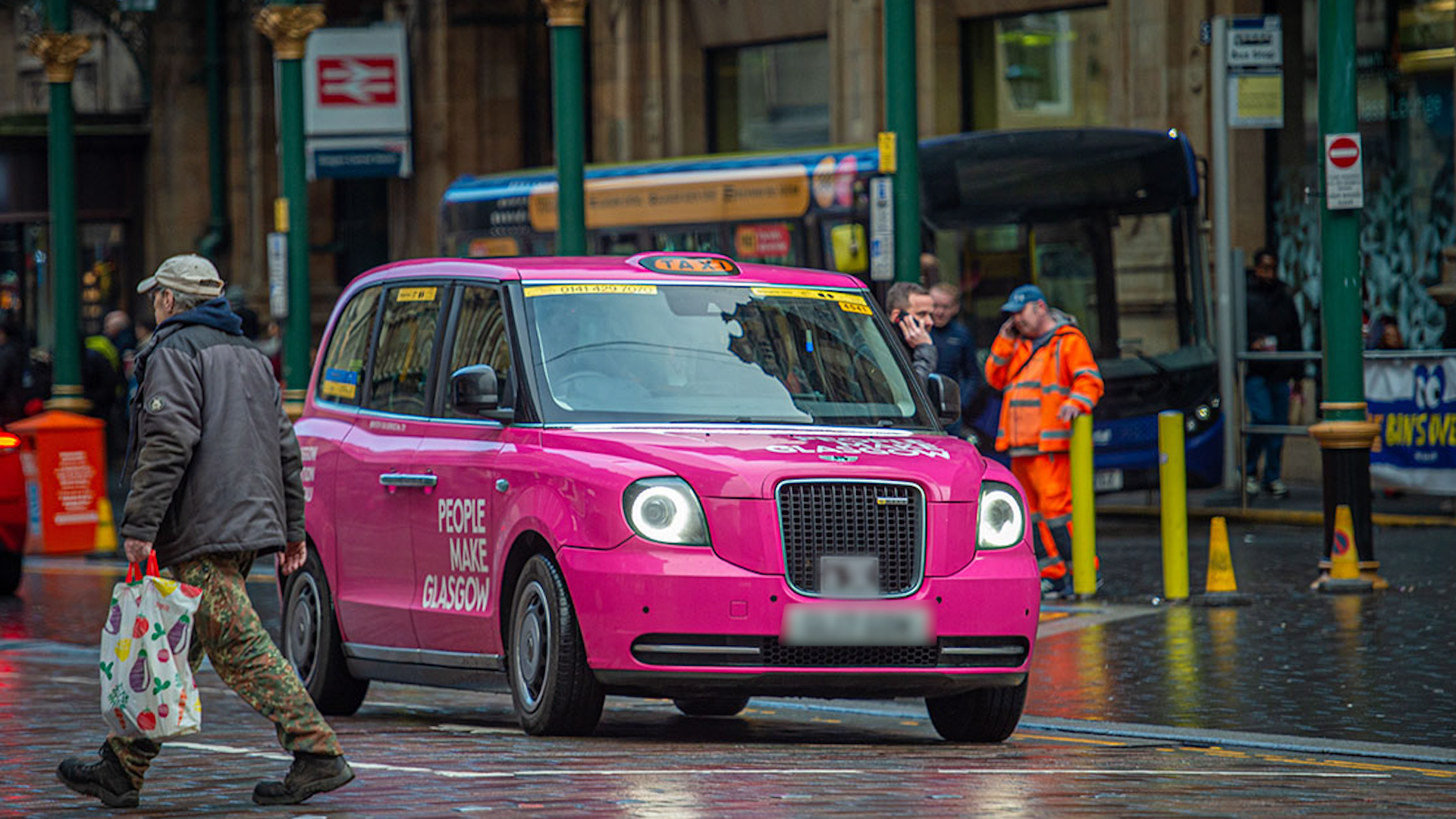 "Homeless charities and other groups, including St Andrews First Aid, have said they would be prevented from operating effectively. There is an obvious danger to women and vulnerable groups, as well as shift workers, if late-night transport is unavailable.
"No matter the judgment in this particular case, there is an urgent need for Glasgow's SNP-led council to address the flaws in this scheme as a matter of urgency."
The Scottish Government say the LEZ is needed to protect public health and improve air quality in Scotland's largest city.
Transport minister Kevin Stewart said: "We all have the right to breathe clean air and we all have a moral responsibility to act.
"Air pollution disproportionally impacts the most vulnerable in our society. It causes the most damage to the youngest, the oldest and people with pre-existing medical conditions. Low Emission Zones are an important tool to protect public health and improve air quality.
"Our biggest cities have already seen air quality improvements in advance of the introduction of LEZs as people, businesses and bus operators prepare. This additional functionality on our well-used website will make it easier for people to understand if their vehicle is compliant with the forthcoming emissions standards across Scotland."
Health charities welcome outcome of judicial review
A last-minute bid to stop the introduction of the LEZ was rejected on Wednesday.
A car repair firm that feared losing business after the measure comes into force had raised a judicial review challenging the Glasgow City Council scheme.
It sought to have the introduction of the LEZ suspended ahead of further action in the legal challenge.
In the action before Lord Harrower, Paton's Accident Repair Centre maintained that the scheme is unlawful and that the local authority was in breach of a continuing duty to keep it under review.
But a judge at the Court of Session in Edinburgh refused the motion for interim suspension and said the balance of convenience lay in favour of the local authority, which was awarded expenses following the hearing.
A spokeswoman for Glasgow City Council said: "Glasgow's LEZ will come into force as planned on June 1, 2023.
"The application for the interim order has been refused."
The decision was also welcomed by some health charities.
Joseph Carter, Head of Asthma + Lung Scotland said: "We are pleased that the Glasgow LEZ will continue as planned.
"We know that low emission zones are one of the most effective ways to tackle air pollution caused by vehicles, quickly. It will mean a reduction in harmful air pollution for everyone.
"With one in five Scots developing a lung condition like asthma and chronic obstructive pulmonary disease (COPD) in their lifetime, for them, this is a day to celebrate.
"Air pollution is a public health emergency, and it requires bold political leadership to tackle this issue head on and prioritise public health now and for future generations."
Hospitality concerns
The Scottish Licensed Trade Association (SLTA), which represents all sectors of Scotland's licensed trade industry, said the introduction of Glasgow's LEZ "is deeply concerning".
Paul Waterson, media spokesperson for the SLTA said: "As an organisation, together with our members we care greatly about creating cleaner, less polluted city centres. However, this has to be achieved in the right way, at the right time, with a fully integrated approach.
"And the recent air quality reports show that Glasgow's air quality is good. So why is there the need for phase two of the scheme to be introduced?
"Scotland's largest city already suffers from a chronic lack of late-night transport provision to ensure safe and reliable transportation home for customers socialising and staff working in the city centre – something the licensed hospitality sector takes very seriously.
"To make this scheme work, we need to see a much improved, fully integrated and affordable public transport system in Glasgow.
"The taxi drivers need increased assistance with finance to help them invest in new, compliant vehicles or to help them upgrade their current cabs.
"Industry, the local council and Scottish Government all need to work hand in hand, to make this work. We want it to succeed and make our city centre a cleaner, less polluted environment – but it needs to be done in the right way – so everyone benefits."