A couple who have been together for more than 70 years embraced for the first time in months as care home visits resumed.
John and Mary Stevenson first met in 1946, and wed in 1972 – but the couple have been seperated since June, when Mary, 97, moved into a care home.
Devoted husband John, 89, visited her every day, outside in the summer months and with an outdoor heater and a canopy when the weather changed.
In November, Glenfield Care Home in Greenock, Inverclyde, piloted indoor visiting.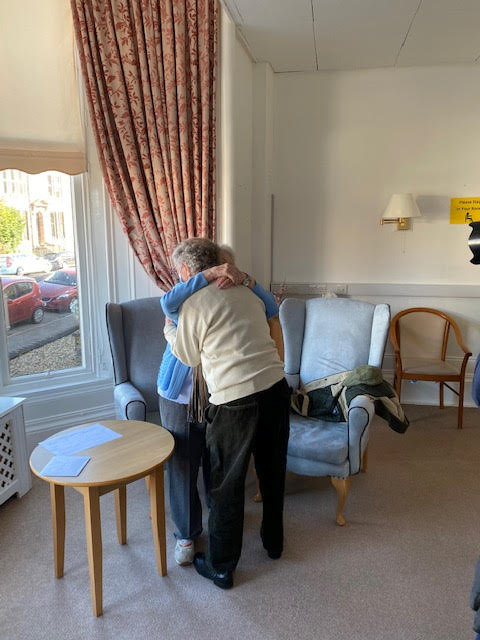 The couple last saw each other on Christmas Day – before being reunited on March 1 with a hug.
Visits can only take place after the return of a negative Covid rapid test, thorough cleaning of hands and a face covering must be worn.
In the time between December and March, John would visit his wife so he could see her through a window.
They met in 1946 when John went for a job interview and Mary, who worked as a receptionist, escorted him to the manager's office at a shipping line company.
Elated John asked her out on a date when he got the job and they were friends before they started going out.
He said it was "harrowing" not being able to see Mary during the pandemic, and was the first person to be allowed in when the green-light was given.
John said: "It was wonderful to get back in. It's been harrowing but the care staff have been so kind and loving.
"She couldn't be in a better place. I've missed her."
Even as she nears her 100th birthday still Mary ensures she is glammed up for seeing 'John Boy' – with make up and accessories on.
Everyone in the room cried as they had a hug.
Mary said: "That was wonderful. I've got my John."
Care home worker Carl Morgan added: "Every morning when I go into see her, Mary always says 'Hat check, scarf check, lippy check, now let's go and see my John Boy'."
Andrea Wyllie, chief executive of Glenfield operators Greenock Medical Aid Society, said: "There wasn't a dry eye in the house as John and Mary embraced after so long apart.
"The pandemic has been hard on so many people and it's been awful for residents to be separated from their families.
"Our staff have worked ever so hard implementing all the safety procedures to ensure visits could resume as soon as we were given the green light and this is an important milestone on the road out of this pandemic."