Coronavirus transmission in pubs and restaurants in the Greater Glasgow area is being kept under review, Nicola Sturgeon has said.
She was addressing restrictions on indoor household gatherings in five council areas: Glasgow City, East Renfrewshire, Renfrewshire and East and West Dunbartonshire.
The measures are less severe than the local lockdown in Aberdeen last month which shut down the city's hospitality sector for three weeks.
The First Minister said that gatherings in people's homes are the biggest source of Covid-19 spreading in the west of Scotland, rather than the hospitality sector.
Surging cases in the Greater Glasgow and Clyde health board region have seen infections statistics spike again in Scotland.
On Tuesday, 176 new cases were recorded overnight, bringing the average daily total over the last seven days to 155.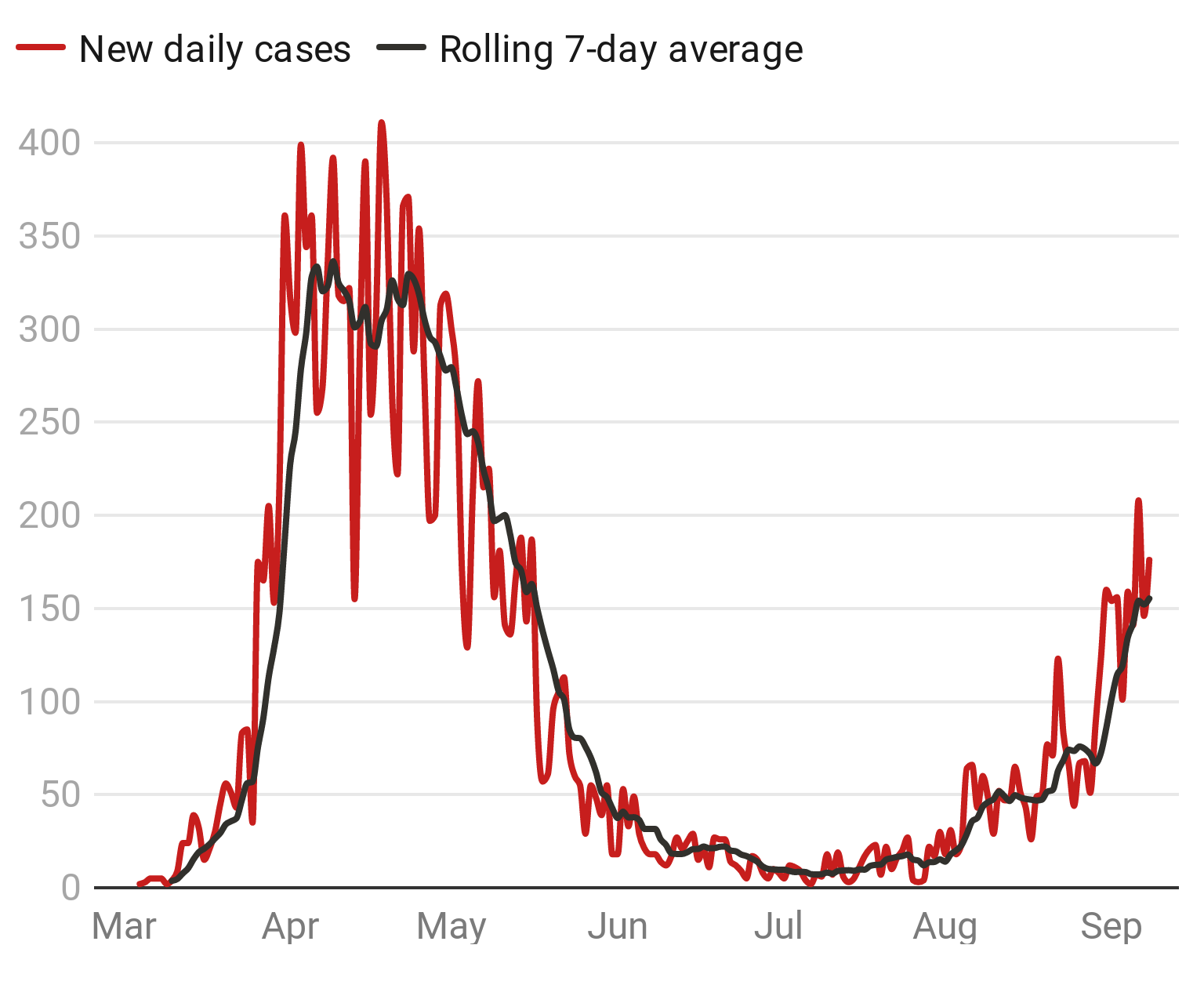 Three more deaths of people with coronavirus have been reported in the last 24 hours – the first time the daily death toll has been as high as three since June 30.
On Monday evening, the First Minister confirmed the ban on household gatherings would be continued for another week in Glasgow, East Renfrewshire and West Dunbartonshire.
She also announced the restrictions would be extended to residents of Renfrewshire and East Dunbartonshire local authority areas – bringing the total number of Scots affected to more than 1.1 million.
But speaking at Tuesday's coronavirus briefing, Sturgeon said she does not want to place further strain on the hospitality sector by shutting down businesses again.
Private household gatherings remain the primary driver of the new cases in the west of Scotland, she said.
The FM added: "They're also a setting in which older and more vulnerable people are often most at risk of infection because older and more vulnerable people are perhaps more likely to socialise at home, rather than visit pubs and restaurants.
"As a result, our restrictions focus on meetings in people's houses.
"However, we know some transmission is taking place in pubs and restaurants and so we will also keep that under close review.
"We'll discuss with the five local authorities concerned what further steps we can take to ensure that pubs, bars and restaurants are operating in line with the necessary rules."
She urged customers at pubs and restaurants to take responsibility for following guidance on social distancing and group gatherings to help reduce the risk of spreading Covid.
Among considerations people going out should have are avoiding busy pubs and not visiting multiple venues, Sturgeon suggested.
But she conceded: "This is an area that we know is hard to regulate and we don't want – if we can avoid it – to have to create new rules or laws, but there is clearly a responsibility for individuals here.
"The hospitality sector has reopened and we want people to support the sector and of course to be able to safely, enjoy themselves.
"But we are still living in a global pandemic, that pandemic is now accelerating again across the country and of course it is still accelerating across the world.
"So you should not be socialising in the same way as you were last year, or in the earlier part of the year before the pandemic."
Ahead of Thursday's review of lockdown measures, which takes place every three weeks, the First Minister reiterated she does not expect to be able to ease lockdown any further.
That could include the easing of restrictions which are already planned, including the slated September 14 reopening date of theatres, comedy clubs and music venues.
She told the briefing: "It's only fair that I signal now that, while final decisions have not yet been taken, when we do our latest three-weekly review on Thursday we may well not be able to go ahead with any further easing of restrictions.
"At this time obviously we want to do everything possible to avoid the situation where more restrictions that have been lifted have to be reimposed.
"And the key to avoiding that rests with all of us – the decisions we make as individuals still affect the safety and wellbeing of our communities.
"So please do everything you can to avoid creating a bridge for the virus to cross over from one person to another, one household to another."
STV News is now on WhatsApp
Get all the latest news from around the country
Follow STV News
Follow STV News on WhatsApp
Scan the QR code on your mobile device for all the latest news from around the country