Jeremy Corbyn has urged Glasgow City Council not to "up the ante" in the dispute with cleansing workers by bringing in private contractors to collect rubbish in the city amid strike action.
The former Labour leader warned that doing so would only make the dispute "even longer and more bitter".
It comes after the council last week said that it had been left with "no option" but to explore contingency plans.
A spokesperson for the council indicated that it would seek to recoup any funds spent on private contractors from the GMB union.
On Thursday, First Minister Nicola Sturgeon outlined that contractors were not being considered to fulfil the regular duties of striking staff, but to mitigate the risks of piling rubbish during bonfire night.
Corbyn made the remarks ahead of travelling to Scotland on Monday, where he will meet with GMB members, as well as holding a series of events in Glasgow and Edinburgh during the COP26 summit.
In an interview with STV News, he said: "Contractors are going to cost a lot of money, it's going to be very antagonistic to the existing workforce, will make the dispute even longer and more bitter as a result of it.
"I would urge them, even at this hour – get together with the union, come to a solution and come to an agreement about that, don't up the ante by bringing in contractors.
"Work with those who've loyally worked with you."
The Islington North MP praised the young activists who marched in Glasgow on Friday to demand greater action from world leaders on climate change.
He said: "I thought it was absolutely brilliant. Young people totally engaged with the whole idea that we cannot go on exploiting the planet in the way that we do, and looking for that cleaner, greener future.
"I thought it was absolutely marvellous and the pictures I saw, these are the ones that have been sent to me by people on the march, I thought was great.
"Surely that is really what COP ought to be about as much as about the world's leaders coming in or going away again.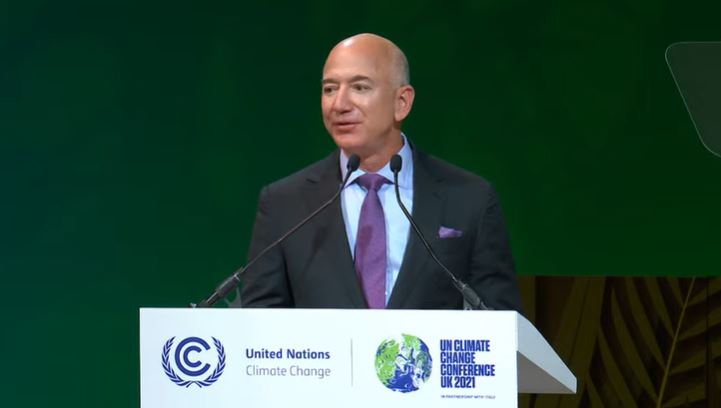 Corbyn also said that it was "a bit of a joke" that speakers such as billionaire Jeff Bezos had been allowed to speak at COP26, whilst highlighting the contribution of Sir David Attenborough at the summit.
He said: "It's like a parody of the whole thing. Jeff Bezos, one of the world's richest men, if not the world's richest man, who has made it out of Amazon, where it's not a great employer, where people are exploited and work very, very hard.
"And then spends a great deal of money sending himself into the near bits of space, and then comes to lecture us about environmental sustainability.
"Frankly, it's a bit of a joke. What we need is people that are very serious about it.
"I was impressed when David Attenborough spoke, I'm prepared to listen to him, but people that see sending themselves into space as a very interesting plaything that the super-rich can afford is complete nonsense.
"What we need is brilliance, is technology, is commitment, is moral principles, that's what David Attenborough's got and I look at that contrast, and I'll listen to David Attenborough any day."
STV News is now on WhatsApp
Get all the latest news from around the country
Follow STV News
Follow STV News on WhatsApp
Scan the QR code on your mobile device for all the latest news from around the country