Story by Louise Scott and Gianni Marini
Protestors dressed as dead and dying merfolk tangled in the nets of a prop trawler have called for the welfare of the ocean to be on the agenda at COP26 – demanding an end to bottom trawling.
The activists from campaign group Ocean Rebellion staged the theatrical protest on the banks of the Clyde opposite from where the UN climate summit is being held.
They said that concerns about the sea were missing from COP26 processes.
"People, they just think the ocean is wide and vast and you can do whatever you like to it forever and forever," said Andrew Darnton, who was playing the part of a dying merman.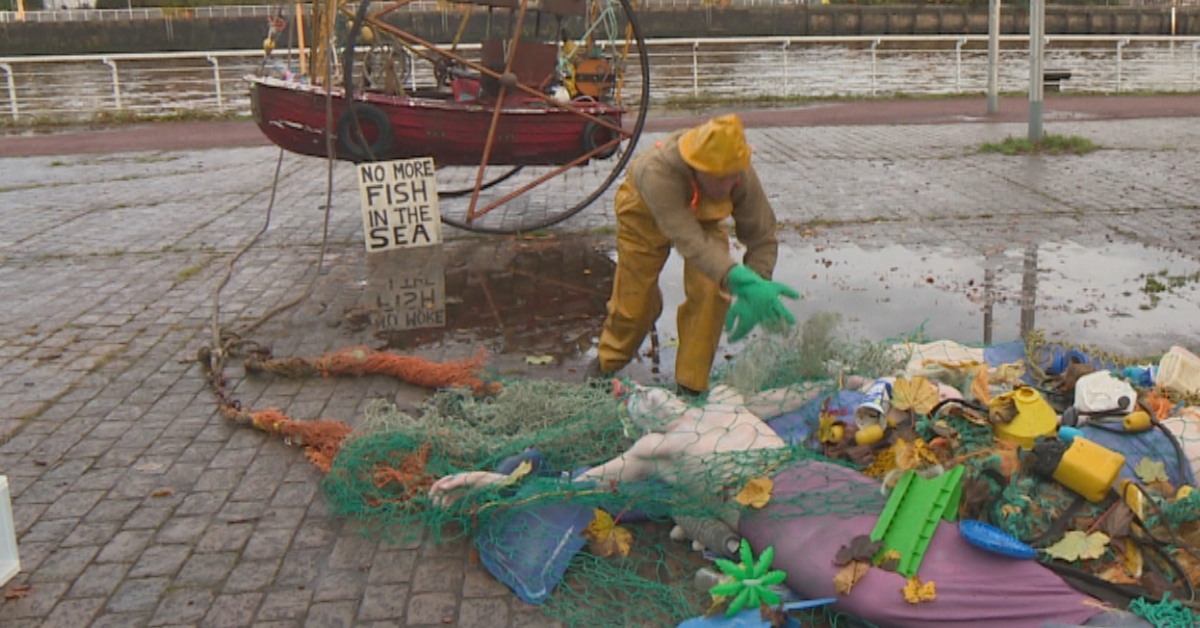 "There's no reason why people shouldn't include bottom trawling when they're talking about aviation or stopping fossil fuels, or insulating homes.
"It's at least as important so I'm hoping that people realise how important the ocean is and I'm really hoping there's some action coming on the back of COP because we can't wait for 27, 28, 29, 30."
The "dead and dying merfolk" lay on the riverbank tangled in trawler nets strewn with sea waste.
The campaigners described it as a last-minute plea to COP26 to put "blue carbon" – CO2 stored in marine ecosystems – on the agenda and end bottom trawling.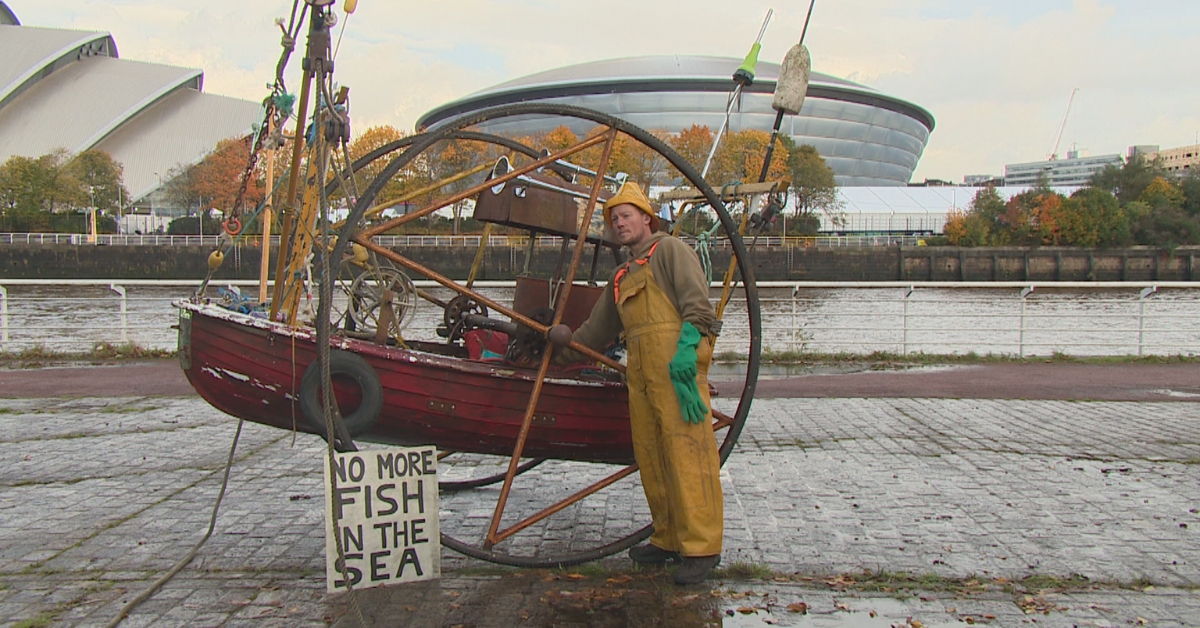 They said a ban on the dragging of the seafloor will help coastal waters recover, help local communities continue low-impact traditional fishing and limit the release of carbon.
"This isn't ugly, it's not Insulate Britain with people sat behind a sh*t vinyl banner," said Mr Darnton.
"It's beautiful work celebrating nature and we'd like people to see nature and think again about it.
"The mermaids are really strong in people's dreams and when we lose nature we lose the capacity to dream."
Mr Darnton said Ocean Rebellion will be "puking oil in various places" and "setting fire to something" to try and create "arresting images".
The action is part of a series of theatrical events organised by Ocean Rebellion over the next two weeks surrounding COP26.
On Wednesday, a protestor dressed up as the Prime Minister and another with an oil can for a head set light to a boat across the river from where the UN climate summit will be held next week.
Discussions focussing "on the critical importance of urgent climate action for the health of the ocean" are scheduled during COP26 including a ministerial event on Friday, November 5.
The "call for action" at the conference will focus on nature-based solutions and global support for the protection of "at least 30% of the global ocean by 2030", as well as organising finances to affect change.
A UK Government COP26 spokesman said: "One of the UK Presidency's key goals for COP26 is to secure the global action needed to protect and restore our natural world.
"Our presidency programme recognises the critical importance of this, including events and discussions focused on protecting our oceans and marine life."
STV News is now on WhatsApp
Get all the latest news from around the country
Follow STV News
Follow STV News on WhatsApp
Scan the QR code on your mobile device for all the latest news from around the country