One of Scotland's police chiefs has thanked his officers for the way they have handled demonstrations at COP26 after more arrests were made, amid concerns about policing around the event.
Three people were arrested after police had to use power tools to remove protesters who had locked themselves together blocking St Vincent Street in Glasgow.
It followed sixteen arrests on Monday evening after activists from Glasgow Calls Out Polluters blockaded the road outside The Engine Works in Maryhill.
Assistant chief constable Gary Ritchie said: "COP26 wouldn't be progressing in the largely positive manner it is without the efforts of thousands of police officers and staff, who've come together from across the United Kingdom in one of the biggest policing operations any of us can remember.
"We are enormously appreciative of how willing people have been to hold open and frank discussions with us and of the consideration which has been shown to the people of Glasgow – and beyond – who have faced upheaval as their daily routines have been disrupted as a result of the conference.
"As a rights-based organisation, we will protect the rights of people who wish to peacefully protest and will balance this against the rights of the wider community."
Climate activists and campaign organisations have raised concerns about the policing of protests during COP26, accusing officers of being heavy-handed.
On Saturday, during the largest pre-planned march in Glasgow as part of the Global Day of Action, a group of campaigners were surrounded by police at the corner of Holland Street and St Vincent Street.
The group had been part of the workers' and housing bloc. Police Scotland said the action was taken after their "conduct deteriorated, pyrotechnic devices were used and they brought the procession to a halt".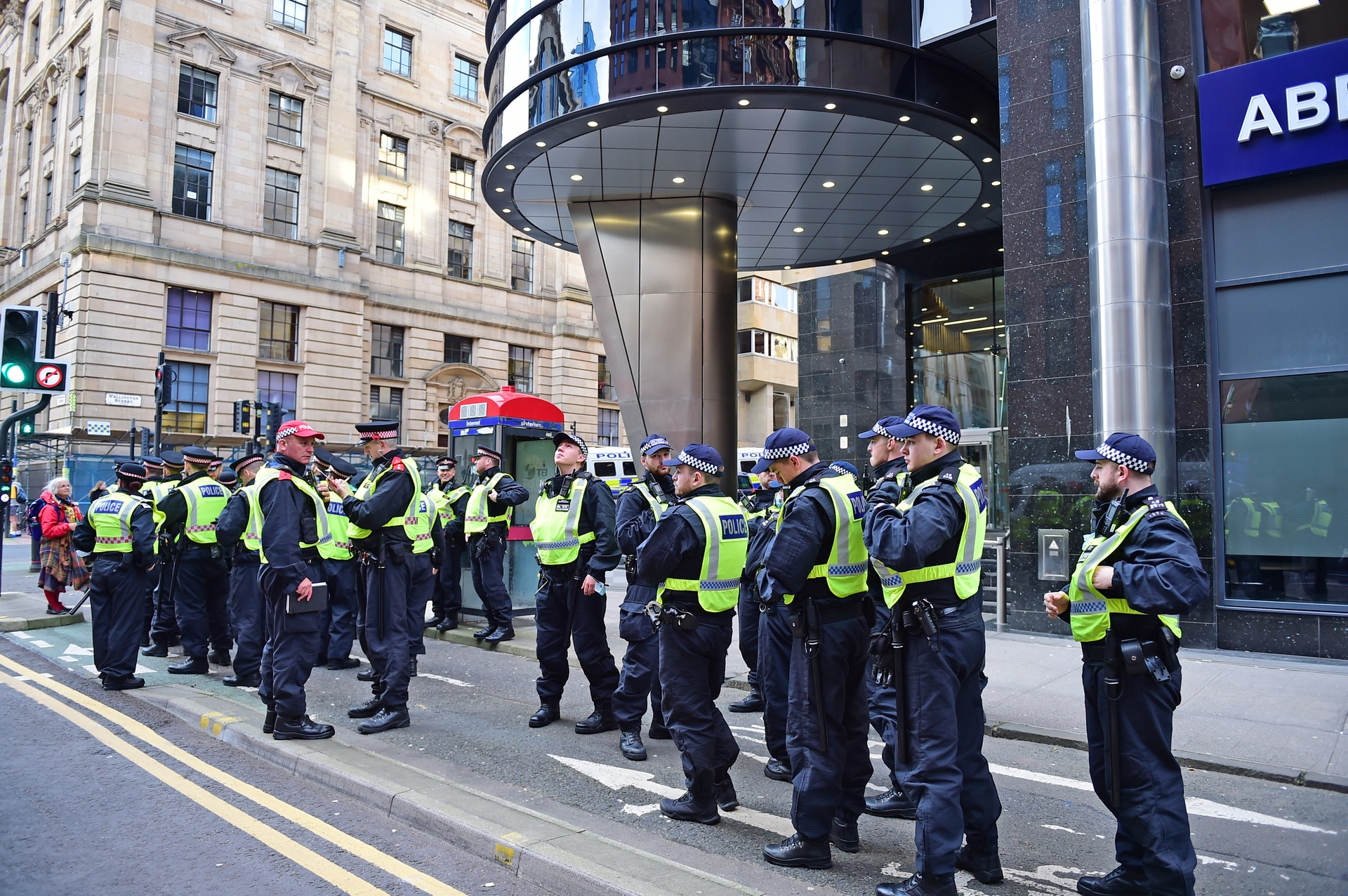 One person was arrested following the end of the march.
Scottish Greens justice spokesperson Maggie Chapman MSP raised concerns about the use of "kettling" by police against peaceful protestors.
"I've read reports of journalists kettled for hours with no access to water or toilets, and of a young mother with a baby in a pram trapped in a kettle. It can't be right that children are being kettled," she said.
In a separate incident, people involved in a lock-on at the King George V Bridge at the Broomielaw were removed and 21 people were arrested and released on an undertaking.
ACC Ritchie said: "Much has been said about the efforts we've gone to in terms of engaging with COP26 organisers and protest leaders to deliver a safe and secure event, ensuring the right to protest – and counter-protest – is upheld, while minimising the disruption to local communities.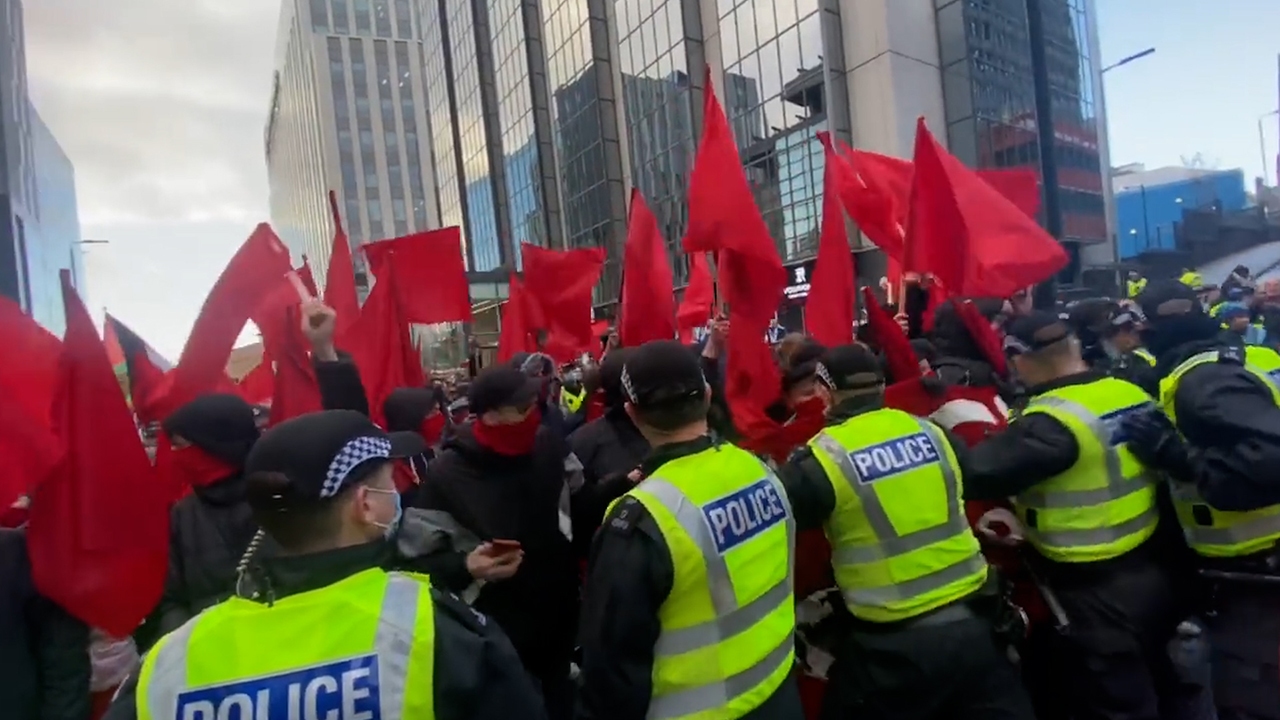 "Even as the UK's second largest police service, we still needed help, so mutual aid requests were made to 44 police forces across England, Wales and Northern Ireland, as well as the Ministry of Defence Police and the Civil Nuclear Constabulary."
ACC Ritchie said the force asked for officers with specific skillsets including around public order, search and firearms.
He said the call was responded to "admirably" and Scotland has hosted thousands of officers and staff along with their vehicles, horses and dogs from across the British Isles.
"Officers from across Scotland have also stepped up and relocated to the west for the duration of this policing operation and we do not underestimate the sacrifices they have made in leaving their homes and families for a significant period of time," ACC Ritchie said.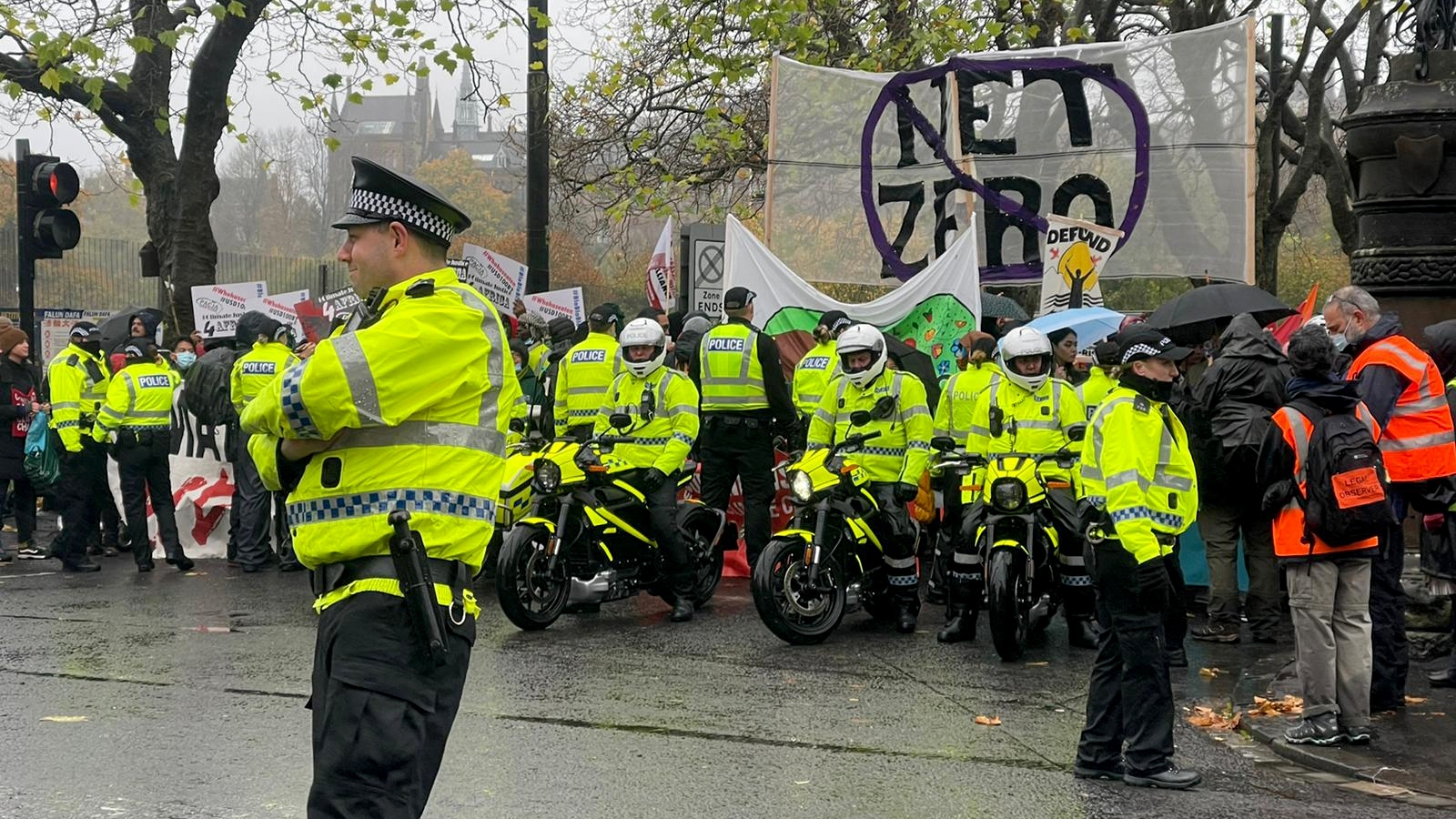 "Other officers and staff have played their part remaining in their local communities, continuing to provide a service to the public.
"Today we have continued to facilitate protest activity.
"During one protest in the St Vincent Street area it was necessary for officers to use cutting equipment to remove individuals who had attached themselves to lock-on devices.
"Due to the equipment used, it was necessary to create a sterile area for the safety of the protesters, that of the wider public and the officers dealing with the protestors.
"Two people have been arrested in connection with the lock-on device and one person has been arrested in connection with an alleged vandalism."
"We want to understand the experiences of the public and listen to your views about the way we police events in Scotland.
"If you have attended a protest or event, if you live near to where events take place, we want to hear what you think about our approach to keeping people safe.
"You can have your say via a survey on our website."
STV News is now on WhatsApp
Get all the latest news from around the country
Follow STV News
Follow STV News on WhatsApp
Scan the QR code on your mobile device for all the latest news from around the country