Challenge Anneka is returning to TV screens after a 30-year break – relaunching Anneka Rice's bid to complete missions of goodwill against the clock.
Scott Ferris remembers when the show came to the Isle of Cumbrae in 1992 with the aim of transforming a derelict building into a sports centre in just 72 hours.
He was just 17 then and recalled the arrival of Rice and her camera crew creating an exciting atmosphere and huge "buzz".
Scott, now 46, featured in the episode when the excitable presenter visited his boss, amusements arcade owner Jim Newton, to ask for a pool table.
The then-teenager had landed his first summer job at the arcade and was shown helping to carry over the table that Jim donated to the cause.
Scott told STV News: "It was quite funny watching it back, because the pool table was really quite heavy and at one point it looks like it's just me carrying it.
"You can't see that there are actually four other guys carrying it on the other side."
The challenge – which ended with the revamped centre welcoming a 1000-strong cycling rally – took Rice across Cumbrae and parts of mainland Scotland as she tried to convince merchants to donate their time and supplies.
"There was a big buzz on the island and lots of people were really happy to see her," Scott said. "The site was in a debilitated state. The work she did to get it up and running was great.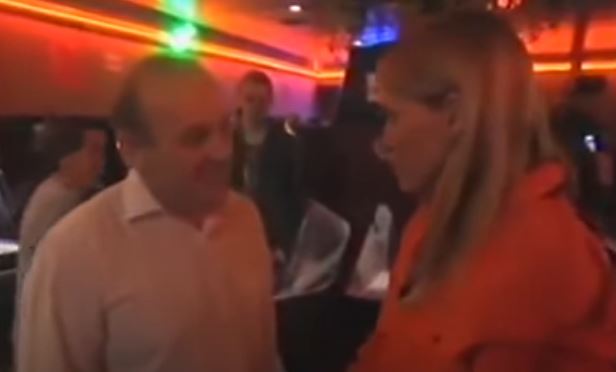 "From what I remember, it was a fun experience – it was like the DIY SOS of the time.
"She came over with her beach buggy and big vans at a time when there wasn't a huge amount of traffic to the island.
"There was a lot of hustle and bustle and her running around and asking for things for free, I don't think anyone made her pay for a thing.
"A lot of the businesses came together to help but it wasn't just on the island; coaches, transport and other donations came from all over."
Challenge Anneka originally aired on BBC One between 1989 and 1995, and the series was later rebooted on ITV for two special episodes in 2006 and 2007.
In the new series – to be shown on Channel Five – viewers will see Rice visiting secret locations to meet the individuals at the heart of each challenge and be briefed on the task ahead of them.
Armed with her trusty mobile phone, buggy, lorry and Dave 'the Soundman' Chapman – who also featured in the original series – Rice will be calling in big favours from well-known brands, big names and groups of volunteers all keen to lend a hand and tackle the challenges.
Scott now owns bike shop Mapes of Millport, which at the time donated bicycles to the cause.
"My wife and I purchased the shop five years ago," he said. "We have two young boys and island life is great for the kids. We had lived in Glasgow our whole lives but wanted a change.
"Don't get me wrong, Glasgow is a great place, but we have loved moving here."