Celtic and Rangers fans joined forces ahead of Saturday's Old Firm clash to collect foodbank donations.
Supporters from both clubs gathered outside Celtic Park to help support people in need across Glasgow.
Volunteers received goods ahead of the match, which Celtic went on to win 4-0.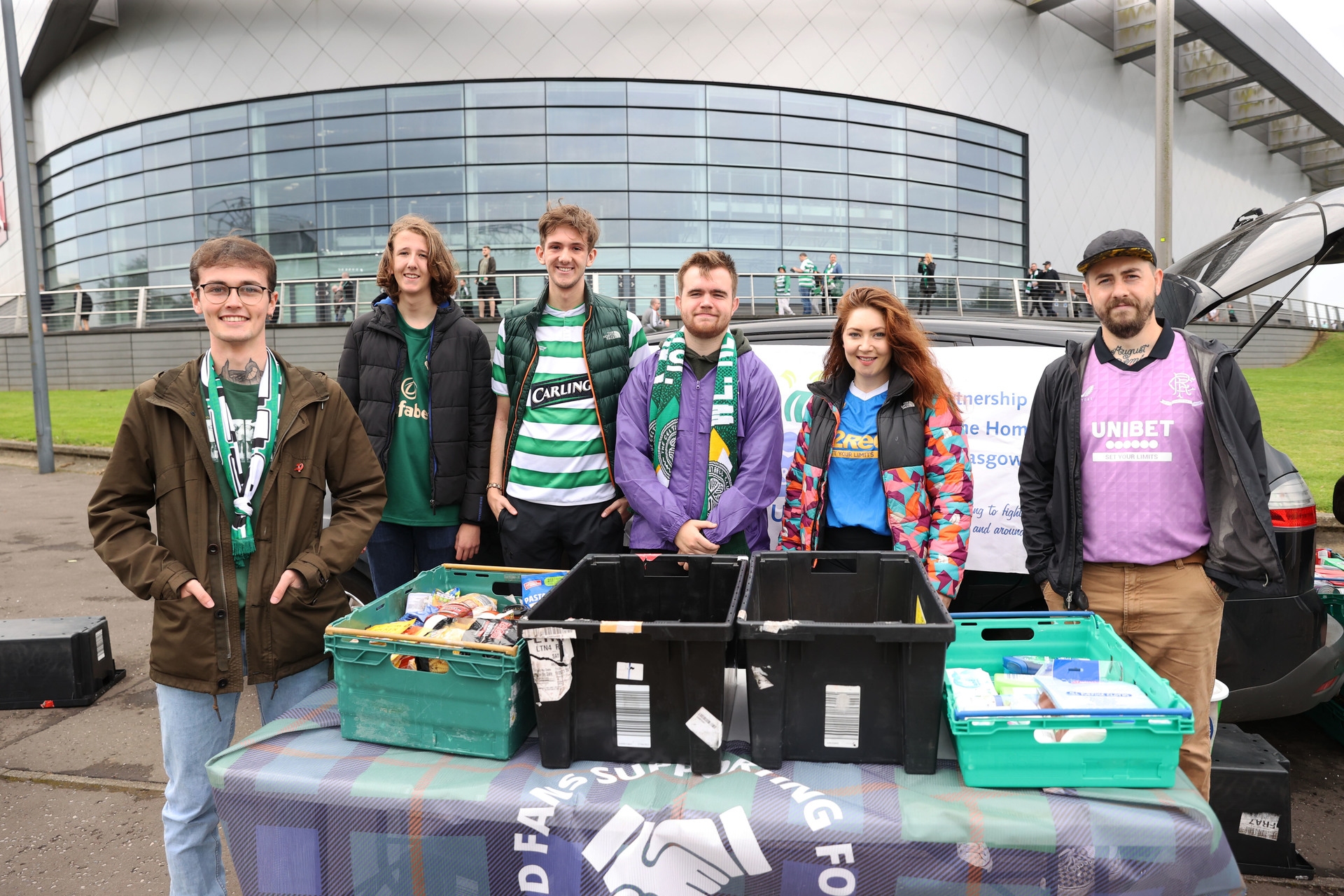 The 'Celts Supporting Foodbanks' group Tweeted after the match: "Hunger has no race. It has no religion. It has no sexual orientation or gender.
"And now – even in Glasgow – hunger doesn't wear club colours.
"Proud of what we achieved today. Big thanks to @GersFoodBanks for coming along (hope you enjoyed the game as much as us)".
The 'Gers Food Banks' group Tweeted: "Highlight of the day included watching the team bus arrive, and the generosity of fans with their donations.
"That's where it ended. Thanks for having us."
Andy Harris, chair at Fans Supporting Foodbanks Scotland and an organiser at Celts Supporting Foodbanks, said the group are hoping to "do more", in working with the club.
"We, being the group at Celtic, aim to have a collection at each home game, but we're only one part of the Fans Supporting Foodbanks network of clubs all around Scotland and the UK," he said.
"At Celtic we're really pleased with what we've been able to do so far but we want to do more.
"We think a good next step would be getting permission from the club to collect on the stadium footprint as the only negative feedback we've had is that where we are just now is quite inconvenient for some fans to get to as it's a little bit of a walk away from their turnstiles.
"We've spoken to the club a few times and they haven't given us permission yet, but we're hoping that this weekend has shown them how much of a force for good Fans Supporting Foodbanks can be."
Mr Harris pointed to the political failings which have created the need for foodbanks in the UK.
And he outlined the aim to have a group established at all 42 clubs in the SPFL.
"Fans Supporting Foodbanks was started in Merseyside in 2015 as a joint initiative between Liverpool and Everton fans to help fight food poverty in their city and show solidarity with those suffering from it, but the ultimate overarching aim of the group is to see a universal Right to Food enshrined in law," he said.
"That's what sets us apart from other groups; we're not just a charity group, we show solidarity by the fact that we recognise that the only reason Foodbanks exist is due to political failings, and we fight for meaningful action to try and rectify that failure.
"We got in touch with the guys from Merseyside early this year and by July we had five groups set up, with a sixth following shortly after and hopefully more on the way.
"Our hope is to have a group established at every one of the 42 clubs in the SPFL, so if you're a football fan who's interested in fighting for your community and your class, please get in touch with us."
STV News is now on WhatsApp
Get all the latest news from around the country
Follow STV News
Follow STV News on WhatsApp
Scan the QR code on your mobile device for all the latest news from around the country