Neighbours in a Glasgow community have banded together to create a 'share and care' food hub in a show of solidarity to anyone facing hardship over the festive period.
The group from Croftfoot Quadrant in Castlemilk set up the stall at the start of December encouraging people to 'bring what they can and take what they need' after realising the importance of helping each other out during the first national lockdown in March.
No reference or invite is required and anyone from anywhere can attend the stall at any time and take whatever they need.
Initially starting as a small project, the group now say they have been overwhelmed with donations from near and far as the initiative caught the imagination of the wider Castlemilk area and beyond, including one kind donation from a woman living as far away as Canada.
And as word began to spread, more donations and offers of goodwill kept coming, including from a local restaurant owner who has offered to donate a shed that will help keep the project going all year round.
The waterproof stall, set up by neighbours Catherine Milligan, Maureen Thompson and Margaret Forrester in front of their houses, has been supplying non-perishable food, selection boxes, soup packs and toiletries.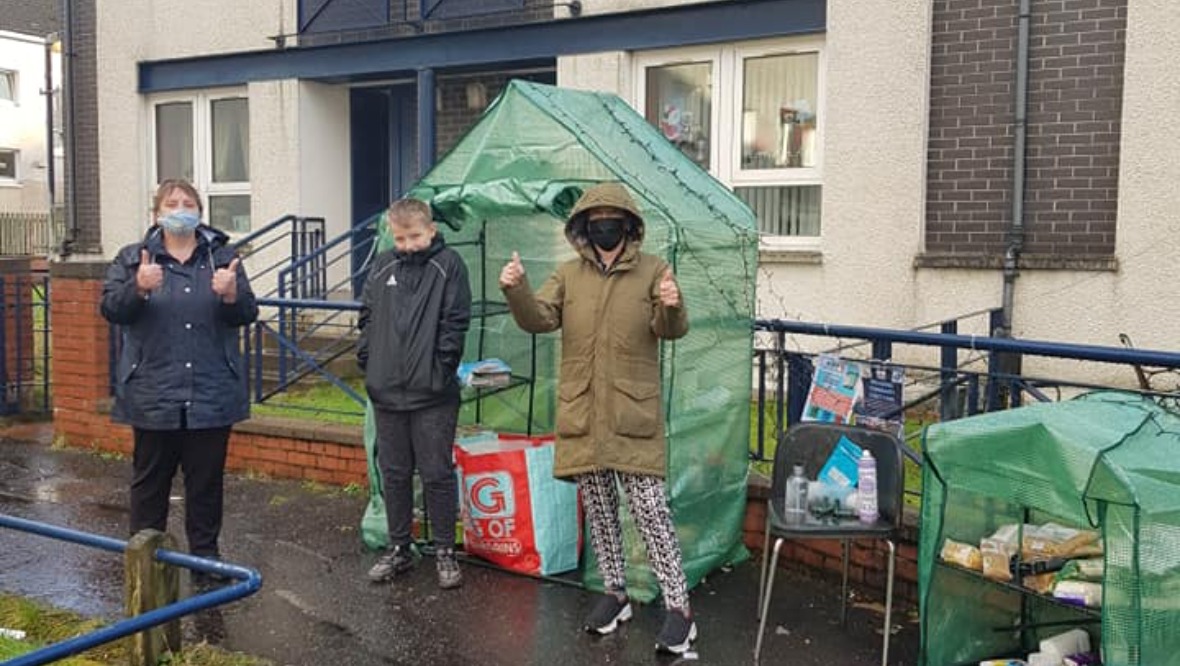 Margaret said: "When the first lockdown happened we were all talking to each other over our back fences and we were always helping each other out with things we were needing.
"So we realised there would be other people in the same situation who didn't have the support network of neighbours we had, so we came up with the idea of the street shelf and the support we have had has been amazing."
As well as helping those facing financial hardship, the hub has also become a place to support each other and help those facing isolation during lockdown.
After hearing and experiencing the worries and pressures facing several members of the community, the group got the project off the ground with the help of a fundraising effort.
Maureen, whose grandson Aiden has also been helping out, said: "It's been good for bringing everyone together and showing people they are not alone. Through this I have met people I hadn't spoken to before and we all now say hello to each other.
"It's been such a good atmosphere. It's been so good for all our mental health being able to talk to each other, at a safe distance, share support and break the social isolation for a bit.
"We would recommend other streets to do this, especially in these harsh times as a reminder of how much we need each other."
Catherine said: "Our idea was to create a hub to share non-perishable foods with our neighbours in a show of solidarity with the harsh times we are facing.
"Hoping it would help raise a collective spirit of love and kindness, we raised £200 so we could have the launch day.
"We bought soup packs and supplied as many households as the budget would stretch to, we created a leaflet asking people to bring what they can and take what they need, we also bought 50 selection boxes to give out to the weans and we had an amazing response near and far.
"A woman now living in Canada but originally from Castlemilk sent a delivery from Iceland to her mum of non-perishable foods, saying you can take the girl out of Castlemilk but can't take Castlemilk out the girl.
"We have also had great support from local community projects sending donations, including the owner of the Bistecca restaurant, who is originally from the Quad, and has now offered to buy us a shed to make more space available and keep the hub going in the future, so the collective spirit we aimed for has definitely come to fruition and long may it continue."
STV News is now on WhatsApp
Get all the latest news from around the country
Follow STV News
Follow STV News on WhatsApp
Scan the QR code on your mobile device for all the latest news from around the country