Residents at a Scottish care home were wrongly injected with salt water instead of their Covid-19 vaccine, it has emerged.
Elderly patients living at Millbrae Care Home in Coatbridge, North Lanarkshire, were given saline solution in an "alarming" error when NHS staff visited during the initial vaccine rollout.
NHS Lanarkshire has apologised to the residents and their families after the blunder which, STV News understands, affected 11 people.
The Scottish Government confirmed it was aware of the incident, which happened at the beginning of the care home vaccination programme, but it was not made public.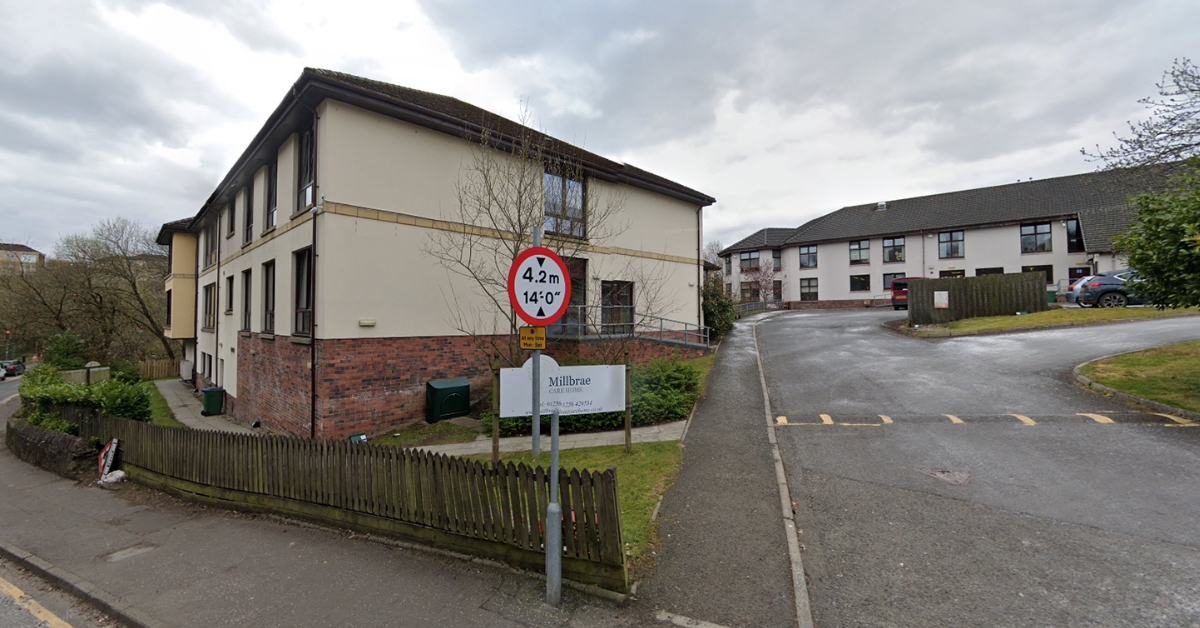 It is unclear how many other such incidents took place but NHS Lanarkshire said measures were put in place "immediately" to avoid a recurrence.
Before being administered, the Pfizer coronavirus vaccine is supposed to be mixed with a small amount of saline after it is taken out of freezer storage.
Thistle Healthcare, which manages Millbrae, confirmed it was aware of the mistake.
The home, which specialises in care for those with dementia, has also been criticised by staff who said it suffered from shortages of food, hygiene and incontinence products.
They also raised concerns over staffing, conditions and pay.
Thistle Healthcare refuted the claims issued by GMB the union and said there have not been any such shortages across any of its care homes.
The union warned that if social care "goes down" so would the NHS.
GMB Scotland organiser Kirsty Nimmo said: "It's another shameful case in point that social care has been the crisis within a crisis, and it shows yet again why we need to radically tackle the understaffing crises in both care and the NHS.
"The First Minister said at the outset of the Covid-19 pandemic that 'health and social care go hand-in-hand' – that's correct but it also means that if social care goes down then so will the NHS.
The union boss called for a National Care Service and £15 an hour minimum pay.
"If we do that, not only can we transform the care, but we can also begin to lift the excessive and unsustainable demands on the existing staff and make work better for them," Mrs Nimmo said.
"However, if government and employers take a light touch approach to social care reform then inevitably and regrettably there will be more Millbrae's in future."
Opposition MSPs said safeguards were needed to ensure everyone has received a real dosage of the vaccine and not just salt water.
Scottish Labour's health and Covid recovery spokesperson Jackie Baillie said: "This alarming incident raises serious questions about the SNP's management of the vaccine programme.
"It is astonishing that the SNP don't have a clue how common these kinds of incidents are.
"Their complacency on the vaccine programme is jaw-dropping. We need to make sure proper safeguards are in place at every point in the programme."
Scottish Conservative shadow health secretary Sandesh Gulhane MSP: "This situation is very concerning, especially when it involves the most vulnerable members of our society.
"Vaccines are our strongest weapon against this virus, and we must guarantee that the care home residents receive the protection they require.
"Our care homes have borne the brunt of the pandemic, and this revelation raises new concerns about how many other vaccination errors may have occurred. This is why the SNP Government and its agencies must be transparent.
"SNP Ministers must explain why the details were not made public right away and only came to light through an inspectorate report. They must also ensure that immediate steps were taken to prevent further incidents."
Scottish Liberal Democrat leader Alex Cole-Hamilton said: "The vaccine is our best weapon against this virus, I cannot imagine the stress and disappointment that people may have felt when they discovered they have not been immunised.
"The government must ensure that everyone who wanted to be vaccinated has received a real vaccine, not just saline solution. Mistakes like these cannot be allowed to happen, especially during a pandemic, with more dangerous variants now at large."
NHS Lanarkshire said it was sorry for the mix-up and sought to reassure the public.
"None of the residents who received the vaccine diluent came to any harm and they were re-vaccinated on the same day," said Trudi Marshall, health and social care North Lanarkshire nurse director.
"The residents, their relatives and the care home staff were informed and we offered our sincere apologies for the error.
"This happened at the beginning of the care home vaccination programme and measures were put in place immediately to avoid any similar incidents."
The Crown Office is investigating the deaths of residents at Millbrae as part of a probe into more than 3000 Covid-19 linked deaths at care homes in Scotland.
Responding to concerns raised by GMB, a spokesperson for Thistle Healthcare said: "This is the first time this matter has been brought to our attention and we do not recognise the events as described in this document.
"The care sector as a whole faces immense challenges from staff shortages and the impact of Covid patients being transferred to care homes from hospital at the start of the pandemic. We are working alongside the Care Inspectorate to mitigate the impact of this as a process of continuous improvement.
"We know how hard our care staff work and what an outstanding job they have done over a very difficult period. We will proactively engage with them to ensure we continue to provide them with the support they need to give our wonderful residents the care they deserve."
A Scottish Government spokesperson said: "We were notified of the incident at the time and reassured by the health board that no harm was caused and that all residents affected received the appropriate vaccine the same day."