Campaigners are calling for urgent and targeted research into long Covid and say they are "desperate to get their lives back".
Long Covid Patient Action UK have staged demonstrations outside the Scottish and UK parliaments to highlight the need for scientific and biomedical research into the mechanisms and pathways causing long Covid and Post-Acute Covid Syndrome.
According to the Office for National Statistics, it's estimated that long Covid now affects 2.1% of the UK population, or one in 48 people.

Those impacted say they continue to suffer significant difficulties in daily life.
Helen Seaburn caught Covid in March 2020 and said she simply wants to return to being a healthy mother for her six-year-old son, Oliver.
"I've now been suffering for nearly two years with debilitating fatigue and brain fog, cognitive issues, headaches, the list is pretty endless," she said.
"You don't know what you're going to get from one day to the next. It's hard enough living with this as an adult but for the children it's truly heart-breaking seeing their stories and what they're having to go through."
Lorraine Carroll from Linwood in Renfrewshire lost her job after she became too unwell to work.
"After two years we're still suffering," she said. "I have really bad breathlessness, high blood pressure, joint pain and chronic kidney disease now. My concentration has also gone, I have short term memory loss. I've lost my job. I've worked for the same company for 26 years and I'm now not able to work at all.
"I was used to working. I've worked from when I left school, never claimed a benefit in my life and here I am now on benefits. I've got a mortgage to pay and I've had to rely on my family to help me."
Around half a million people have been experiencing lingering symptoms for at least a year.
Patients have listed varying experiences of debilitating symptoms including cognitive dysfunction, cardiovascular damage, neurological damage, gastrointestinal problems, kidney and liver damage, exhaustion, impaired gas exchange and air hunger, hair loss, skin rashes, neuropathy, immune system disruption and autoimmunity and menstrual abnormalities.
Neil Edwards caught Covid at work and took five days off before his health deteriorated and he was rushed into hospital. He was immediately put into a coma for 16 days.
When he woke, he couldn't walk and he said since then his recovery has been slow.
"I'm just frustrated that nothing's being done, you phone up the doctor and they have no answers," he said. "I'm a shadow of who I used to be. I'm lucky to be here, I know that, but I just want my life back."
Campaigners say that without research, no clinic or specialist can effectively develop treatment plans for long Covid sufferers.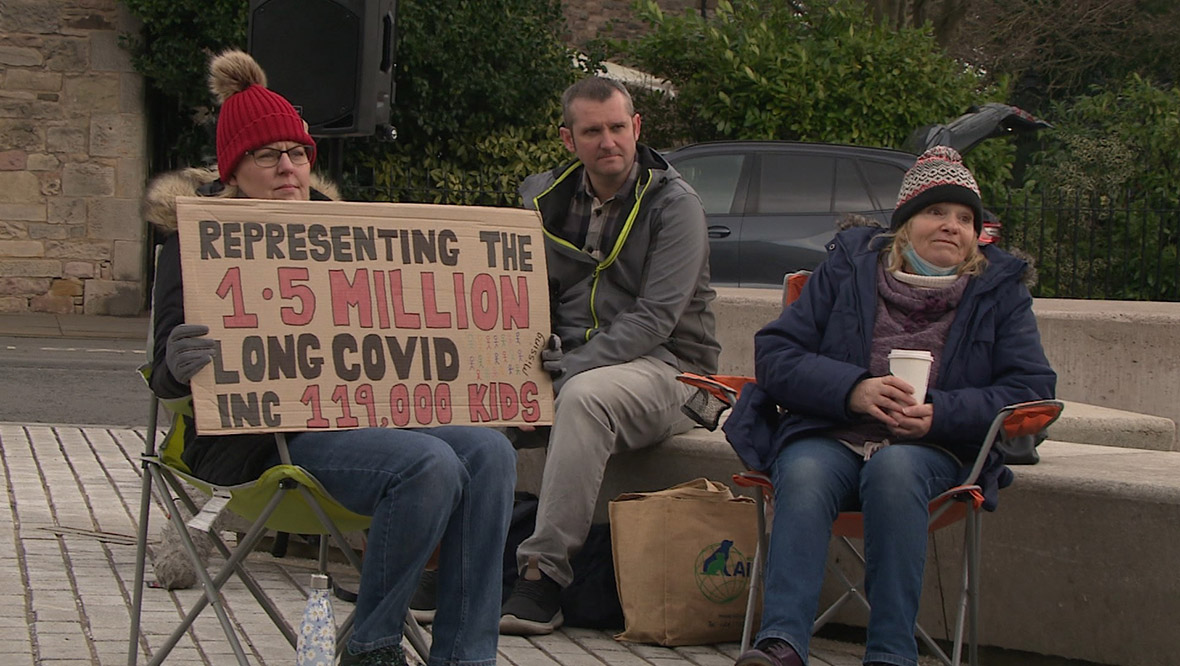 They're calling on the Scottish Parliament and UK Government to fund targeted, lab-based immunology, haematology, microbiology and neuroscience studies, as well as guarantee that any potential drug treatments be fast-tracked through the UK clinical trials process.
The list of those who are actively backing the campaign include long Covid patients who work as NHS nurses, public health consultants, social workers, teachers and a former microbiologist.
Research into the disease received funding in the UK after it was officially recognised in October 2020, with £18.5m given in February 2021.
A further £19.5m was awarded in July last year. Campaigners say they hope even more targeted funding will come.
Donna Convery caught Covid in December 2019 and has continued to be a long Covid sufferer.
She said: "Having been unwell for so long, I was beginning to feel really frustrated at the type of studies and research being funded currently by the Scottish Government and UK Government.
"I founded long Covid Patient Action UK to raise awareness of what we really need.
"What we're looking for is increased funding but targeted funding…we don't need apps to manage our condition, this could be a condition which is potentially treatable.
"Research is the top of the pyramid when it comes to long Covid support…once we have clear pathways, doctors will be better placed to help us, employers will be better placed to support us and people will get the help they so desperately need."