A fire ripped through the luxury Cameron House hotel early one morning just before Christmas 2017.
The blaze claimed the lives of Simon Midgley, 38, and his partner Richard Dyson, 32, who were enjoying a break on the banks of Loch Lomond.
A fatal accident inquiry has now concluded that a number of defects in the hotel's systems contributed to the fire.
Here, we explain how the fire started and what's happened since.
Guests crawled to safety
The blaze broke out just after 6.30am on December 18, 2017, after night porter Christopher O'Malley left ashes and smouldering embers from an open fire in a plastic bag inside a cupboard which contained combustibles including kindling and newspapers.
The fire spread from the cupboard to many other parts of the hotel, which had to be evacuated.
Some guests managed to escape easily, while others had to crawl along corridors to avoid smoke.
Footage captured the dramatic moment a baby was rescued by fire crews on a ladder.
At a court hearing in January 2021, a sheriff concluded: "No doubt some of those who experienced these traumatic events will remember it for a long time to come."
'Tremendous guilt' over deaths
Television producer Simon Midgley, from West Yorkshire, died at the scene of the fire.
His partner, freelance journalist Richard Dyson from Nottingham, was taken to the Royal Alexandra Hospital in Paisley, but couldn't be saved.
Mr Midgley's mother Jane Midgley told the FAI in 2022 that she felt "tremendous guilt" she was not there to help rescue them.
In a statement read out to the inquiry, she added: "The events of December 18, 2017, have had a devastating effect on my life.
"I cannot put into words what it was like to receive the telephone call from the police, telling me that my son had been killed so suddenly and in such shocking circumstances."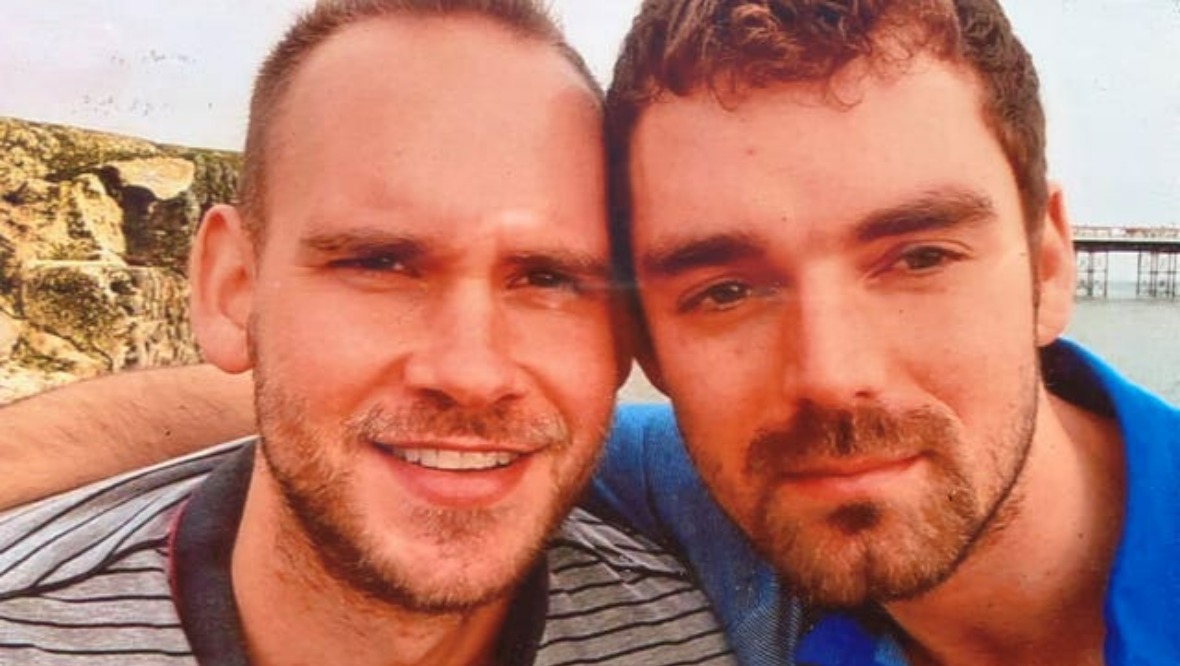 In an online post, Mr Dyson's family's church minister John Payne said: "I'm afraid I'm writing with the tragic news that Roger Dyson's son was one of the fatalities in the Loch Lomond fire today.
"As you can imagine both Roger and Val are devastated. They have asked us to pray for them and the family.
"Please pray for them, for the God of all comfort to make his presence so powerfully known in the midst of their pain. Our hearts go out to them and I'm sure they'd welcome your love and support at this awful time."
Owner fined £500,000
The owner of Cameron House hotel was fined £500,000 over the fatal fire in January 2021.
Cameron House Resort (Loch Lomond) Ltd admitted health and safety failings at Dumbarton Sheriff Court.
Sheriff William Gallacher said the fine would have been £750,000 had it not been for the company's guilty plea.
Meanwhile, night porter O'Malley admitted breaching the Health and Safety at Work Act, and given a community payback order, told to carry out 300 hours of unpaid work and will be supervised for 18 months.
A sheriff told O'Malley, who was 35, that he was not being sent to prison because the fire wasn't started deliberately, and he had not been given proper training to dispose of the ashes.
Cameron House says sorry
The hotel reopened in September 2021 following a major refurbishment it said included new fire safety measures.
After being fined, Cameron House said it apologised "unreservedly" for the failings, and said the "awful accident should never have happened".
A spokesperson added: "Nothing can ever atone for the losses which the Midgley and Dyson families have endured. However, in redesigning and reconstructing the hotel, we have incorporated a comprehensive range of fire safety measures."
'Number of defects'
A fatal accident inquiry ruled that a "number of defects" in systems at the hotel led to the blaze.
It also concluded: "Precautions which could reasonably have been taken which might realistically have resulted in the deaths or the accident resulting in the deaths being avoided have been identified."
A number of recommendations were also set out.