Telecoms giant BT has said it is "reaffirming its commitment to Scotland" following a multi-million pound refurbishment of its flagship Glasgow building.
The office, known as Alexander Bain House which first opened in 2001, is one of the original tenants of Glasgow's International Financial District (IFSD).
Following the refurbishment, it will become the workplace of around 2,000 colleagues from BT Group, which includes EE, BT and Openreach.
The reopening coincides with the telecom giant's launch of the new Scottish wide area network contract.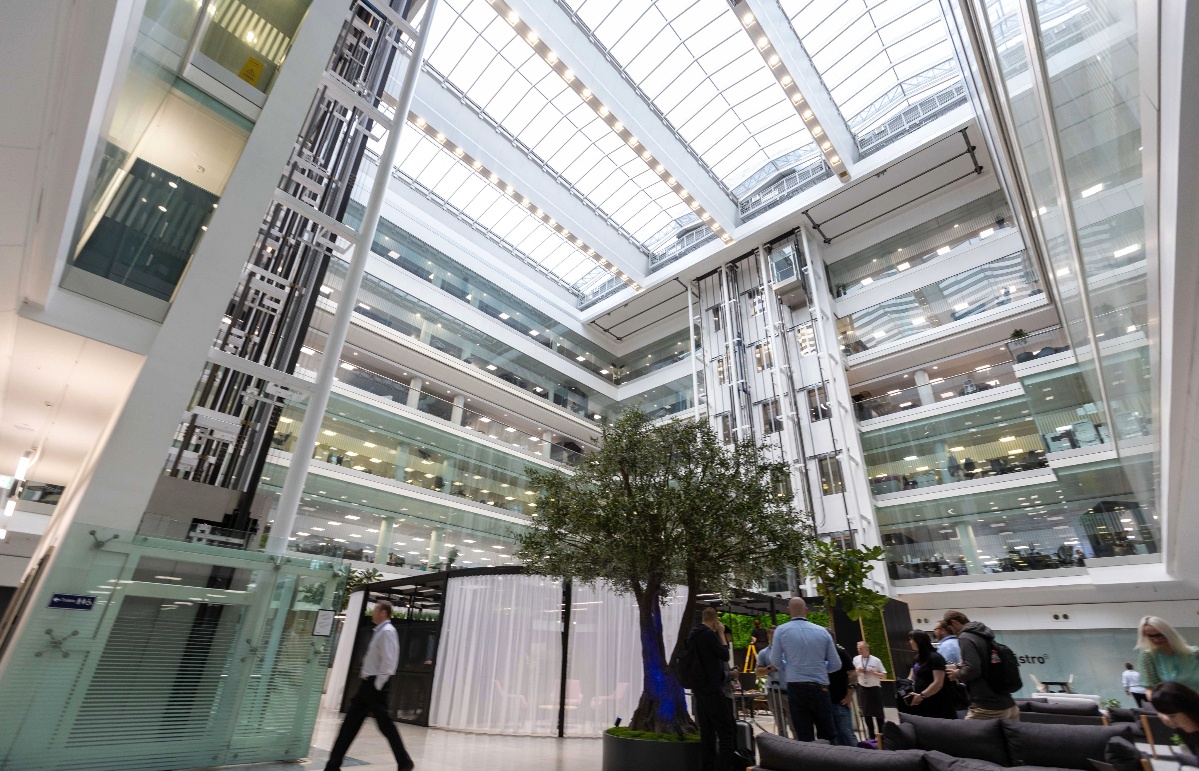 BT Group, which is now the sole connectivity provider for public sector organisations including schools, hospitals, GP surgeries, pharmacies and councils across Scotland, has launched services for members as well as a new website.
Scotland's largest city was named as a significant long-term location for BT Group in 2020 as part of the company's consolidation plans.
Brent Mathews, BT Group's property and facilities services director, said: "We're really excited for our colleagues in Alexander Bain House following this multi-million pound investment in our Glasgow flagship office.
"This investment marks a significant commitment in Glasgow and in Scotland. As a major employer in the city, our presence will support local economic growth and employment opportunities."
The five-year programme, which will be complete next year, is seeing BT Group rationalise hundreds of its offices across the UK and establish an estate of modern workspaces.
Richard Lochhead MSP, minister for small business, innovation, tourism and trade, said: "The thousands of jobs that BT Group has created in Glasgow continue to make a meaningful contribution to the city's economy and I am glad that these colleagues will continue to thrive here.
"The Scottish Government and BT Group are working together to deliver connectivity across Scotland – from our work with Openreach in delivering broadband through our Reaching 100% programme, to EE's strong support of our Scottish 4G Infill Programme, tackling mobile coverage gaps in rural areas."
Glasgow City Council leader Susan Aitken said: "Glasgow is one of the UK's most successful centres to do business, with an increasing international profile and reputation as a leader in attracting and retaining talent and a skilled workforce.
"This multi-million-pound investment by BT Group in its Glasgow HQ really enhances our competitiveness, adding real value to our city and its economy.
"BT Group's original decision over 20 years ago to locate a major headquarters in Glasgow was a real vote of confidence in a changing city. This latest investment by a truly global organisation reaffirms that commitment and it's clear that BT Group appreciates the value of its long-term presence in our city."