Angry neighbours say they are still waiting for answers a year after a gas explosion ripped through a house.
The massive blast on the night of October 18, 2021 left a family of four seriously injured – and a host of households counting the cost.
Following an investigation, the Health and Safety Executive (HSE) announced that no action would be taken over the explosion.
However, a Freedom of Information (FOI) request found that inspectors had discovered "numerous localised spots of corrosion" in the pipe leading into the home.
Data obtained by several media organisations also revealed the damage may have been caused as far back as the early 1970s.
On the first anniversary of the blast, neighbours told STV News it was "laughable" that "nobody is being held to account".
The HSE said no blame could be directed to any one agency.
'Terrifying to stay here'
On a sunny autumn morning in South Ayrshire, Steven Graham peers through a metal fence at the badly damaged house beyond, its windows boarded up with plywood.
A bird stands on the broken chimney of the derelict building, surveying the quiet neighbourhood of Kincaidston in the town of Ayr.
All is calm, but the crumbling eyesore serves as a permanent reminder to local residents of what happened here almost exactly a year ago – a night when confusion, fear and panic filled the air.
On the night of October 18, 2021, a massive explosion ripped through a house on Gorse Park, leaving a family of four seriously injured.
Several other properties and vehicles were also damaged and the blast could be heard for miles around.
Mr Graham says the scars of that night have still not healed. "As a community, I think it's put fear into everybody," he told STV News.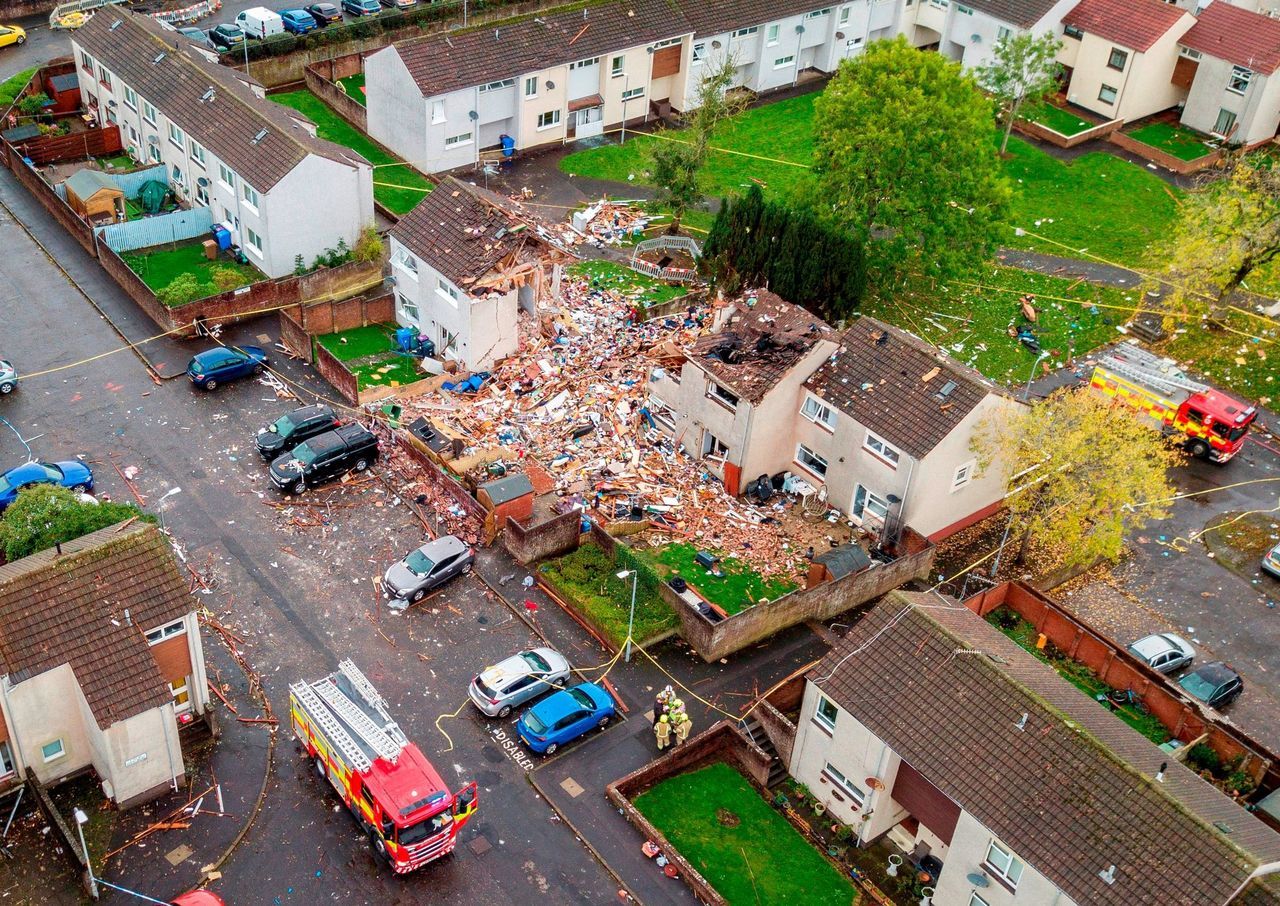 "We were living above a ticking timebomb for months and it took that long for them to come and fix it – there were gas leaks popping up all over the scheme. It was terrifying to stay here, you were scared to turn on a cooker or turn on a light switch.
"The impact on this scheme was massive. Bonfire night was right after it and there were fireworks going off in the next scheme down, folk were jumping. Even nowadays, if you hear any loud bang, you'll jump. It's ingrained into you now.
"All the gas pipes have been renewed now, but there's always going to be that element of doubt in everybody, I suppose, it's always there."
Mr Graham was out walking the dog with his wife and daughter on the night of the explosion.
"It sounded like a plane crash, there are only certain things that can make that kind of bang," he said.
"All the neighbours were coming out and they were running in this general direction – even 300 yards away there were windows shattered just with the sheer force of the explosion.
"The community came together. It was like a bubble, you see the pictures from that night out on the main road with all the ambulances and the police, the fire brigade, we never saw any of that – we were all inside the bubble.
"The next morning we were all clearing up all the debris, we were trying to get a hold of skip companies, we were out brushing the streets and the roads, making it safe for people to walk on, for dogs and kids.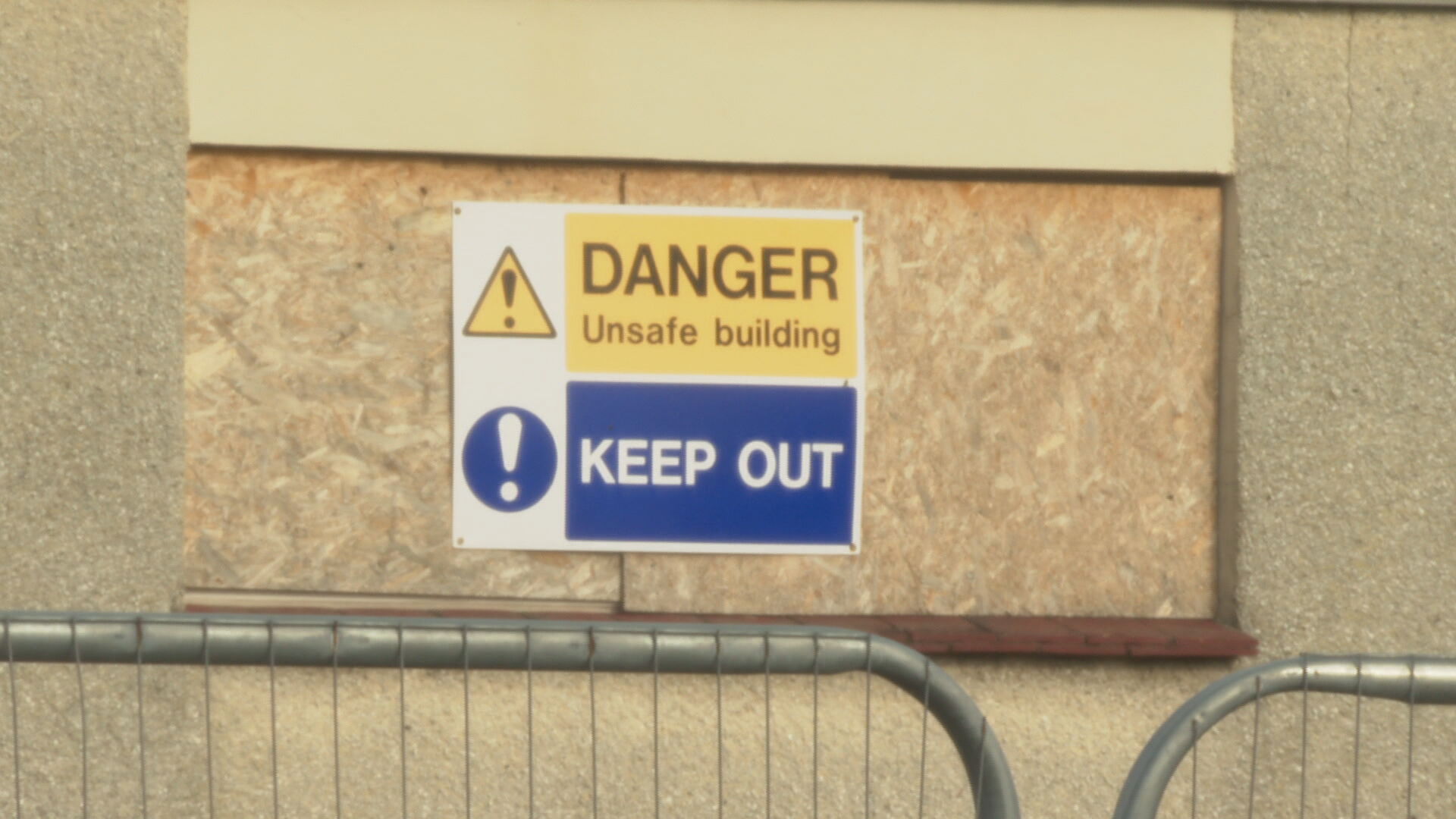 "The kids were all shellshocked. My wee girl – she was five at the time – was absolutely petrified for months, the last thing she spoke about at night was the gas explosion.
"There are so many questions from that report and it's left everybody in limbo. Still, to this day, nobody's got any answers. We're a year down the line and nobody's any further forward – they're just based on some guesswork from some guy who came down here and wasn't challenged by anybody."
The author of the HSE report, Steve Critchlow, said the extent of the damage to the property meant it was "not possible to identify an ignition source", adding it was his opinion that the corrosion occurred because the plastic coating of the pipe was damaged.
It was stated that SGN "should have done more" to prevent the explosion. However, it was not possible to apportion blame to any of the agencies involved in the building or development of the estate.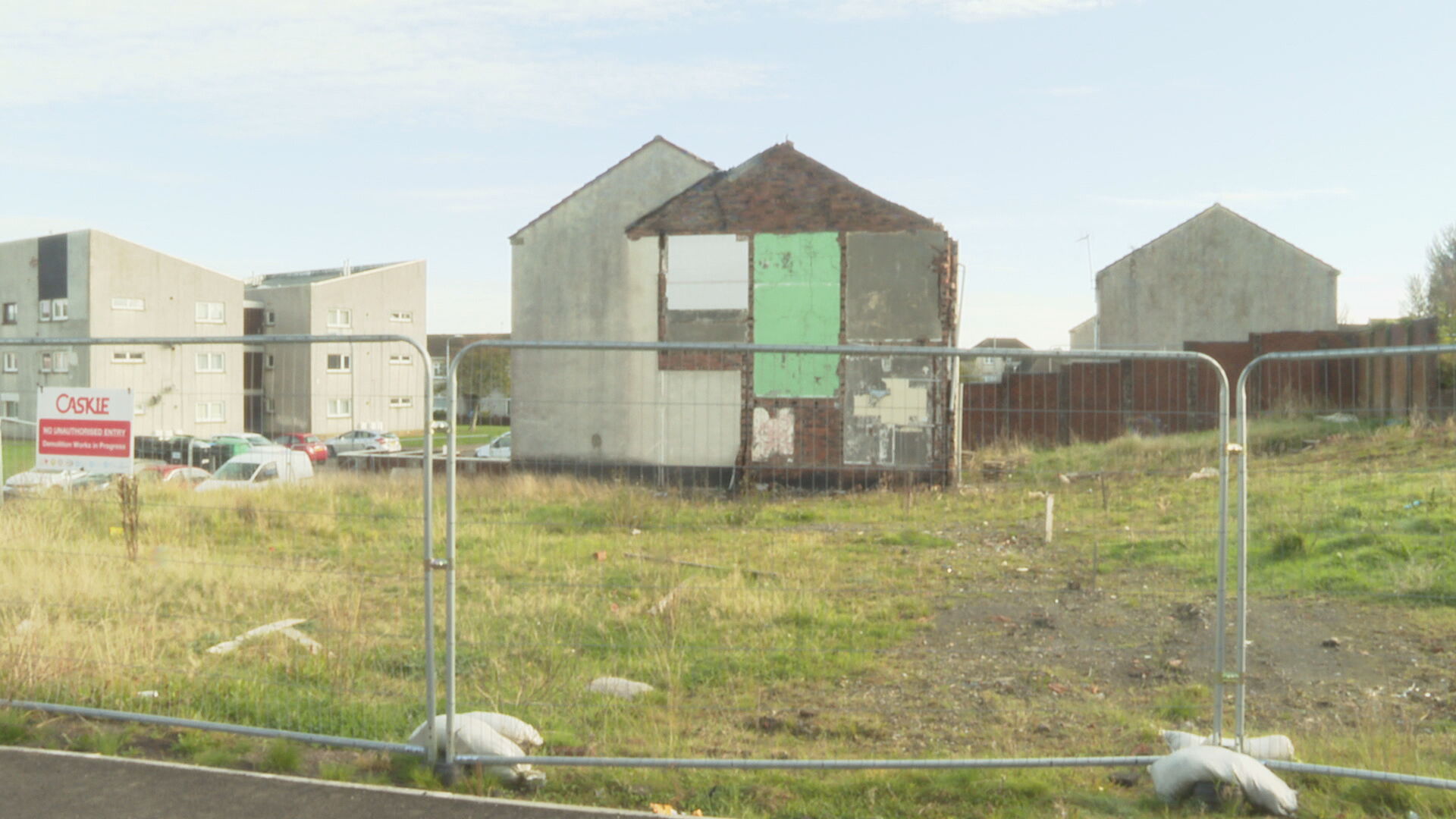 Anne Frew, who lives in nearby Heather Park, described the HSE report as "really laughable". "It beggars belief that nobody is being held to account for this," she told STV News.
"As for the damaged house, we are right next to it and it's a constant reminder. I can't walk out my back lane as it's is all blocked off with fencing, as are the stairs right next to our house.
"It just seems that, since the explosion, nobody cares about the residents that have been left in this particular area.
"We know that it takes time, but that's a year now and we are still all no further forward. I feel that the house should be knocked down – as clearly it's not in a liveable state – and grassed over and made into a garden or something other than a condemned house that relives the night."
South Ayrshire Council said no decisions have been made regarding the future of the site in Kincaidston, adding the cordoned-off area is now the responsibility of the insurers.
Ms Frew successfully claimed an insurance payout following the explosion, but she says some residents are still awaiting payment.
She also says the memories of the blast remain extremely vivid.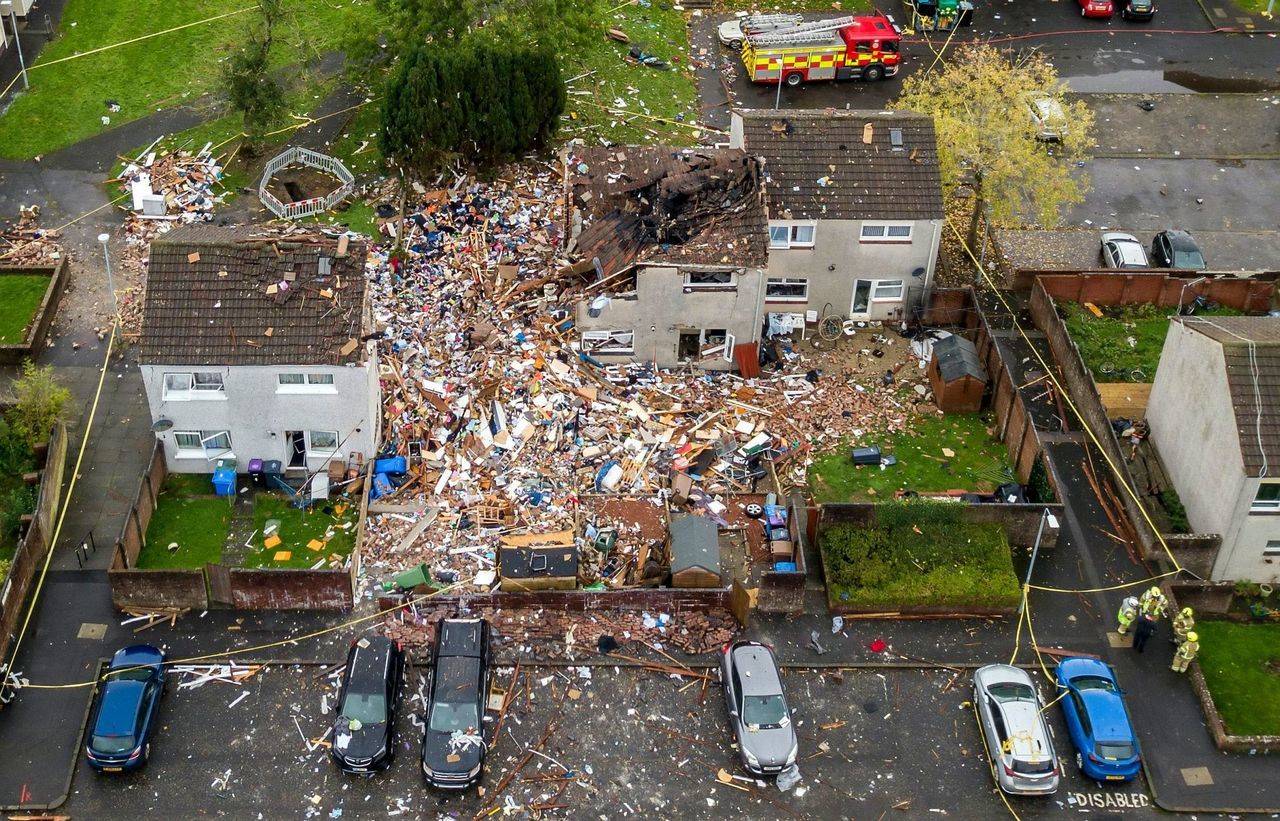 "It was utter chaos understandably, Kincaidston was a disaster area, people didn't know where to go," she said.
"We were walking all about Kincaidston trying to get from here to there. We were told to get out of our house by police and my husband wouldn't leave until our house was secure as our windows and doors were all blown out.
"We had to stay with my daughter in Kincaidston Drive. It was really heartbreaking to see where we stay all in disarray and broken. The mood in this bit of the scheme is no better than it was when the blast happened.
"Some residents have not even had any payment from their insurance. We can't complain about that as our insurance payout was no problem. People are still angry and rightly so and feel that we are just being ignored and not being able to tell how we all feel."
Inside the HSE report
The HSE report stated it was "not possible" to identify an ignition source, given the extent of the damage to the property.
There was, however, an absence of heat damage on the ground floor, which led Mr Critchlow to suggest gas was accumulating at higher levels and may have been able to pass up the cavity wall.
Following the explosion, a 43-year-old woman, a 47-year-old man and two boys aged 16 and 11 were taken to hospital.
Several other homes were badly damaged and some had to be demolished.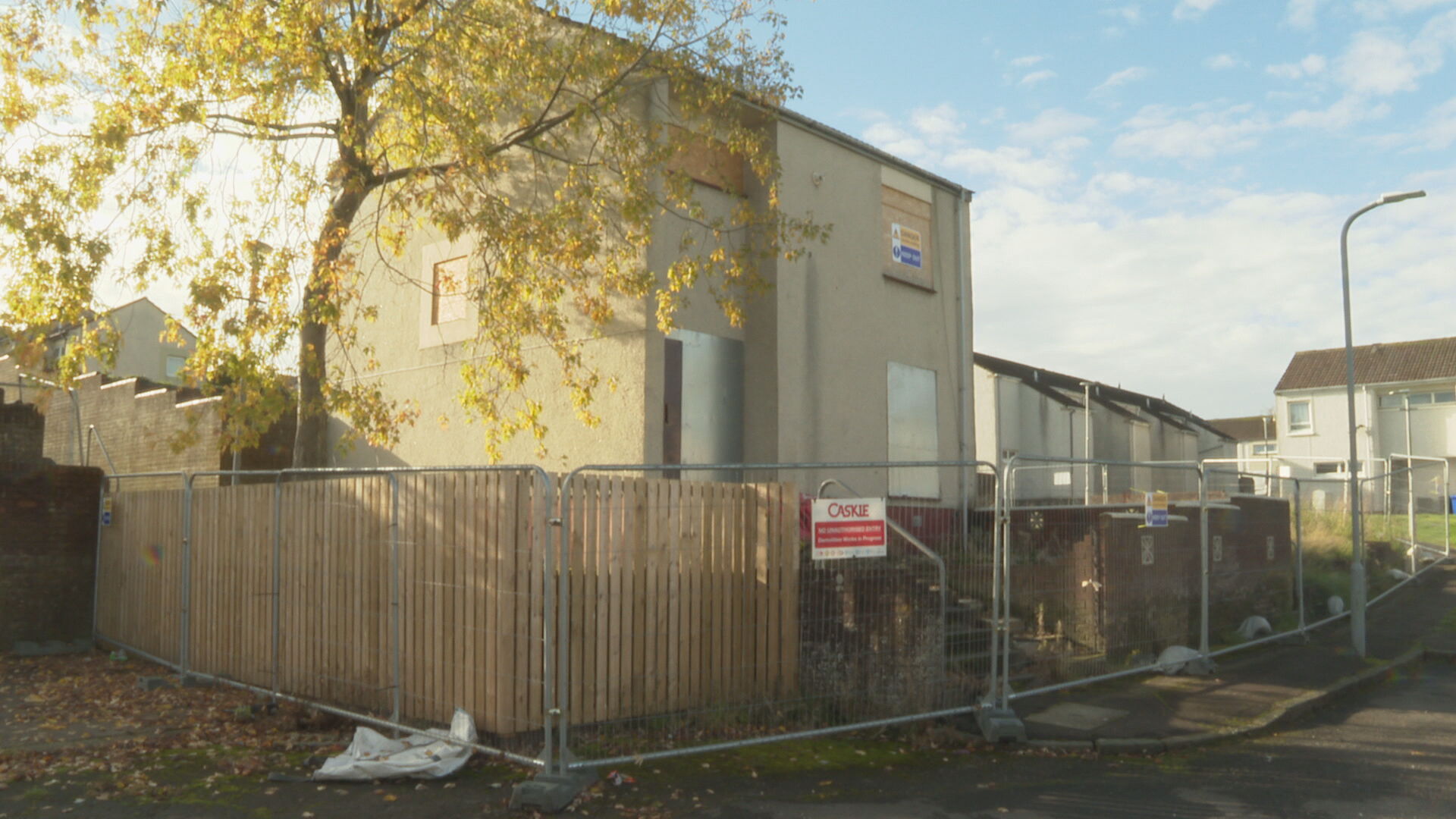 A HSE spokesperson said: "The investigation into the Gorse Park explosion has concluded. HSE recognises that this incident caused significant disruption and concern to the residents of Kincaidston.
"One year on, our thoughts are with all those affected by this incident. There were a number of lines of enquiry pursued which is not uncommon for an incident of this magnitude and complexity.
"We investigated this incident fully and notified the Crown Office and Procurator Fiscal Service of the outcome of the investigation. HSE concluded that there was no evidence to indicate that, on the balance of probabilities, SGN failed to do all that it reasonably should have done to prevent the explosion.
"We know this will disappoint the residents of Kincaidston. We have written to those most directly affected to explain our decision. All of the gas metallic main and service pipes in the area have recently been replaced.
"However, the advice remains that if any person does smell gas at any time, then they should not hesitate in calling the National Gas Emergency Number 0800 111 999."
What is the gas network saying?
SGN said in a statement: "Following the conclusion of the HSE investigation into the explosion in Kincaidston, SGN's thoughts remain with the family and Gorse Park residents who were affected.
"As the HSE investigation has been completed, we can now confirm that we received no reports of a smell of gas in the Kincaidston estate immediately prior to the incident.
"All calls that come through to us are logged thoroughly under legal obligation."
STV News is now on WhatsApp
Get all the latest news from around the country
Follow STV News
Follow STV News on WhatsApp
Scan the QR code on your mobile device for all the latest news from around the country