A grandad is walking 200 miles to raise money to help fund life-saving treatment for a little girl with stage four cancer.
Three-year-old Ava Bolton was diagnosed with high-risk neuroblastoma, which has a 40-50% chance of long-term survival at the beginning of this year.
Scott and Natalie told how their "world collapsed" after being given the devastating news after believing their "cheeky and adventurous" daughter had come down with a virus.
She is currently undergoing chemotherapy, radiotherapy and is to undergo surgery – but her parents are working to raise £250,000 for a ground-breaking new vaccine trial in New York.
Jerry Helley, 60, is trekking and wild camping in the Galloway Forrest over ten days to help drum up cash.
He told STV News: "When I heard Ava's story, I knew I wanted to do something.
"I'm a grandad and a father and I cannot imagine what Ava's family are going through right now. No parent who hasn't gone through it could.
I'm hoping what I'm doing could help make a difference."
Ava's parents first noticed she had become "pale and lethargic" and she later fell ill over the Christmas period last year.
When she was unable to walk properly due to leg pain and bruises appeared around her eyes, she was taken to the GP and referred to Crosshouse Hospital in Kilmarnock for tests in January.
Doctors at initially suspected Ava had low blood counts. But when Ava was referred to Glasgow's Royal Hospital for Children, a bone marrow sample revealed abnormal cells which could be cancer.
Scott and Natalie's worst fears were confirmed when a CT scan revealed a number of tumours on Ava's back, shoulders, pelvis, hip and shin.
They have been given fresh hope for Ava after learning about a 'game-changing' new vaccine being developed in New York, designed to trigger an immune response against neuroblastoma to attack the cancer cells.
They have raised more than £84,000 through their fundraiser since it launched last month – and Jerry hopes to raise £25,000 himself.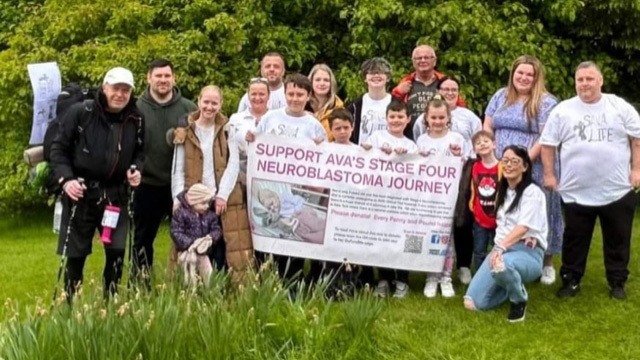 He set off on his trip on Saturday, and is currently headed for Castle Douglas, through Kirkcudbrightshire, Dumfries and Galloway before finishing in Stevenston.
He walks nine hours a day while carrying a 25kg rucksack with clothes, a tent and his cooking stove.
Though he leads an active lifestyle, Jerry has never backpacked before.
"The last time I did anything remotely similar was when I did four marathons in a month a few years ago," he said.
"It's not really something you can train for, you just need to do it.
"It's been enjoyable seeing the sights. It's a beautiful part of the country.
"I am going through some pain, but nothing compared to what Ava is going through every day. Each time I get a blister I remember that."
Little Ava saw him off from hospital, giving him one of her favourite bunny rabbit toys as a mascot.
"I've named her Star – I know it's cheesy, but it reminds me of her. I carry her strapped to my chest.
"I've been wearing my SAVA Life t-shirt on my walk – cars are beeping and some of the people I meet on the way are donating money."
"My family think I'm mad but they're also proud – and it's worth it to help Ava."
Scott said they felt "overwhelmed" when Jerry reached out to them about his fundraiser.
He said: "Jerry is a complete stranger who heard about the story who wanted to do this for us, it's so overwhelming.
"It's been a bit rough the last few weeks for Ava – we've been working on fundraising events but it has slowed down a bit.
"This vaccine is potentially going to save Ava's life. Anything is appreciated to get her the treatment she needs."