An artist whose big exhibition plans were scuppered by the coronavirus lockdown stormed on to create a paper cave and held a mini-festival that 'no one was invited to'.
Laura McGlinchey spent 40 days building the impressive artwork at The Pipe Factory in Glasgow by shredding and painting the likes of newspapers and gig posters that were printed for the year ahead but due to Covid-19 no longer had any use.
McGlinchey, from South Ayrshire, then invited 13 different acts – from musicians and comedians to poets and performance artists – to perform over two days.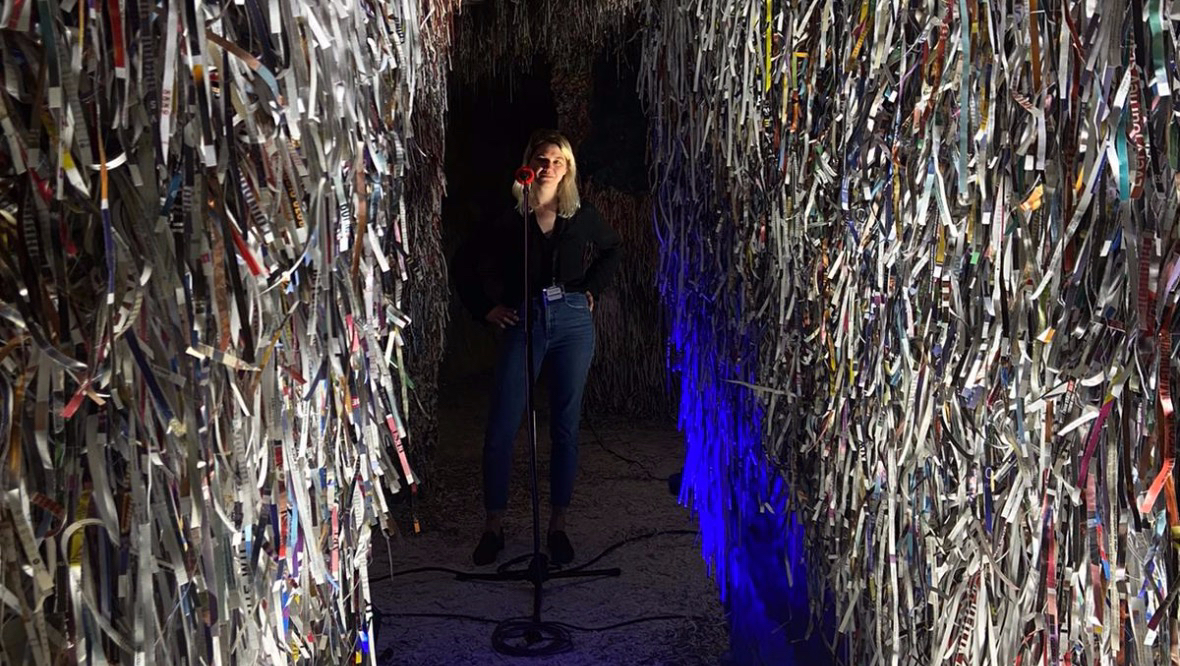 The shows were recorded and will be released online through to the end of the month.
McGlinchey, who has a compulsion to blur creative boundaries, told STV News: "Unfortunately for a number of reasons only a very small handful of people actually got to see the work in the flesh."
The project was commissioned by Look Again, a creative unit based at Gray's School of Art in Aberdeen.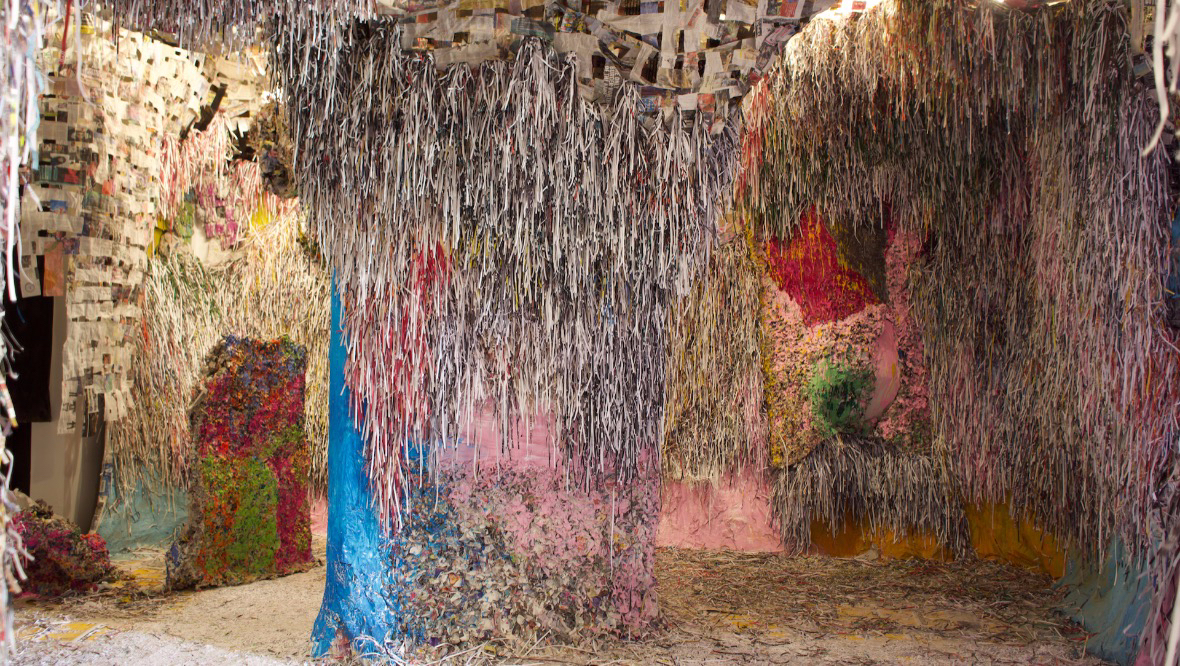 The installation was originally set to take place in Aberdeen in May, but was moved online. The digital residency is currently taking place on the Look Again Instagram page.
McGlinchey said: "I had been so excited to make a big installation and when the news broke that the show in Aberdeen would no longer go ahead, I was devastated.
"However, the show must go on. So, I found a space in Glasgow where I could realise this project and present it digitally.
"I rented the bottom floor of The Pipe Factory by the Barras, probably my favourite area of Glasgow."
Although painting is at the core of McGlinchey's practice, she believes this new work blurs the boundaries between painting, performance, sculpture, installation and craft.
By ripping apart, sticking together, painting, adding and removing matter, McGlinchey said the artwork metaphorically represents common practices of our everyday life.
Speaking about the performances, she said: "I began with the idea that I could get a few musicians, poets, other artists and creatives together to come into the space and do their thing, to eliminate the feeling that you have to be quiet when you are in a fine art space and looking at artwork.
"This allows people to occupy the space along with the artwork.
"It's become somewhat of a mini-festival – that no one is invited to."
The 'Paper Cave Anti-Rave' performances were filmed by Jamie Logie, whilst Stevie Cossar recorded and mixed the sound.
The artwork was eventually dismantled on August 10.
McGlinchey added: "Lockdown has obviously been a really strange time, but I think for artists that work in a studio it's perhaps not been so strange.
"Being locked away in a world of my own is somewhat normal for me while completing a project or working to a deadline.
"It has been a big struggle though in terms of the bars and venues being shut. Most of my friends are involved in music or other creative industries and it's been a massive blow, worry and strain for everyone affected."
Performances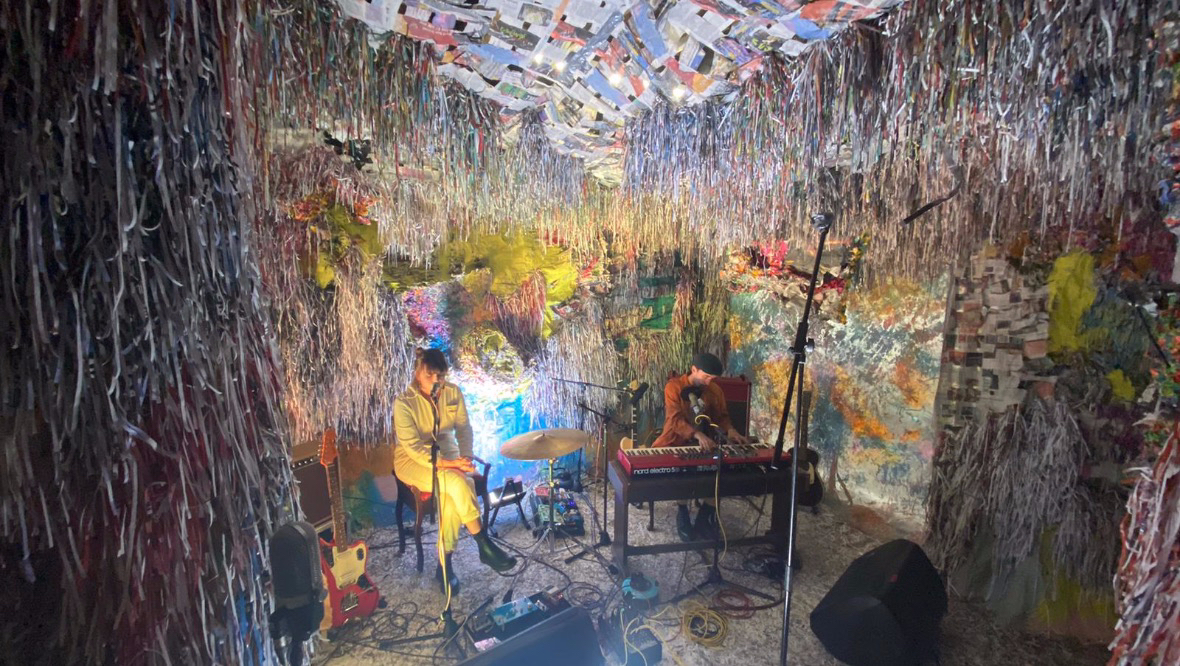 Emme Woods and Luke Boyce, The Joy Hotel
Rambler, solo musician Caitlin Buchanan
Kitti, solo musician Katie Doyle
Iona Lee, poet/artist 
Leyla Josephine, poet
Amelia Bayler, comedian 
The Unperson, DJ
Fraser McPhail and Phoebe Kinnon, musicians
Kyalo, musician
Pearl Necklace, DJ
Nightwave, DJ
Michael Peacock, pianist 
Gemma Jones, performance artist
For more information, click here.