A group of protesters gathered outside a farm in Dumfries on Sunday to voice their anger at "Britain's loneliest sheep" being "turned into a spectacle".
The ewe was rescued on Saturday morning by a group with climbing expertise – dubbed The Sheep Game – after being stuck on a cliff in Brora for two years.
The ewe, named Fiona by her rescuers, was then transported to Dalscone Farm, a petting zoo on the outskirts of Dumfries.
However, "Farmer Ben" launched a live stream from the farm on Sunday morning, revealing that a group of "animal activists" had gathered outside the estate's entrance.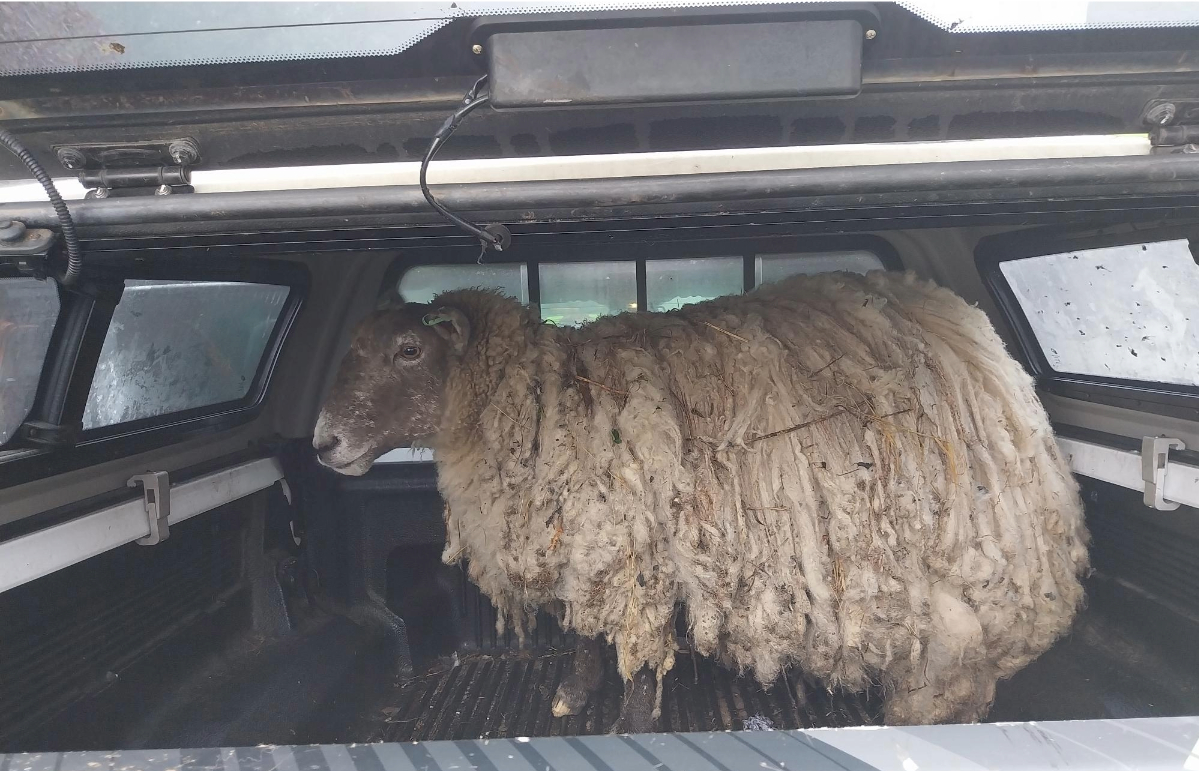 He said that the ongoing protest meant it was "too dangerous" for Fiona to come to farm for the time being.
Speaking on Facebook Live, he said: "As we were leaving the farm, 'Farmer Pete' looks to his right, and there are animal activists and protesters outside of the door.
"They're outside of the farm with pickets up saying 'free Fiona', which is completely ridiculous.
"They're outside my mum's house, my poor mum has been on the phone, she's terrified and doesn't know what they are doing, or what their intentions are.
"None of us do, and to be pretty honest, we're pretty worried about it. We didn't know if they were going to block Fiona's entrance and distress her, or what's going to happen.
"So for just now, Fiona is not coming to the farm. We've put the stops on it, it's too dangerous for her, and we are thinking of our safety as well.
"We just can't risk it."
The protest comes after activist group Animal Rising launched a petition for the rehoming of the animal, claiming that she should be taken to a "sanctuary" and not turned into "a spectacle".
The group claimed that they had been preparing their own rescue of the sheep on Sunday and had agreed to take her to the Tribe Animal Sanctuary, near Glasgow.
A statement from the group read: "Britain's Loneliest Sheep, now named Fiona, deserves sanctuary, not to be turned into a spectacle.
"She has captured the hearts of people around the UK. Stranded at the base of a cliff for two years, she appears to have survived by sheltering in a cave and grazing on local vegetation.
"For the last five days, supporters of Animal Rising have been climbing down the cliff face to visit the ewe in preparation of rescuing her this Sunday and taking her to Tribe Animal Sanctuary, near Glasgow.
"The plan, agreed with the local landowner, was for her to live out the rest of her life in the peace and safety of that sanctuary.
"This morning, however, that same landowner facilitated a different plan and the poor ewe is now on her way to 'Dalscone Farm Fun' petting zoo, on the outskirts of Dumfries, instead.
"Whilst we are pleased she is no longer stranded at the base of a cliff, it is completely inappropriate that she would be taken to be made a spectacle of at a petting zoo.
"These environments can be stressful for any animal, but especially for one who has lived in isolation for the last two years and will likely now be mobbed by daily visitors owing to her celebrity status."
A spokesperson for the Scottish SPCA said Fiona will be housed in suitable surroundings "that meet her needs".
The spokesperson said: "The stranded sheep was rescued by a private group of individuals with extensive farming experience, with the land owner in attendance. We were notified that this rescue was going to be attempted so attended to support and to oversee the welfare of the animal.
"Our inspector checked over the sheep and found her to be in good bodily condition, although needing sheared. The ownership of the sheep then was handed over from the land owner to the rescue group. The group gave assurances that the sheep would be sheared as a matter of priority.
"The group also agreed to send a video to our inspector, so we could check the animal's bodily condition post shear. On this basis, the sheep was cleared for travel and rescue group were able to take her to her new home.
"We understand that the sheep has not yet arrived at the farm park, but have been advised by the rescue group that she will be housed in suitable surroundings that meet her needs in line with the Animal Health and Welfare (Scotland) Act 2006. Licencing for a premises such as Dalscone Farm Park comes under the remit of the local authority.
"We plan to stay in contact with the rescue group to ensure the welfare of Fiona and our local inspector will conduct follow up visits to the park.
"If anyone has welfare concerns for any animal, we would always ask for this to be reported to our helpline on 03000 999 999."
A Police Scotland spokesperson said: "We were made aware of a group of people gathered outside farm premises in Dumfries about 9am on Sunday, November 5, 2023.
"Officers attended and there are no issues."
STV News is now on WhatsApp
Get all the latest news from around the country
Follow STV News
Follow STV News on WhatsApp
Scan the QR code on your mobile device for all the latest news from around the country