Glasgow's embattled council leader has defended the state of the city while being grilled over preparations for COP26.
Susan Aitken played down concerns about overflowing rubbish bins and rats on the streets as she said progress had been made to recover from the impact of the pandemic.
On Monday, she appeared before the Scottish Affairs Committee to be questioned about the city's readiness for the UN climate conference that will see as many as 30,000 delegates and thousands more activists gather from around the world.
Councillor Aitken told MPs that Glasgow was ready "with caveats".
She said they were technical hold-ups, none of which were "massive" or "enough to cause panic".
John Lamont, Scottish Borders Conservative MP, asked the council leader if she was embarrassed by the amount of rubbish in Glasgow.
Aitken said his question was "gratuitous" as she explained her phone was full of photos of waste in London and claimed Edinburgh had seen a worse impact due to the pandemic.
Scottish Conservatives leader Douglas Ross asked if the "technical aspects" Aitken mentioned were bins overflowing, rats on the streets, and cleansing workers being taken to hospital after coming in contact with vermin.
The Glasgow City Council leader said: "All cities have rats."
Aitken said considerable progress had been made to address the "very serious challenges caused by the pandemic".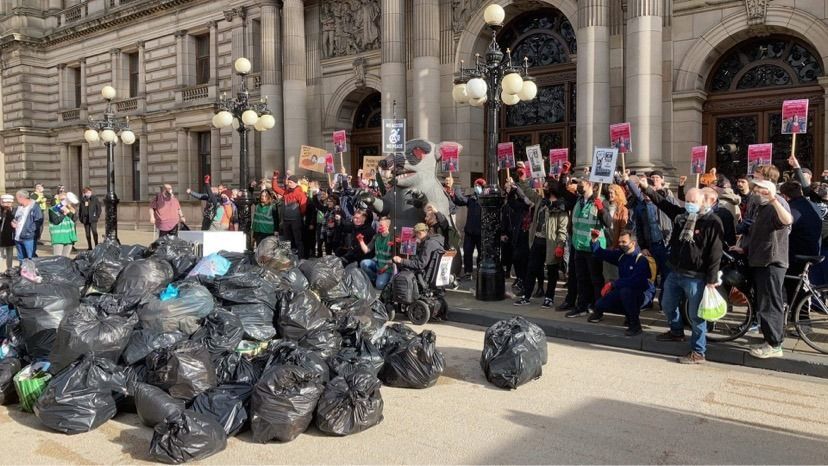 She said that there was evidence that rat populations had increased by 25% across the UK and the issue was not unique to Glasgow.
In response to reports of cleansing workers being taken to hospital having been in contact with vermin, Aitken said she took such health and safety incidents very seriously but she understood it had been "minor".
She gave the example of deploying 115 new litter bins as a demonstration of the work being done to prepare for COP26.
Aitken said Glasgow was one of the best places in the world to hold conventions and had won awards for its work.
Aitken has faced repeated criticism over the state of the streets after images showing litter-strewn pavements and overflowing bins have been posted online in recent months.
In an interview for STV News and Scotland Tonight, she said Glasgow only needed a "spruce up as we emerge from Covid".
Rat bites have left three cleansing staff in hospital, according to GMB convenor Chris Mitchell, who accused the council of being "in denial" about a vermin problem that was "getting worse and worse".
He launched a "rat register" in September to encourage people to record any sightings of the rodents, amid increasing concerns on social media and the emergence of photos and video of rats in the street.
Bags of rubbish were dumped outside of Glasgow City Chambers on Saturday as part of a day of action calling for more investment to tackle the "waste crisis".
The rubbish dumped in George Square was collected by action teams from different streets and backcourts in Govanhill, Govan, Partick and Dennistoun, as evidence of what campaigners from GMB and Living Rent said is the council's "neglect".
Taxi driver Stef Shaw, also known as the poetry-writing Glasgow Cabbie, questioned Glasgow City Council's head of communications on Scotland Tonight this month.
He asked Colin Edgar what city was Scotland's dirtiest.
Mr Edgar said Edinburgh was dirtier than Glasgow and added that the city's cleanliness would not stop a climate deal being reached.
Despite attracting national media attention for the state of its streets, Glasgow is cleaner than the capital according to environment charity Keep Scotland Beautiful.
Mr Shaw launched a petition calling for the council leader to resign because of the "state of the rat-ridden city". It has more than 5500 signatures with people commenting on graffiti, rubbish and the number of homeless people failed by the city.
Parts of the Glasgow began locking down at the weekend ahead of the United Nations climate conference.
The summit is being held at the Scottish Event Campus on the banks of the River Clyde from October 31 to November 12.
STV News is now on WhatsApp
Get all the latest news from around the country
Follow STV News
Follow STV News on WhatsApp
Scan the QR code on your mobile device for all the latest news from around the country