The owner of a local takeaway in Renfrewshire has blasted the "idiots" who allegedly burned down her shop.
Emergency services were called to Ellerslie Street in Johnstone at around 5.45am on Sunday, November 13, after Aldo's Hot and Cold Food went ablaze after rubbish bins were set alight and pushed onto the shop.
Owner Doreen Clark, who has run the 40-year-old business for eight years, took to Facebook to blast those responsible as she revealed that the shop sits below numerous families living above.
The post read: "Absolutely gutted to be woken with a phone call of this in the early hours of the morning. We don't know the exact details of what happened but all I can say is people don't realise how hard you work to provide a service for the community.
"For idiots to do something so stupid when there's families living upstairs from us.
"It goes without saying we'll remain closed till further notice.
"Massive thanks to the fire brigade for getting it under control very quick. As well as all the neighbours, friends and family who got up at 5:30am with a quick panicking phone call on a Sunday to come over and help with whatever they can."
Not to be deterred, Doreen returned to social media on Friday to reveal the shop's new "temporary" look as she announced it would be reopening.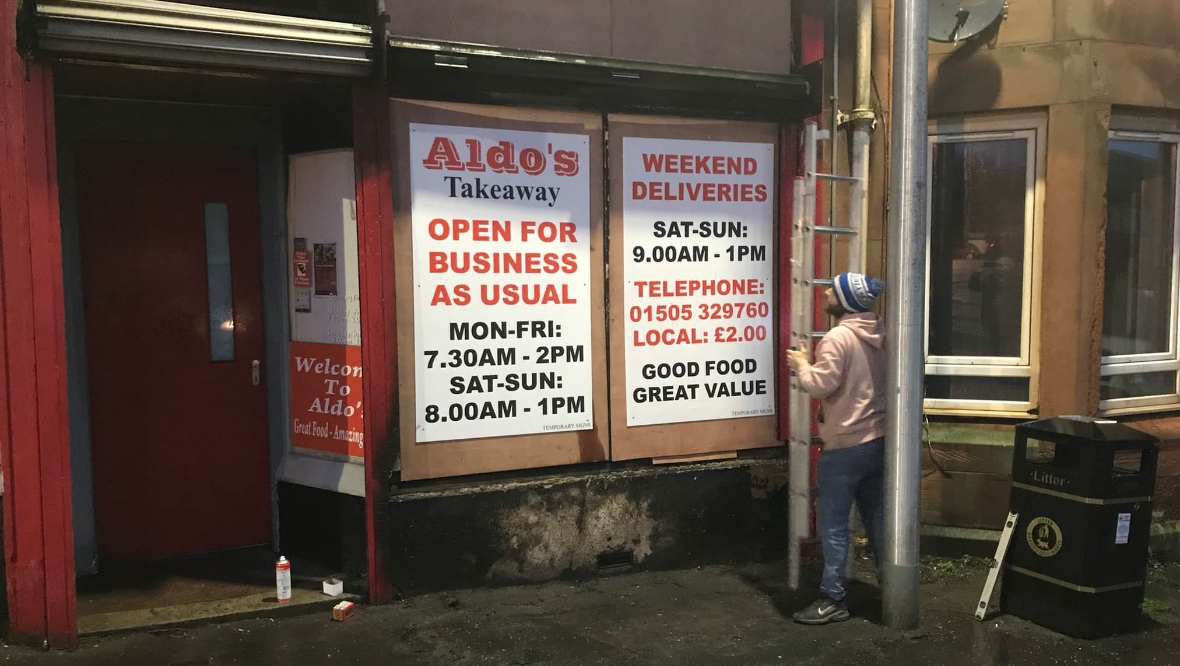 The announcement read: "Aldo's is back up & running albeit with a temporary shop front … but we got there.
"After the fire early Sunday morning we have worked around the clock to get Aldo's to a level to enable us to reopen.
"I would like to thank everyone for their kindness, offers of help and support over the past few days. I'm overwhelmed."
Police confirmed they were following "positive" lines of enquiry following the incident.
A spokesperson said: "We are following positive lines of enquiry following a fire in Ellerslie Street, Johnstone which was reported to police at 5.55am on Sunday, November 13."
A Scottish Fire and Rescue spokesperson said: "We were alerted at 5.45am on Sunday, November 13 to reports of a fire on Ellerslie Street, Johnstone.
"Operations Control mobilised two appliances to the scene, where firefighters worked to extinguish rubbish on fire against a three-storey building and they made the area safe before leaving."