An Afghan woman and eight members of her family have arrived to start a new life in Scotland following the Taliban's takeover of their homeland.
Tabasum Rasoli has been reunited with her husband, Zabidullah, an Afghan who has lived in Glasgow for years and has British citizenship.
He vowed he would get his wife out of Afghanistan after the Taliban's lightning advance on the capital, Kabul.
After they got married in March, Tabasum's visa application to join him in the UK was about to be approved, when the group seized control of Afghanistan.
Intensive efforts involving Zabidullah's lawyers, government officials and the military led to Tabasum's visa eventually being granted and she was told to go to a hotel near Kabul airport.
However, distraught at the thought of leaving her family behind, she took eight of them with her.
Tabasum told STV News: "I just want to say thank you to everyone who has helped bring me and my family here – it has been a very difficult time and we are just really happy to be here."
The Rasoli family enjoyed an afternoon walk and kickabout in Glasgow's Kelvingrove Park on Wednesday – a simple pleasure for many but for the Rasolis it means everything.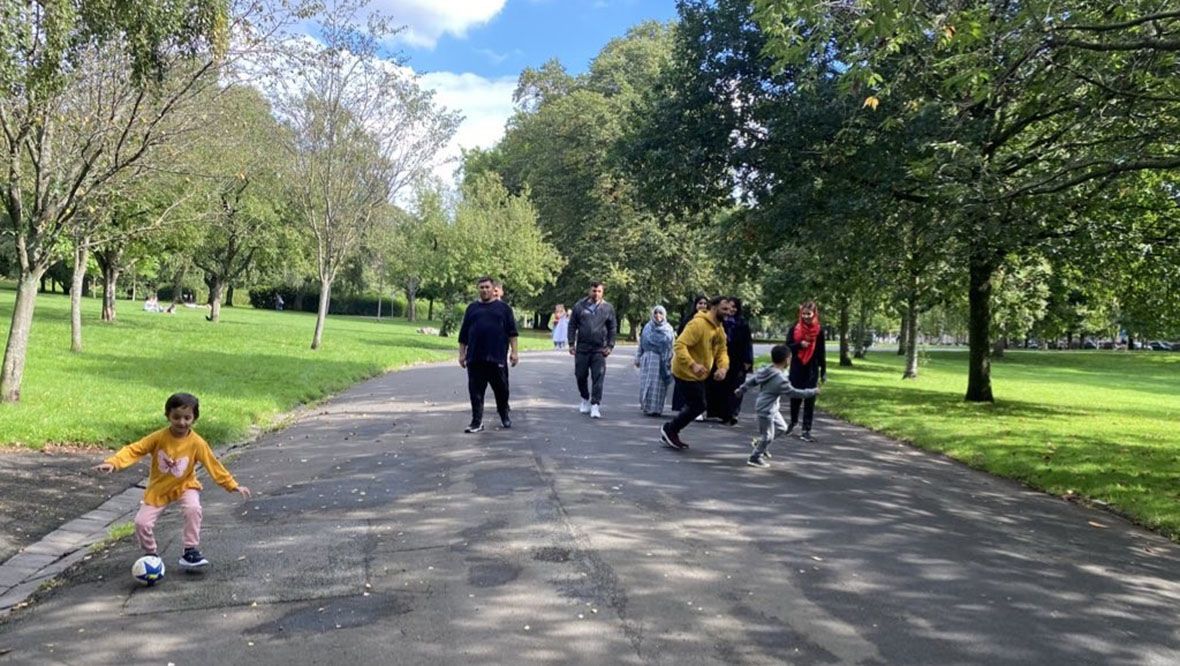 They managed to get one of the last rescue flights out of Afghanistan before the West's 20-year intervention in the country came to an end.
After a journey fraught with danger and uncertainty, they're now adjusting to their new life in Scotland.
Tabasum said: "It was very risky and scary going to the airport, especially for a woman. There were Taliban there, they were firing and beating people and it was so hard to get inside the airport.
"Before we got inside a bomb exploded and everybody started shouting and screaming – people were apart. It was a horrible time."
Shortly after arriving at the airport, it suddenly closed. With the Taliban on foot outside and Tabasum's relatives without visas, they were stuck.
Lawyer Lisa McGuigan said: "I was contacted by Zabidullah, who said the British army were inside the airport and asked if they had received an email from their solicitor here, so I sent an email and a few minutes later I got a text message to say that they were all going to be able to get onto a flight.
"And I think it was the next day they got on the plane and came over."
Eventually, all nine of them managed to board a flight to Dubai in the United Arab Emirates, before travelling to Birmingham in the West Midlands.
After quarantining, they arrived in Glasgow last week. The Rasolis are settling into their new life and shortly plan to apply for asylum status.
They count themselves lucky, but are also devastated about leaving their homeland, and are heartbroken for their fellow Afghans who remain there.