Activists have set off an air raid siren in Glasgow calling on everyone to step up and face the climate crisis.
Climate Call-Up, a creative activism project, and Extinction Rebellion sounded the alarm within earshot of the COP26 UN climate conference taking place at the Scottish Exhibition Centre by the Clyde.
The 'WWII air raid-style siren' could be heard in a wide area along the river from its location opposite the Hydro.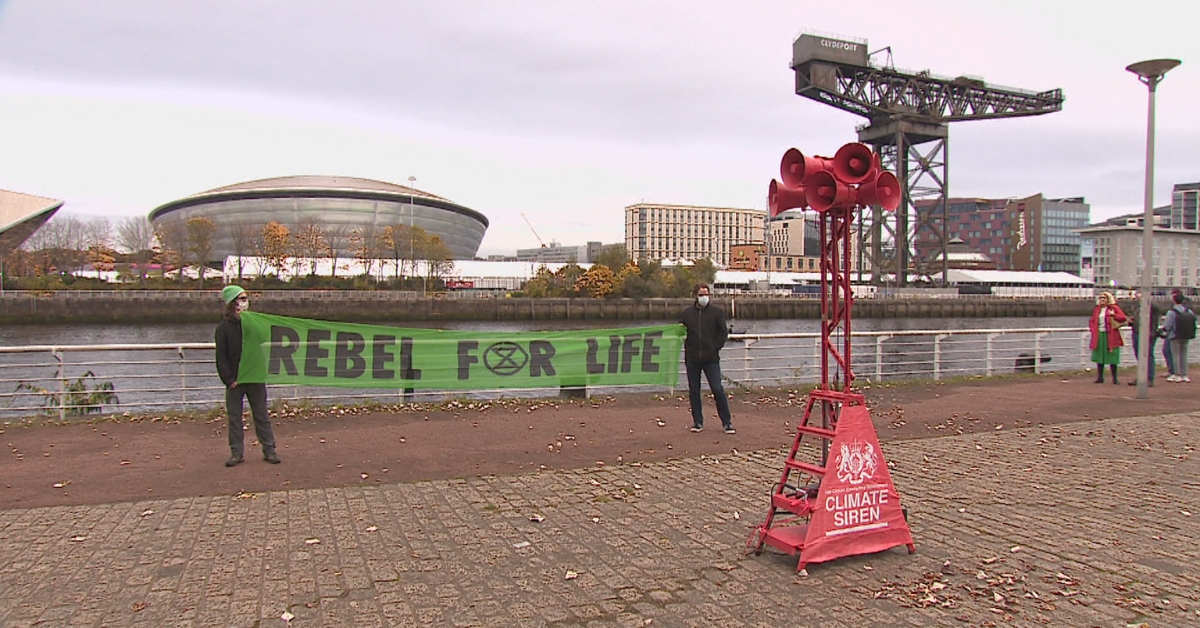 Protesters dressed as shrouded bodies lay down outside the gates of COP26 representing the thousands who had died as a result of climate change.
Campaigner Sue Lewis said: "This demonstration that we are doing, we've chosen to do on Remembrance Day because as well as remembering all the people who have died in our conflict in the past, we also wanted to remember the people who have died from climate crisis already, and also the many thousands who will die in the future, especially if this process at COP26 does not succeed in improving the future for humanity.
"We are at code red, as the United Nations have said, and the future doesn't look good."
A spokesperson for Climate Call-Up said: "Just as in World War Two, we will only win through the immediate urgent mobilisation of all society's resources.
"An all-out effort that reorients government policy, industry, and daily life, well before the 2050 deadline, which is frankly way too late.
"From the suffragettes to the civil rights movement, it's clearly established that governments respond to sustained non-violent direct pressure, exerted by citizens whose example convinces others."
COP26 has reportedly generated nearly triple the emissions of Glasgow Airport last year, more than double the amount caused by COP25 due partly to jet-set lifestyles of attendees.
The action is the latest protest during COP26 in Glasgow.
On Wednesday, Police Scotland revealed that 70 arrests had been made during the climate talks.
St Vincent Street in the city centre was blocked by two activists sitting in a "blood-covered" dinghy who had locked themselves together on the road outside the Santander bank building on Tuesday.
Three people were arrested.
On Monday, Lochburn Road in Maryhill, where delegates and business people were meeting for an event at the Engine Works, was blockaded by members of Glasgow Calls Out Polluters.
Officers arrested 16 individuals, issued them with recorded warnings and then released them.