By Russell Findlay
Angry parents have demanded answers from council and public health officials following a spate of cancers among teachers at a school campus built on a former toxic landfill site.
The meeting was called to address growing concerns of potential health risks from exposure to Buchanan High School, St Ambrose High School and Townhead community centre in Coatbridge, Lanarkshire.
The £44m campus opened seven years ago on a site used to dump waste from the metal industry and households. The presence of 'blue water' – caused by copper pipes – has also caused concerns.
Four teachers have been diagnosed with bladder cancer and many parents say their children have complained of headaches, tiredness and other medical problems.
At least six parents have formally withdrawn their children from the schools. But officials are adamant that there is no cause for concern and no evidence that the site is the cause of any ill health.
Dr David Cromie, an NHS Lanarkshire public health consultant, addressed around 300 people inside St Ambrose school hall on Thursday night.
He said "there is no significant risk to health" caused by attending the schools.
North Lanarkshire Council environmental health expert Andrew McPherson said that some media reports had not been factual, adding: "The land the school was built on was not contaminated land."
The council said it adhered to strict regulations during the planning and building process and that all testing had shown no risk to the public.
Throughout the highly charged 90-minute meeting, officials were frequently heckled with shouts of "tell the truth", "shame on you", "close the school", and asked if they would send their own children there.
Mum Josie Morgan told the meeting that her son Tommi, who has autism, joined Buchanan High as an S1 pupil last August. The school teaches children with additional support needs.
By October, Tommi was completely blind and tests revealed levels of arsenic in his system three times normal levels.
She later told STV News that she was not reassured by what she heard and backed calls from her MSP Alex Neil, a former SNP health minister, to close down the site and stage an independent public inquiry.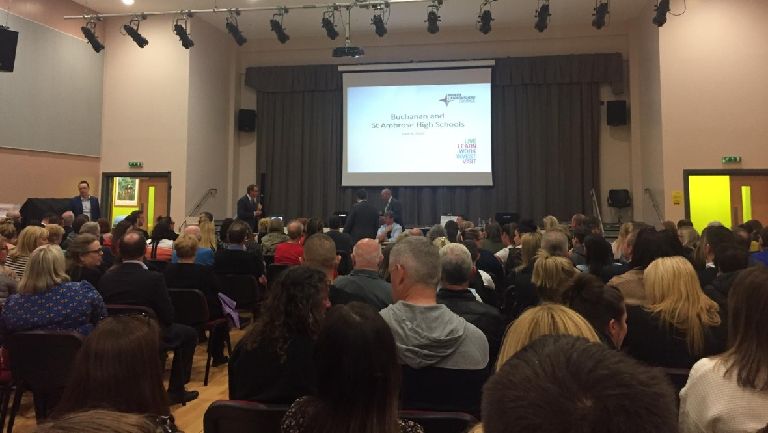 She said: "I'm disgusted. I want to see the school shut. It's just talk, our confidence in them has gone and all the other children I've heard of who've got numerous things wrong with them, also the teachers as well."
Blue water can be caused when water sits inside copper pipes for prolonged periods – but officials say that it does not cause cancer.
Copper piping throughout the campus has been replaced with plastic and there have been no reports of blue water since.
However, former school janitor Anne Ormand claimed that blue water had been present since 2013 – four years earlier than the council said.
She also told the meeting: "There is also ground movement. When I was in school the pipes burst out the ground and the toilets could not be used."
To applause, she told parents that an alarm warning of the presence of methane had once gone off – but Mr McPherson said that was due to a faulty sensor.
Officials say that a layer of top soil and building materials form a barrier from whatever is buried underneath, but some parents believe ground movement may have caused toxic waste and methane to rise up.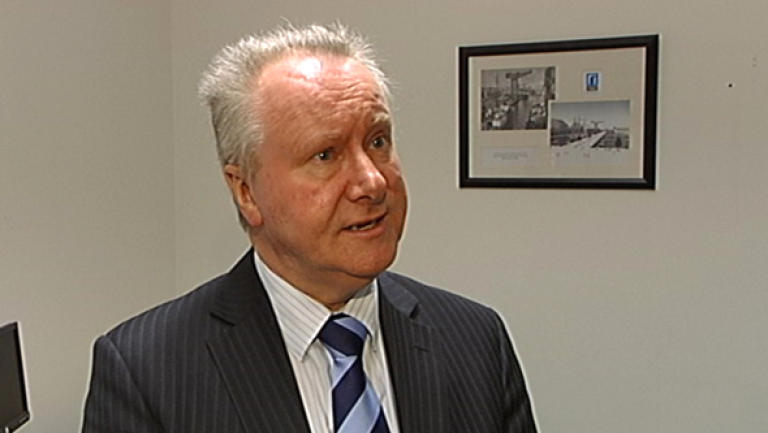 After the meeting, she said: "There's been ground movement from the very beginning. There have been certain bits of the ground moving constantly.
"I'm not reassured. There should be an investigation into every issue within the building – the methane gas, the ground movement, the blue water, all these illnesses that are happening. That's why I'm speaking out now.
"There's a lot of anger because these people have been drinking this water for years. I've actually drank it myself."
Mr Neil addressed the meeting after earlier telling STV News that the school should be "vacated" and an independent investigation ordered.
He later said: "In the presentations from the council and the NHS they made clear what they think is not causing the problem.
"They don't think the blue water is the source of the problem, they don't think the copper is the source of the problem. The question is, what is the source of the problem?
"I think folk are quite rightly very, very angry. People are very worried about their children and their grandchildren and they're also very upset about the teachers who have fallen ill we think as a result of something that may be happening at the school."
He said that as more parents consider withdrawing their children from the schools, there was a danger of them "losing out on their education".
He said: "We need urgent action. We need a strategy in place for relocating the children while a proper investigation goes on."
Many parents expressed distrust of North Lanarkshire Council, accusing officials of lacking transparency.
The council has launched a website which states: "Public health experts at NHS Lanarkshire have confirmed that there is no link between the site of Buchanan and St Ambrose High schools and cases of cancer following an investigation and assessment which the council fully cooperated with.
"In addition, those experts have found no link to date with any other illnesses. The council will continue to provide any information required by NHS Lanarkshire.
"The safety of pupils and staff is the council's primary concern in any circumstances. There is no credible evidence to suggest that any serious illness has been caused by environmental factors associated with the school site or copper previously being present in the drinking water supply."
A North Lanarkshire Council spokesman said: "Understandably some parents, staff and community members came to last night's meeting with genuine concerns.
"Senior council officers and a consultant in public health medicine provided facts.
"The school is safe. The action taken by the council to address the issue of blue water has been resolved, the site on which the school campus is built has met national and international standards of remediation and public health experts have confirmed that there is no link between blue water, the site itself and cancer or indeed any other serious illness."