A reward of up to £10,000 has been offered in a bid to catch the killer of a dad who was shot in the head at a set of traffic lights in Glasgow.
Kenny Reilly, 29, was targeted as he sat in the passenger seat of a silver BMW on Bilsland Drive, Maryhill, at around 10.30pm on April 16 last year.
Mr Reilly was taken by ambulance to Glasgow Royal Infirmary, but died a few days later.
Despite a number of appeals, the murder remains unsolved.
On the first anniversary of the attack, Crimestoppers has put up a £10,000 reward for information that leads to the arrest and conviction of those responsible for the murder.
Detective chief inspector Stevie Wallace said: "Despite the passage of time, I am determined to trace those responsible for this murder.
"My thoughts remain with Kenny's family who have been through enough over the past year.
"Throughout the past year the enquiry team has carried out extensive enquiries into Kenny's murder, spoken to hundreds of members of the public, viewed thousands of hours of CCTV footage and followed up a number of lines of enquiry.
"However we still need to speak to anyone who has any information about who is responsible for shooting Kenny Reilly or about the vehicles involved.
"Please don't think that the information you hold is insignificant, it could be the vital piece that will move this enquiry forward."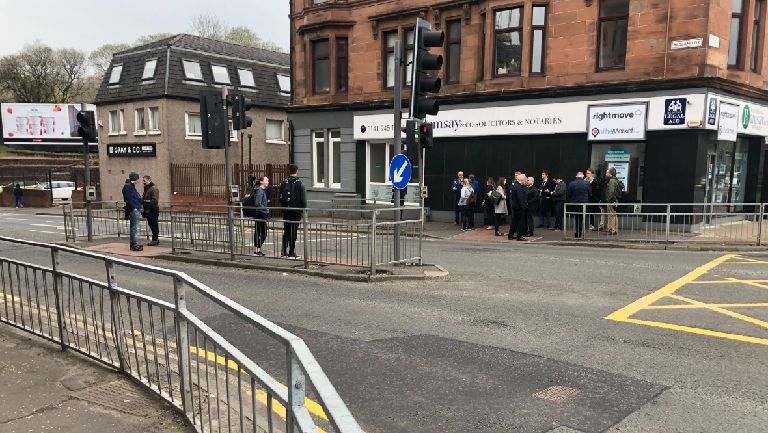 The masked gunman was seen getting out of a black Ford S-Max before the shooting.
The people carrier, which had been stolen from Giffnock in East Renfrewshire the previous month, was later found burnt out in nearby Craigieburn Gardens.
In February this year, detectives revealed that a blue Volkswagen Polo was also of interest to the inquiry.
The vehicle, which had been fitted with false plates, was stolen from the University of Glasgow School of Veterinary Medicine in September 2017.
The car was seen in the area of Mr Reilly's home and then Craigieburn Gardens shortly before the shooting. It was then spotted driving towards Glasgow city centre after the attack.
The vehicle was recovered the following day in Kirkintilloch, East Dunbartonshire, after it was abandoned over two lanes in New Lairdsland Road.
Attempts had been made to set it alight, however little damage had been done and it was taken away for forensics.
Murder detectives believe the attack was not random and Mr Reilly was the intended target.
DCI Wallace added: "I am convinced there are people out there who hold information on Kenny Reilly's murder and for their own reasons, they have remained silent.
"This could be due to fear of reprisal or misplaced loyalty. I would urge anyone in that position to do the right thing and look to their conscience and contact us.
"I would also like to reiterate to people with concerns about contacting police that this can be done in confidence.
"We will trace whoever is responsible, but we would appreciate any information that the local community can provide.
"Please don't wait for the police to visit you at home; do the right thing and come forward.
"You could hold information that could help lead us to those responsible for this callous and cruel murder."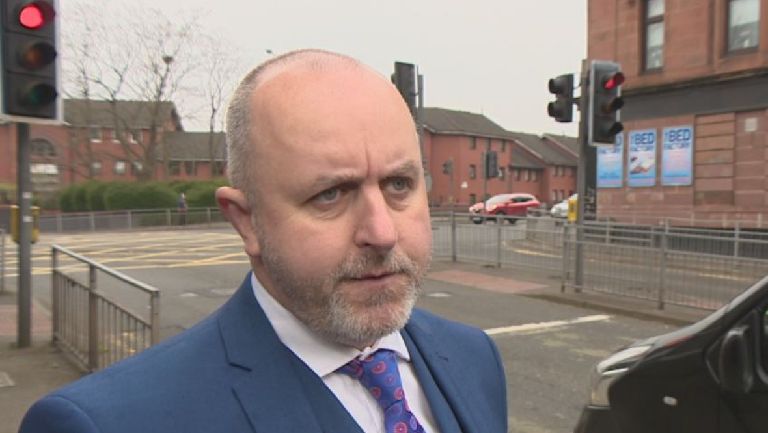 On Tuesday at a police press call at the scene of the shooting, detective inspector Alan McAlpine told STV News: "One year on, we're re-appealing for information to anybody out there that may have any information relative to the murder of Kenneth Reilly.
"Sadly, Kenny was shot and died in hospital two days later.
"I've really got two messages. One, to let Kenny's family and the community know that we are totally committed to finding those responsible. And secondly, anybody with any information whatsoever, if they could contact us by whatever means necessary.
"We've reviewed over a 1000-plus hours of footage, we've taken thousands of statements, we've spoken to hundreds of people.
"We've got a large inquiry team that are working on it; that are all committed and passionate to finding out what's happened – and as much for Kenny's family and justice for what happened than anything else.
"The victim was known to police, but I won't go into his background, his ins-and-outs lifestyle, what he did.
"What he did for employment is something we're looking at as well.
"No matter how insignificant the bit of information that somebody has or somebody knows something about this, don't assume that the police will know it.
"Contact us, and let us be the judge of what that information is."
A Crimestoppers spokesperson said: "We believe everyone has the right to feel safe from crime and that communities can work together to help protect those we care about.
"Violence, on this level, with shots being fired into a car on a main road during the evening, is extremely distressing. The victim leaves behind a girlfriend and a young son.
"We are well aware that some people feel unable to speak directly to authorities which is why our charity is here to give people options."